Amazon Fire TVs aren't a Best Buy for everyone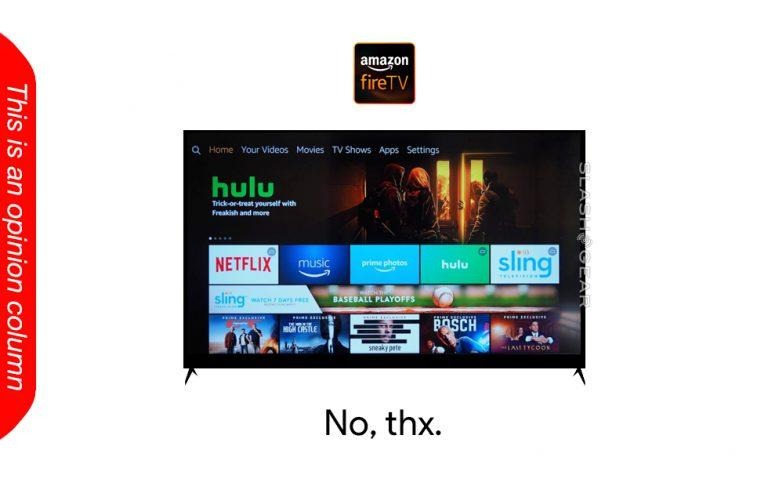 Best Buy and Amazon announced a partnership today for the former to sell the latter's televisions in-store. In physical, brick and mortar Best Buy stores, Amazon will sell their Amazon Fire TV smart television sets. But if what I've experienced with Fire TV devices over the past several years remains true, I recommend you steer clear of the whole lineup.
Amazon makes money from sales of products they distribute. They make more money when the products they sell are Amazon-branded. They make the most money when they sell products that run software they've engineered to sell more products to the end user. It is my opinion that buying an Amazon FireOS device is akin to buying what's basically an Amazon Store access point.
SEE TOO: Amazon and Best Buy team up to sell Fire Smart TVs
When it comes to Amazon Fire TV devices, there's a little more to the equation than when FireOS was only for tablets and smartphones. With Fire TV, you've got a product that's made primarily for media consumption. But like smart TV systems from Google and Apple, Amazon's Fire TV devices have a personal assistant built in, making the product-buying process as simple as possible for the end user.
The difference between Apple, Google, and Amazon in this arena are their primary goals. Apple's goal is to satisfy the end user's needs in a device to such a degree that they'd never consider buying hardware from another company again. Google's aim is to study the actions and desires of the end user, serving them digital media and advertisements with said information.
Amazon's goal is to get the end user to subscribe to Amazon Prime. Amazon's other goal is to get the end user to buy digital goods like music and videos, as well as physical products – all manner of products – from their digital store. Amazon, like Google, uses their digital assistant to meet the desires of the end user as closely as possible. If someone thinks about buying a new pair of shoes, Amazon's goal is to sell them those shoes before they change their mind – basically.
Amazon Fire TV products have – since the beginning – come off as Amazon Prime machines. If you're a big Amazon fan and have always subscribed to Amazon Prime and buy all your products from Amazon already, by all means, go for it. If you've never used an Amazon Fire device before and don't often or never buy products from Amazon online, think twice about Amazon Fire TV devices.
TO BE CLEAR: I've got nothing bad to say about the hardware they'll be selling at Best Buy. I've not seen the precise models, and I've certainly not reviewed any of their latest sets myself. My judgement is based entirely on precedent, working with Fire TV devices and FireOS devices for the past half-decade. Also be aware that here at SlashGear, we do not always agree! Have a peek at a recent Fire TV 2017 review to see.