Amazon and Best Buy team up to sell Fire smart TVs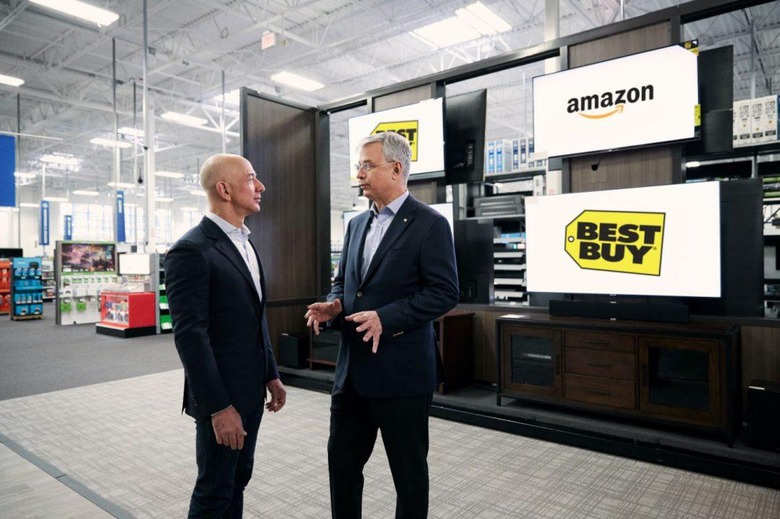 It isn't exactly a secret that Best Buy and Amazon are rivals. In fact, where Amazon and the internet in general have driven some brick or mortar stores out of business, Best Buy remains and – as of the end of its last fiscal year – is actually on something of an upswing. As the old adage goes: "If you can't beat them, join them," and today, Amazon is doing just that.
This morning, Best Buy and Amazon announced an unexpected partnership, if you can believe it. The two have agreed to bury the hatchet (at least to some extent) in order to team up and sell Fire-branded smart TVs. At first, Best Buy will begin carrying ten different Fire TV Edition models from Insignia and Toshiba, with these sets slated to appear in Best Buy's stores later on this summer.
These Fire-branded smart TVs, like Roku TVs from other companies, attempt to give their users the best of both worlds. As the name suggests, the "Fire TV experience" is built into these TVs, meaning that you don't need to connect a standalone streaming box or stick in order to access any of the many streaming apps vying for your dollar and viewership. All of these TVs from Insignia and Toshiba also come with an Alexa voice remote, allowing you to navigate menus and find content using voice commands.
Of course, if you want to take things a step further and go entirely hands-free, you can also connect these TVs to any Echo device and use voice commands that way. The TVs in this line will support 4K and full HD, so regardless of the resolution you want, you should be able to find it.
While most of us probably weren't expecting to see Amazon join forces with Best Buy, it's a good move for both. Having these TVs available in Best Buy stores and on the company's website will help Amazon get Fire TV in front of more people at a time when Roku is a popular name in the streaming space. There's plenty of benefit for Best Buy too, as it'll be the exclusive carrier of these TV and will even offer them as a third-party seller through Amazon.com, making it much easier to find Fire smart TVs online.
Pricing hasn't been announced yet, nor has a solid launch date for these TVs. This is just the beginning, though, as Amazon and Best Buy say they will launch more models as we move through 2018. We'll keep an ear to the ground for more details, so stay tuned.