Amazon Fire tablet encryption to return as retailer backtracks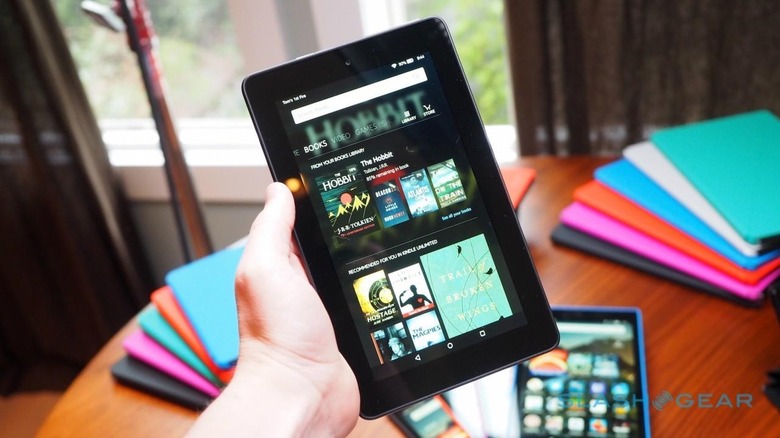 Amazon has backtracked on Fire tablet encryption, having triggered an outpouring of criticism after removing support in the latest Fire OS 5 release. The retail giant blamed minimal customer interest for the decision, which saw Android's data encryption option stripped from the Fire tablet platform, though communications with Amazon's own servers were still secured.
Now, Amazon has done a 180 and, according to the company, the ability to fully encrypt the storage on its Fire tablets will be restored. That won't happen straight away, however: owners will have to wait until later in 2016 to see the amended version.
"We will return the option for full disk encryption with a Fire OS update coming this spring," an Amazon spokesperson confirmed to SlashGear.
Currently, owners of Fire tablets using the encryption system face the choice of either upgrading to Fire OS 5 and turning that data security off while they wait for the subsequent firmware, or ignoring this upgrade and holding out for the promised version.
Earlier this week, Amazon claimed that while it had offered full disk encryption as part of the enterprise features of Fire OS, it was used by so few people that the company deemed it safe for removal.
All the same, the quiet subtraction of the system was met with widespread criticism by security specialists. The focus on Amazon's decision was made all the more topical what with the recent pressure Apple has faced by law enforcement agencies to unlock an iPhone involved in a terrorist attack.
Apple's refusal to comply with that request has prompted huge controversy over the role of private companies in national security, the degree to which government investigators should have backdoor access to the electronic devices we rely upon every day, and to what extent the Cupertino firm's own reputation – and, by association, its wealth – is based on data protection.
In that shadow, Amazon's decision – even if it was borne out of user observation, and indeed the retailer has not said exactly how many people activated the optional encryption when it was available – to tone down its security seemed short-sighted.
It's unclear whether, when Amazon restores the feature, it will be left as an option for owners of Fire tablets or made mandatory.