Amazon Echo Input Review: Alexa In Your Own Speakers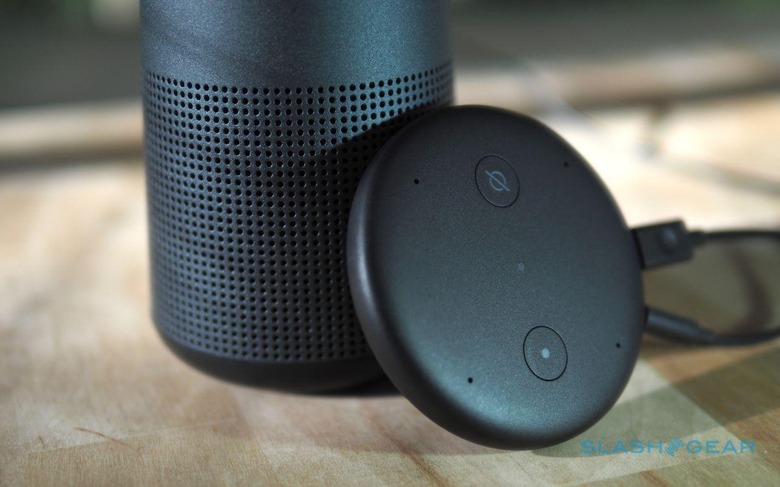 EDITORS' RATING: 7/10
We may receive a commission on purchases made from links.
Amazon's Echo smart speakers typically work better on the smart side, rather than the speaker quality front, but the new Echo Input promises to pair Alexa with your own choice of speakers. Part of the company's wide-ranging gush of Alexa hardware this year, the $34.99 gadget is effectively an Echo Dot that can only talk back to you if it's plugged into an external audio player.
In the process it addresses one of the more common requests from people who want simple voice control over their streaming music, but who would like to be able to use Alexa with their existing music system. If you've already invested in a decent amp and speakers, for example, the thought of sidelining those for the relatively tinny sound coming from an Echo or even an Echo Plus probably isn't too appealing.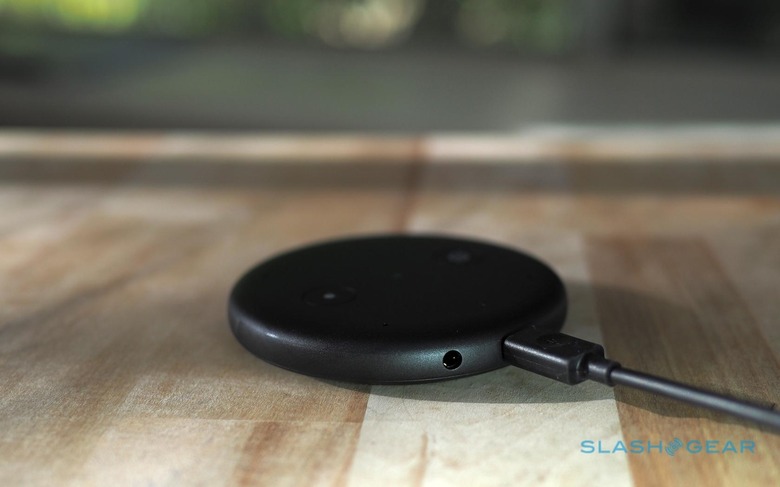 Until now, the easiest way to get Alexa cooperating with an external speaker set has been to use an Echo Dot. Like the new Echo Input, that has both Bluetooth and a 3.5mm audio output. Connect one to your speaker of choice, and Alexa gets a much more powerful voice. The main difference is that the Echo Input is cheaper.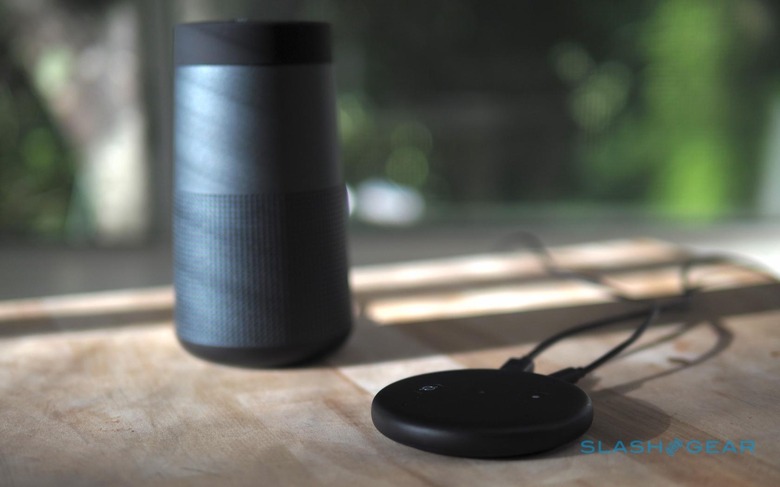 As we've come to expect, setup is straightforward. The Alexa app for iOS or Android handles getting your new Echo Input onto your WiFi network and registering it with your Amazon account. It's also where you link any third-party music services you might want to use – Spotify, Apple Music, or others, for example – and where you pair a Bluetooth speaker.
The app can save multiple Bluetooth speaker pairings, though you have to switch between them manually. You can't ask the Echo Input to connect to a different Bluetooth output by voice. Easier still, you can plug the included short 3.5mm audio cable into the back of the Echo Input and your speakers or amp of choice, and do it the old-fashioned way.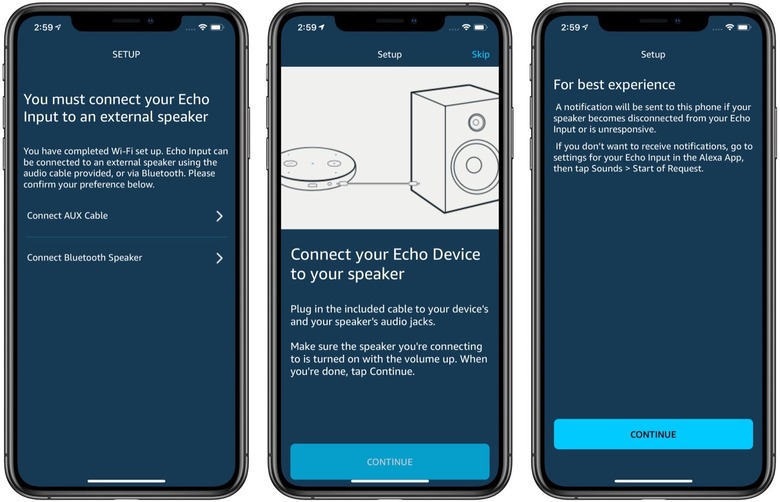 Thin, finished in matte black or white plastic, and with an anti-slip rubber base, the Echo Input is the most discreet of Amazon's smart speakers so far. It uses a microUSB power supply, while on the top there are four microphones, a single LED that lights up blue when Alexa is actively listening or red when the microphone mute button has been tapped, and a manual trigger button for the assistant. Unlike most of Amazon's other Echo models, the distinctive LED light ring is absent.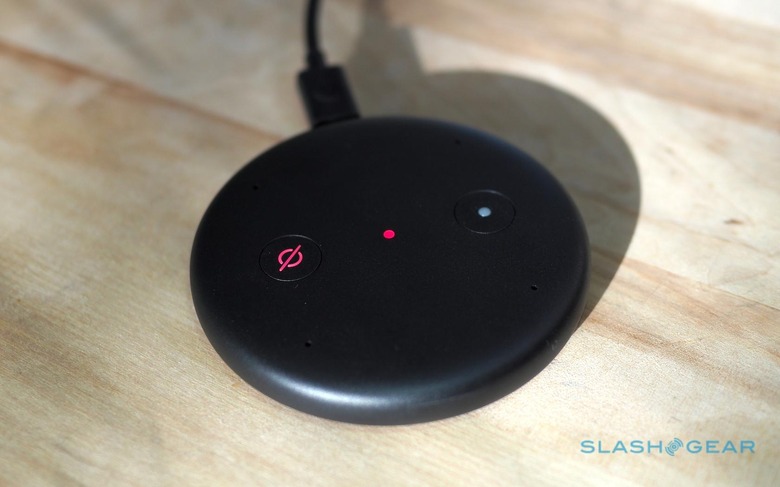 Without a speaker connected, you won't be able to hear what Alexa is saying in response to your instructions. Depending on your speaker of choice, in fact, you might still have problems. Those models that automatically power off after a period of not playing back music may not turn back on, even if they're getting audio from the Echo Input, without manual intervention. Amazon's suggestion is that you try to turn that standby functionality off, though not every speaker will support such a setting.
The other audio limitation is volume control. You can adjust the volume of the Echo Input's playback by voice, but Alexa has no way of changing the volume of whatever speaker or amplifier she's connected to. If you – or someone you live with – has turned that down, or muted it altogether, no command will restore it. Instead, you'll have to fix that manually. You do at least get a notification on your phone if Alexa thinks your speaker isn't working properly.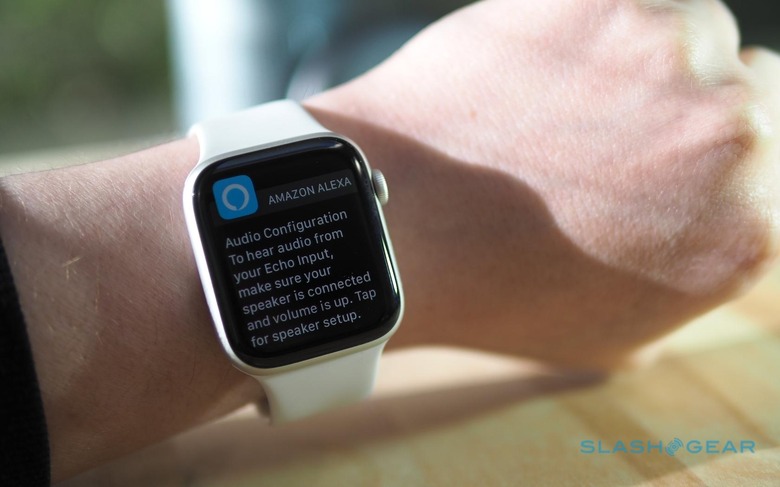 Sufficiently school your family not to touch the wrong control, and the Echo Input works well. The microphone array could hear me from across the room, though I needed to move it further away from the speaker it was plugged into in order to get the best results while playing music at higher volumes. Amazon's bundled 3.5mm cable is approximately 40-inches in length, which was more than sufficient.
As for audio quality, it's best to think of the Echo Input as an affordable convenience rather than something to please audiophiles. Those with serious ears – and the serious speakers to satisfy them – should look to Amazon's Echo Link or the upcoming Echo Link Amp. They're much more expensive, but the quality should be noticeably improved, too. Of course, if you're pumping the average streaming music source through the system, the Echo Input's limitations probably aren't the weakest link in the chain.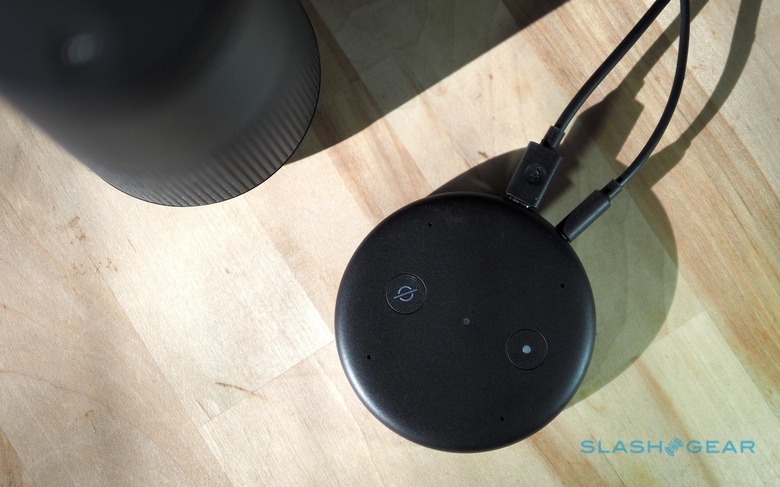 It's somewhat ironic, given Amazon is often accused of squeezing out other retailers by virtue of its frequent deals and promotions, that the Echo Input's biggest problem is its own sibling. On paper, the Echo Dot is, at $49.99, a comfortable $15 beyond this speaker-free model. In reality, though, it's rare you'll ever be expected to spend full price on the Echo Dot.
As I write this, in fact, the newest Echo Dot 3rd Gen is $29.99. Settle for an old 2nd Gen model, meanwhile, and you can spend just $19.99. These particular promotions may not last forever, but Amazon regularly cuts the price of its smart speakers in the hope of embedding Alexa into more homes.
Verdict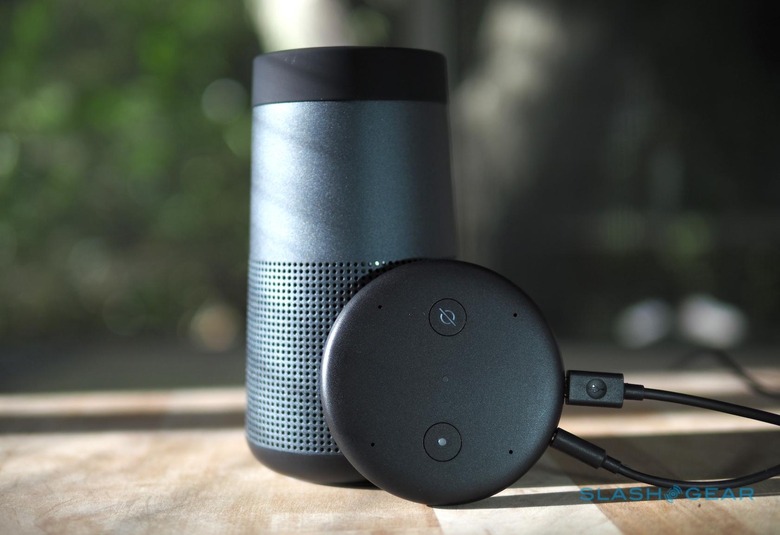 The argument for a $34.99 Echo Input, then, is a tricky one. Yes, it's smaller than an Echo Dot, but you can't take advantage of that fact to hide it away entirely: after all, the microphones need to be able to hear you. Doing away with the onboard speaker means you're always reliant on an external speaker, if you subsequently decide to reorganize your Alexa system and move the Echo Input to another room.
Amazon's relentless deals, though, are more certain than death and taxes. It's not hard to imagine that, when the supply of $20 2nd Gen Echo Dots runs out, it'll be the Echo Input's turn for that price point. At that point, and for the right audience, it's a no-brainer.