Amazon Echo Buds Hands-On: Alexa, Turn On Active Noise Reduction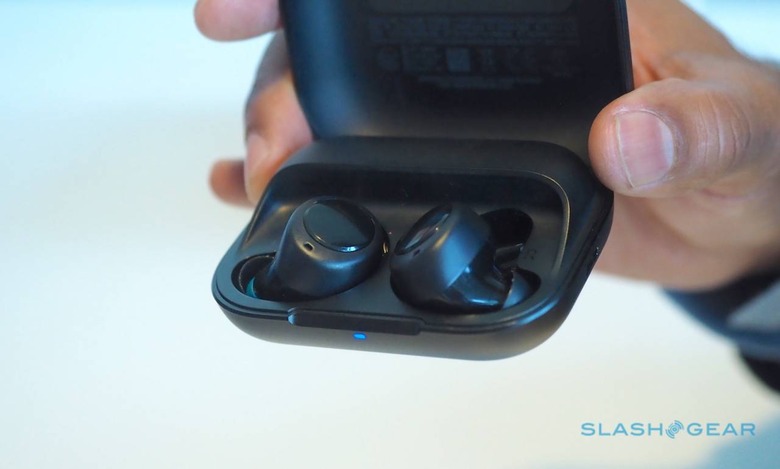 We may receive a commission on purchases made from links.
Even if you hate Alexa, you may have to concede that Amazon could well have made the product of the 2019 holidays in the Amazon Echo Buds. Announced today, the Bluetooth earbuds not only cut the cord from your phone or laptop, but bake in the Alexa assistant and some active noise reduction powered by Bose.
That's a whole lot of functionality for $129.99, and better still it all seems to work, too. The Echo Buds don't look especially inspiring: their matte and gloss black bodies, and matte black rectangular charging/carrying case, feel more like reference designs with Amazon branding than anything else. The microUSB port for charging makes the same port mistake the recent new Kindle Oasis made – where's the USB-C, Amazon? – and there's no wireless charging, either.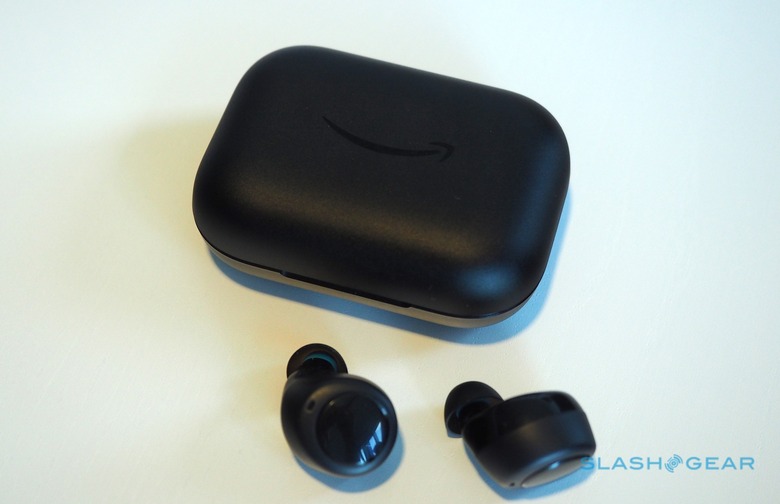 Really, though, do you need your earbuds to look like little jewels wedged into your ear canals? It's not like you can see them while you're using them, after all. Together they have five hours of music playback on a full charge, which extends to up to 20 hours with the charging case. A 15 minute top-up is enough for up to two hours playback, Amazon claims.
They may not look like much, but they fit okay. I have troublesome ears when it comes to earbuds, but even with the large ear tips Amazon had on-hand for me to try, I could get the Echo Buds to lodge firmly in place. They're IPX4 sweat-resistant for workouts, too, while sensors automatically pause your music if you take one earbud out.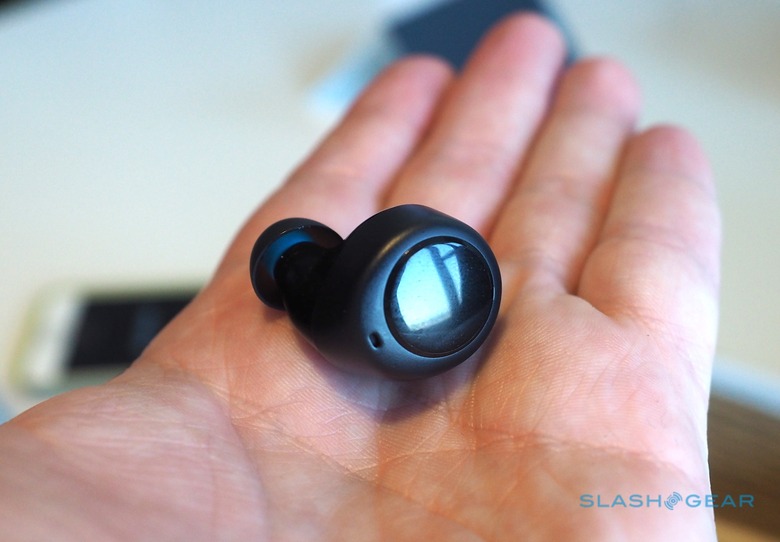 Three microphones on each allow Alexa to listen out to her wake-word. You can ask anything you would a regular Echo smart speaker, though of course there's no display like on an Echo Show. Navigation instructions, conversions, tricky questions, the time in distant countries, and of course music playback are all fair game. A long-press on an earbud triggers the assistant on your smartphone, whether that's Siri or the Google Assistant.
Later in the year, after the Echo Buds' release at the end of October, Amazon plans to add some clever Whole Foods navigation functionality. You'll be able to ask where, say, bananas are in the store, and be told which aisle to walk to. It's clever, though since the Echo Buds don't actually know where you are exactly in the store it'll be up to you to figure out which aisle is which.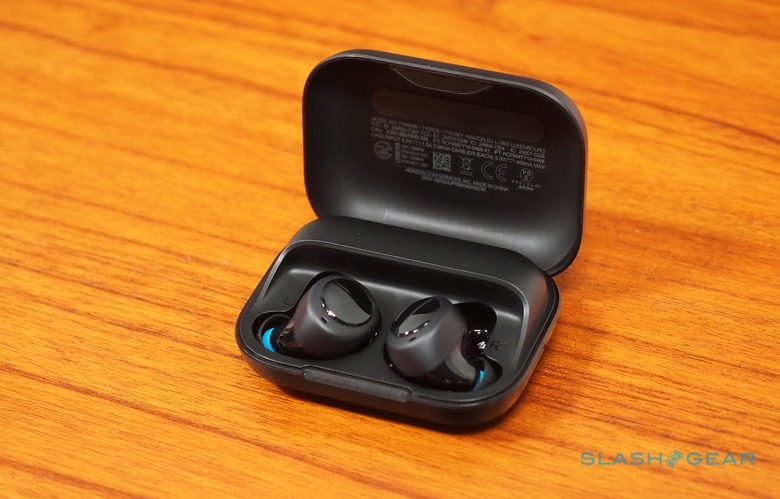 That's not the secret weapon, though. What makes the Echo Buds particularly special is their inclusion of active noise reduction, for which Amazon has turned to Bose for help with. Double-tap the earbud and you turn on noise reduction; do it again and the Echo Buds flip into pass-through mode, allowing external noise to be piped through so that you can still hear people talking to you (or traffic). Alternatively, you can use the companion app to turn it on or off, or just as Alexa to help.
It's tough – impossible, really – to judge audio quality from a relatively short demo and in a noisy environment. We'll have to put Amazon's claims around how good the Echo Buds sound to the test later, in more typical conditions. What that hectic demo area did prove, though, is just how adept the noise reduction can be.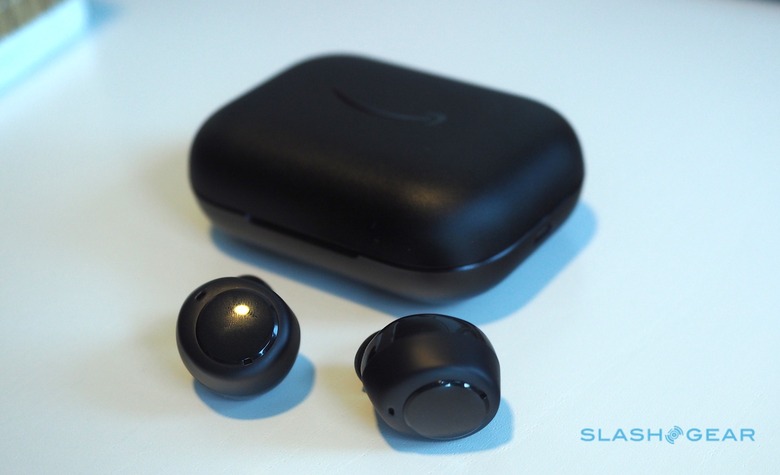 That should worry other manufacturers of noise-canceling headphones and earbuds. My current favorites, Sony's WF-1000XM3, are incredibly good at isolating you from the outside world. However, at $229.99 they're also a full $100 more than Amazon's new earbuds. That's a whole lot of cash.
Were I Apple, or Google, or any other company making Bluetooth headphones, I think I'd be feeling a little breathless and lightheaded right about now.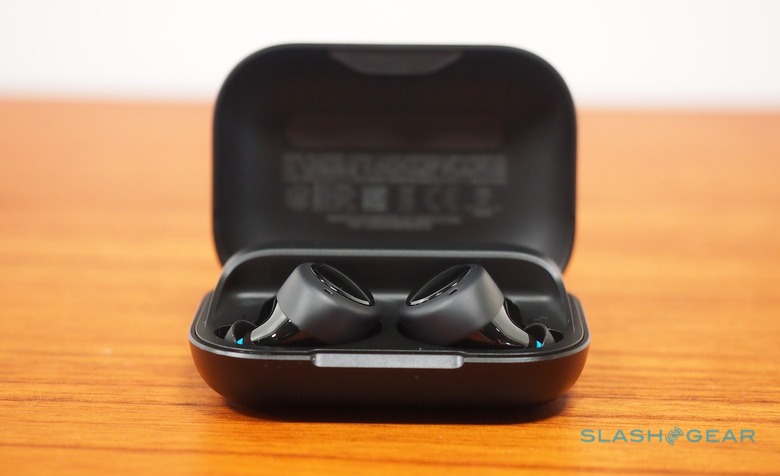 I could totally understand the Alexa-averse discounting the Echo Buds, simply because they don't want Amazon's assistant listening in. The fact that you can disable the microphones, though, means you'd be missing out if you crossed them off your shortlist for that reason alone. For $129.99 they're arguably the most compelling product Amazon announced today, and I'm mightily curious to test them out properly soon.