Amazon cuts Kindle Fire HD to ramp B&N NOOK HD pressure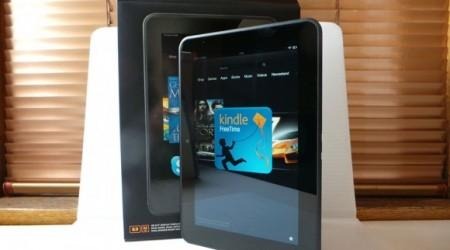 Amazon has apparently dropped the price of its Kindle Fire HD ereader-tablet in what appears to be a response to Barnes & Noble's NOOK HD cuts, dropping the 7-inch Android-based slate by as much as 15-percent in the US and UK. The price adjustment sees the 7-inch Kindle Fire HD come down to £139 in the UK (saving £20) for the 16GB model, and to $169 (saving $30) in the US, compared to the latest 7-inch NOOK HD at £129/$149 for the 16GB model.
In the US, Amazon lists the Kindle Fire HD change as a "limited time" offer, though it's worth noting that B&N has used the same nomenclature for its own discounting. Our suspicion is that the cuts will last for roughly as long as the other company's do, given the fierce competition between the two firms.
Despite Amazon's changes, the NOOK HD is still the cheaper of the two. For a start, B&N offers an 8GB version, which is $129, and has no direct capacity equivalent in the Kindle Fire HD range. However, B&N's motivations are very different to Amazon's as well: the company admitted last month that it planned to clear its stock of existing NOOK HD/HD+ models and then in future license the brand to third-party tablet manufacturers, rather than make its own models.
Instead, B&N would focus solely on developing e-paper based ereaders, such as the SimpleTouch. NOOK sales overall in Q2 – including ereader hardware, software, and accessories – dropped 34-percent, with the company blaming a shortage of high-profile titles as well as waning hardware appeal.
It's not the first time Amazon has shuffled Kindle pricing to ramp up pressure on B&N. Back in 2009 the retailer cut the second-gen Kindle after its rival launched the NOOK, on the assumption that ongoing content sales would offset any narrowing of hardware margins.
VIA Paul O'Brien