Amazon adds X-Ray to Fire TV: No more "who's that guy?"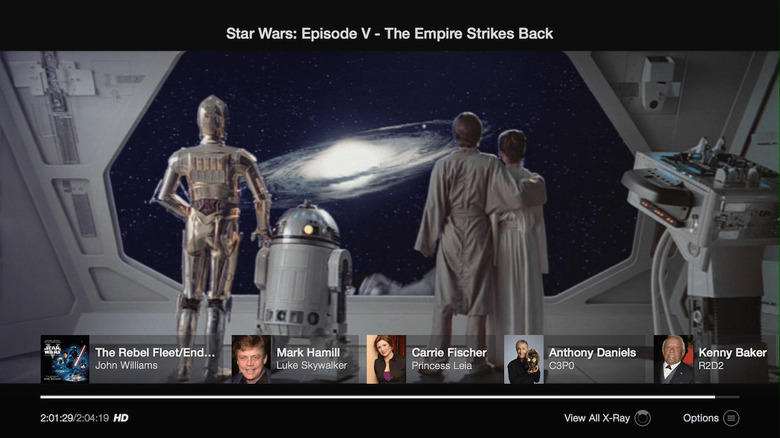 Based on the principle that there's nothing so frustrating as watching a show and thinking "who is that guy?" Amazon is adding X-Ray to Fire TV. The system, which has been flagging up actors and songs on Amazon Fire tablets for the past few years, will now be pulling up those details on Fire TV's streaming movies and shows, accessed with a stab at the "up" button on the remote, as well as offering easy navigation to the relevant point in the show.
As on Fire tablets, the X-Ray system on Fire TV and Fire TV Stick is powered by IMDB. Normally it's off-screen, but when you press the "up" button you see a row of 3-4 topical cues, such as the current actors in the scene, or the music playing.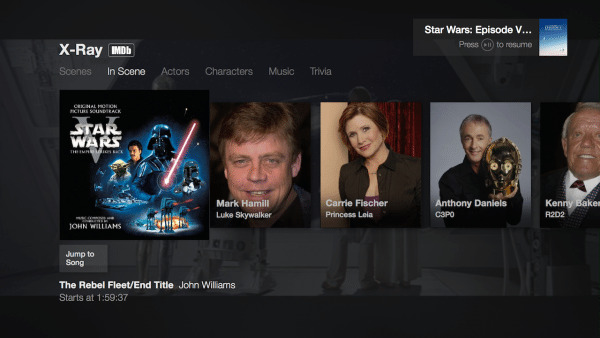 That's designed to answer immediate questions without requiring that the movie itself be paused, Amazon explained to me when I previewed the system ahead of today's launch. If you still have questions, however, there's more information accessed by pressing "up" again.
Then, you get the familiar X-Ray interface, split into scenes overall, who's featuring in the current scene, and all of the actors in the movie or TV show. A list of all the music featured is accessible too, as is trivia from IMDB.
Clicking on any of the actor, song, scene, or trivia nuggets takes you directly to that point in the content, meanwhile.
Amazon relies on a combination of machine-learning and human quality-control for X-Ray. There's facial recognition and audio recognition for actors and music, for instance, but Amazon manually adds in things those systems might miss, such as actors talking on the other end of the phone in a scene.
X-Ray for Fire TV and Fire TV Stick will begin appearing on the set-top boxes from today, courtesy of an OTA update. It'll be supported on "tens of thousands" of titles, Amazon tells me, with more in the pipeline.