Amazon introduces X-Ray technology for Kindle lineup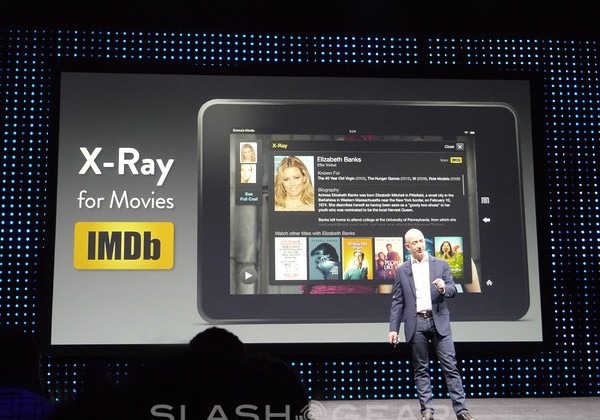 If you were waiting to see the strangest new innovation in the Kindle Fire universe this week coming from Amazon, you can bet that X-Ray is it. Here with a bit of a magic from a collection of 3rd party brands like IMDB, Amazon is able to offer you instant information about the media you're working with. If you're watching a movie from Amazon, for example, you can simply tap the film playing and IMDB will pop up with everything you need.
The same brand technology appears in X-Ray for Textbooks, with your ability to tap anywhere – or in a whole lot of places, at least, for more information at your whim. When you're tapping a video, you get information not just about the video, but about everyone in the scene that's identifyable. In a textbook, more educational information appears. This X-Ray technology is set to be shown on the Amazon Kindle Fire HD lineup first, and will certainly be expanded in the future.
It also exists on the Kindle Paperwhite, another ereader revealed this week. Here you'll be able to tap anywhere on a page and get information on the characters in the story you're reading. It's like a glossary anywhere you need it in the book you're up on. Stick with us here on SlashGear as the action continues all week – Amazon and Kindle tag portals are both ready for your tapping and are full to the brim with new Amazon action!