Always Innovating Smart Book Takes All-in-One Computers to the Next Level [Video]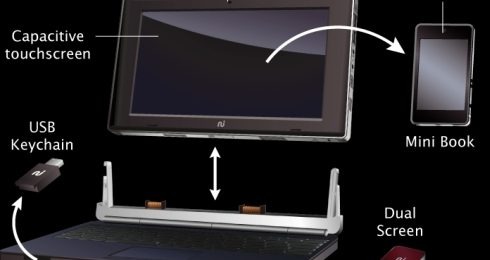 It's been over a year, as of this writing, since the original version of Always Innovating's Touch Book started making its way into customer's hands. Immediately following that, early reviews seemed to be all over the place. From people enjoying not only the concept, but also the hardware and software, to people who were basically displeased with everything. But, the good news must have sunk in at Always Innovating, because the company has just made known their next "version" of the Touch Book, known as the Smart Book. And they're definitely treading into some creative waters.
Like the Touch Book before it, the Smart Book features a netbook-like body, but features a detachable display which can function as a tablet, all on its own. The Smart Book takes it up a notch, though, by offering you a removable mobile device. The device will let you surf the web, run applications, and even make VoIP calls if you want. The keyboard actually hides a USB to HDMI, which will let you connect to a larger screen. There's an extra slot in there, too, which will let you store a 2GB USB dongle, if you so desire.
As for the specifications of the device, they aren't all that bad. Featuring 512MB of RAM, 256MB of NAND flash storage, and an 8GB of microSD card for whatever else you need to store. The processor is an ARM Cortex-A8, and the device will feature Bluetooth 2.1 and integrated 802.11 b/g/n WiFi. Always Innovating will feature a custom User Interface, too. The company adds that the Smart Book will be able to run Ubuntu, Android, and even Chrome OS some day in the future.
As with the Touch Book, pre-orders are starting early. You can pre-order it right now if you want, and considering that the Touch Book actually shipped, you shouldn't be too afraid that you might not ever get what you're ordering. You can pick up the whole set for $549, or you can order individual pieces for $199 per piece.
[via Liliputing]