Alpine and Nokia partner on in-car Ovi Maps integration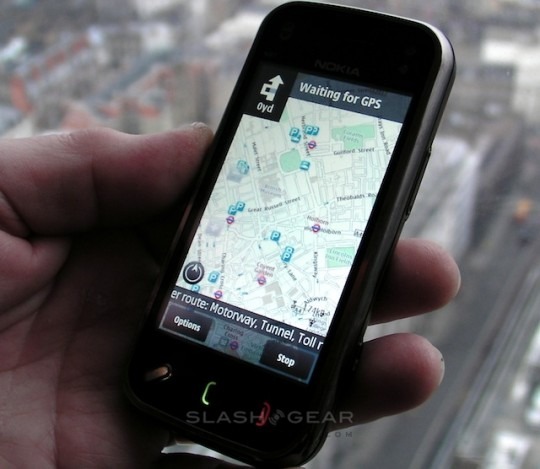 Start telling people your smartphone PND app is just as good – or better – than what the dedicated sat-nav device manufacturers are producing, and eventually someone is going to call you on it.  Happily for Nokia, the people doing the calling are Alpine and what they're calling for is Ovi Maps integration – either via USB or Bluetooth – with their in-car head systems.  The partnership will pipe Nokia's voice-guidance prompts through Alpine speaker systems, and put on-screen graphics onto your in-dash LCD.
Alpine are calling the system "Terminal Mode" and they don't see the usefulness only extend to turn-by-turn directions.  Instead, once connected the Nokia phone could play back multimedia through the in-car stereo, as well as use internet-connected widgets to show traffic updates, weather, news and more.  Location-based services could also be integrated; Alpine use the example of a gas station offering drivers a free coffee voucher via Terminal if they choose to fill up there.
Meanwhile, information about the car – such as service status and fuel level – could be passed from the vehicle to the phone.  No specific release dates, but Alpine reckon the system is "close to release.
Nokia Ovi Maps demonstration:
[vms 226ae47fce7bff88e9c3]
[via Engadget]
Press Release:
Alpine Electronics Announces Strategic Partnership with Nokia and NAVTEQ to Integrate Smartphones Into Car Infotainment Systems
Fast changing mobile technology and services to be made accessible through in-car systems

Geneva Auto Show, -Mar 3rd, 2010 – Alpine Electronics, the leading automotive and systems and audio specialist, announced today together with Nokia and NAVTEQ a strategic partnership to bring a new connected technology called Terminal Mode to car infotainment systems. This technology will provide Nokia's Ovi services such as navigation, powered by NAVTEQ maps, through smartphones that are integrated into the car environment. By integrating the smartphone handset seamlessly with in-car electronics, this technology is able to bring smartphone widget-based services like navigation, music, weather reports and application stores, in addition to the usual call and talk functions of a mobile phone into the car environment. Once connected, and with appropriate safety measures in place, users are able to ergonomically and safely use services and applications through the high resolution screens and audio systems embedded in the car. The technology was developed in cooperation with CE4A and paves the way for standardized interface between smartphones and automotive infotainment systems.

Connectivity between the smartphone and the car allows for key information such as fuel levels and engine status to be combined with GPS information from the smartphone or car, enabling location-based services. These services might include the nearest petrol station with the day's lowest prices or even offering an e-coupon for a free coffee if the driver chooses a particular station. In addition, ADAS*-based safety features could also be supported, for example, to warn drivers to slow down for an upcoming sharp bend.

"The infotainment system of a modern car is a natural extension for the capabilities of smartphones. Not only will it simplify the use of turn-by-turn voice guidance from Ovi Maps, but also provide a new and easy way of accessing other content on the smartphone, such as music, and delivering automotive specific widgets from the Ovi Store," said Vishal Chatrath, Head of Product Development for Nokia Automotive.

"This collaboration offers Alpine Electronics the opportunity for further innovation using our Mobile Media Solutions in the automotive industry. We look forward to leveraging our past experience and leadership in bringing smartphone connectivity to the vehicle environment to meet thefuture needs of our automotive partners," said Toru Usami, Executive Managing Director, Alpine Electronics.

Connection from the mobile device to the infotainment system is made either via Bluetooth or USB cable, a useful choice depending on the type of the journey. For a short distance the driver could leave the phone in a briefcase and connect wirelessly, but for longer journeys, the smartphone battery can be preserved by connecting with a cable.

"We are pleased to help bridge the automotive and wireless world by enabling drivers to experience the best of both, with the convenience of integrated in the vehicle and the phone.. This will allow drivers to access mobile applications conveniently and safely via a large, fixed screen and the car "hands-free" controls. This development takes us another step forward towards seamless navigation inside and outside of the car," commented Rich Shuman, senior vice president, APAC, sales, NAVTEQ

This technology specification known as "Terminal Mode" is close to release and was developed in collaboration between Nokia and CE4A.

*ADAS – Advanced Driver Assistance System