Alleged Backplates For Next iPhone Leak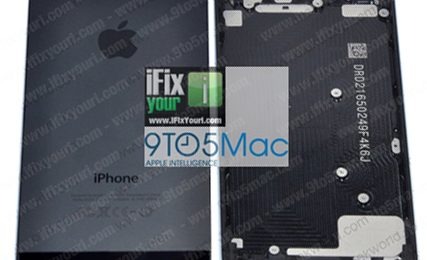 Well well well, what have we here? If you remember correctly, a rumor from iLounge not too long ago suggested that Apple would be changing the back design on the next iPhone, using a combination of glass and metal. A mockup showed the rough idea, with the majority of the back covered in aluminium in addition to the glass top and bottom. 9to5Mac have pictures of what they claim is a backplate for the next iPhone which shows a similar design.
At the bottom of the plate you can also see a reduced size dock connector as well as larger speaker grills, said to be used for higher quality audio than the current iPhone. The overall design is also thinner than the current model. The whole design seems like an interesting cross between the original iPhone and iPhone 4/4S, and 9to5Mac say that the back is from a reliable Chinese parts supplier.
Rumors have suggested that Apple could leverage Liquidmetal technology in the new iPhone, although the supplier of the part notes that the back is using a regular aluminium alloy, and not Liquidmetal. Apple has traditionally offered iPhones in both black and white, although interestingly the supplier notes that Cupertino will offer the next iPhone in two additional colors. As always, take all of this with your daily serving of salt.
UPDATE: Engadget has scored a clearer photo showing a white backplate thanks to uBreakiFix. You can see the design a lot better, including the 3.5mm headphone jack which has been relocated to the bottom of the device. The case is definitely taller than the iPhone 4S as well, putting further weight behind the rumor that the next iPhone will feature a new screen with a different aspect ratio. 9to5Mac have also obtained higher resolution images of the two backplates which show the changes in greater detail. Peep everything below.