Next iPhone tipped for 4" screen and metallic back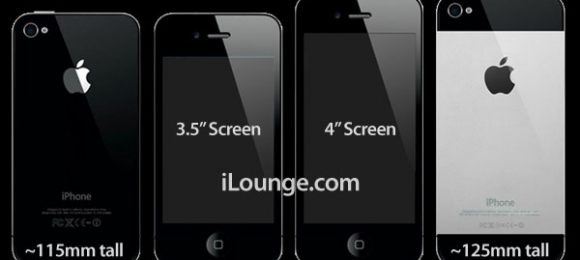 Jeremy Horwitz of iLounge claims to have new information about the next iPhone, reportedly coming later this year. Horwitz believes that Apple will be abandoning the long rumored "teardrop" design and sticking with a glass construction for the next iPhone. He goes on to detail how the next iPhone will be bigger and longer than the current iPhone 4/4S, coming with a 4-inch screen and an entirely new aspect ratio.
The next iPhone is said to be nearly 2mm thinner than the iPhone 4S, coming in at around 7.4mm thick. Horwitz's source claims that the back of the next iPhone won't purely be glass, but will feature a metal panel, similar to the original iPhone. The back is said to be flat and flush with the device, and not curved in any way. A rough mockup of the device shows the potential change above.
Glass used on the front and back of the device is expected to be Gorilla Glass 2, matching the same strength as the current glass while reducing thickness. The device will be longer overall, but width apparently won't change, supporting the theory that Apple will change the aspect ratio of the next iPhone to accommodate a larger screen.

Finally, Apple is said to be introducing a new dock connector. The new port is said to be slightly bigger than the speaker holes found on the current iPhone, and will overall be smaller than the current dock connector plus have fewer than 30 pins. The new dock connector will feature on all iOS devices going forward, and not just the new iPhone.