Alienware M14x, M17x and M18x get Ivy Bridge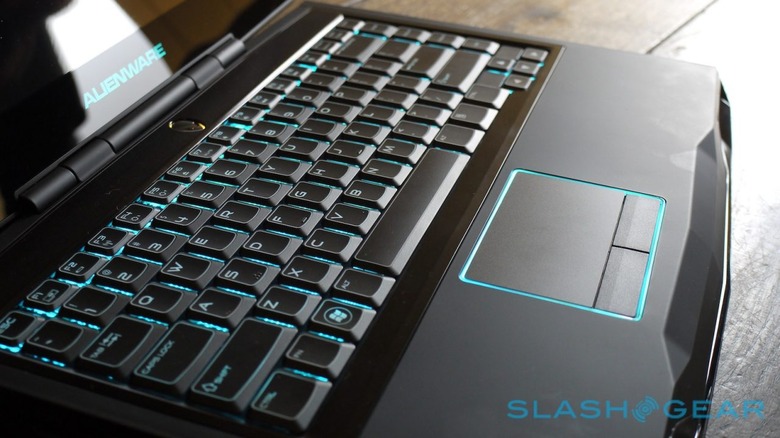 Alienware has thrown Intel's new 3rd-gen Core i5 and i7 processors at its updated M14x, M17x and M18x notebooks, promising a roughly 20-percent boost in power from the new Ivy Bridge architecture. It's the second refresh for the trio of gaming laptops in under a month, with Intel slotting in new mSATA caching drives and boosted graphics in mid-March. Plus, there's a new Alienware deal with Electronic Arts.
The EA deal will see Battlefield 3 gamers get custom lighting effects when playing the title on their Alienware notebook. The Dell-owned company offers up an AlienFX API to allow developers to hook gameplay events into the LED backlighting on the logos, keyboard and trackpad; in Battlefield 3, that will include "unique loading and menu and player health lighting effects." There's also be an exclusive Alienware Arena dog tag.
Alienware has used mSATA solid-state storage to boost performance without the huge cost of a traditional SSD. Various sizes of flash memory paired with regular hard-drives can be used to speed up Windows 7 boot times and provide quicker access to commonly-used files.
The Alienware M14x, M17x and M18x with 3rd Generation Core i5 and i7 options are available to order from today. They're priced from $1,099/£999, $1,499/£1,299 and $1,999/£1,699 respectively in the US and UK. Full specs are below.
Alienware M14x

· 2nd and 3rd Generation Intel Core i5 and i7 Processor Options

o Intel Core i5-2450M 2.5GHz (3.1GHz w/Turbo Boost, 3MB Cache) (Standard)

o Intel Core i7-3610QM 2.3GHz (3.3GHz w/Turbo Boost, 6MB Cache)

o Intel Core i7-3720QM 2.6GHz (3.6GHz w/Turbo Boost, 6MB Cache)

o Intel Core i7-3820QM 2.7GHz (3.7GHz w/Turbo Boost, 8MB Cache)

· Powerful NVIDIA Graphics Card Options

o 1GB GDDR5 NVIDIA GeForce GT 650M using NVIDIA Optimus technologyii (Standard)

o 2GB GDDR5 NVIDIA GeForce GT 650M using NVIDIA Optimus technologyii

· 14-inch WLED HD display (1366X768) (Standard) or optional 14-inch WLED HD+ display (1600X900)

· Configure with up to 16GB of DDR3 Memoryii (6GB Standard); 2x 204-Pin DDR3 SO-DIMM SDRAM Slots

· Configure with up to 750GB 7200RPM driveiii (500GB standard) or up to 512GB Solid State Driveiii

o RAID 1 and 0, and Dual Drive options available

o mSATA Boot and Caching Drive Options available

· Microsoft Windows 7 Home Premium, Professional and Ultimate available

· 1.3MP HD Camera with dual digital microphones

· Slot-Loading DVD drive (Standard) or optional Blu-ray Disc Reader

· Creative Sound Blaster Recon3Di High-Definition 5.1 Audio with THX TruStudio Pro Software (Standard) or 2.1 Speaker configuration with Subwoofer Audio Powered by Klipsch; 7.1 Digital Audio out using HDMI out connection or S/PDIF Optical port

· Integrated 10/100/1000Mbps Gigabit Ethernet NIC and Integrated Wireless-N with Bluetooth 4.0 (standard)

· USB 3.0 (2); USB 2.0; Mini-Display Port; HDMI 1.3 Output; VGA Port; 9-in-1 Media Card Reader; Audio/Microphone In; Audio Out; RJ-45 Gigabit Ethernet

Alienware M17x

· 3rd Generation Intel Core i7 Processor Options

o Intel Core i7-3610QM 2.3GHz (3.3GHz w/Turbo Boost, 6MB Cache) (Standard)

o Intel Core i7-3720QM 2.6GHz (3.6GHz w/Turbo Boost, 6MB Cache)

o Intel Core i7-3820QM 2.7GHz (3.7GHz w/Turbo Boost, 8MB Cache)

· Powerful NVIDIA and AMD Graphics Card Options

o 2GB GDDR5 NVIDIA GeForce GT 660Mii (Standard)

o 2GB GDDR5 NVIDIA GeForce GT 675Mii

o 2GB GDDR5 AMD Radeon HD 7970Mii

· 17.3" WideHD+ (1600 x 900 ) WLED LCD (Standard); optional: 17.3" WideFHD (1920 x 1080) WLED LCD or 17.3" 120Hz WideFHD (1920 x 1080) WLED LCD w/3D Bundle

· Configure with up to 32GB of DDR3 Memoryii (6GB 1600MHz Standard); 4x 204-Pin DDR3 SO-DIMM SDRAM Slots

· Configure with up to 1TB (2x 500GB) RAID0 7200RPM driveiii (500GB standard) or up to 512GB Solid State Driveiii

o RAID 1 and 0, and Dual Drive options available

o mSATA Boot and Caching Drive Options available

· Microsoft Windows 7 Home Premium, Professional and Ultimate available

· 2.1MP FullHD Camera with dual digital microphones

· Slot-Loading DVD drive (Standard) or optional Blu-ray Disc Reader

· Creative Sound Blaster Recon3Di High-Definition 5.1 Audio with THX TruStudio Pro Software (Standard) or 2.1 Speaker configuration with Subwoofer Audio Powered by Klipsch; 7.1 Digital Audio out using HDMI out connection or S/PDIF Optical port

· Integrated 10/100/1000Mbps Gigabit Ethernet NIC and Integrated Wireless-N with Bluetooth 4.0 (standard)

· USB 3.0 (4); USB 2.0 and eSATA combo port; Auto-sensing jacks for Line-out (3); Microphone In; Mini-Display Port; HDMI 1.3 Output; HDMI 1.3 Input; VGA Port; 9-in-1 Media Card Reader; RJ-45 Gigabit Ethernet

Alienware M18x

· 3rd Generation Intel Core i7 Processor Options

o Intel Core i7-3610QM 2.3GHz (3.3GHz w/Turbo Boost, 6MB Cache) (Standard)

o Intel Core i7-3720QM 2.6GHz (3.6GHz w/Turbo Boost, 6MB Cache)

o Intel Core i7-3820QM 2.7GHz (3.7GHz w/Turbo Boost, 8MB Cache)

o Intel Core i7-3920XM 2.9GHz (3.8GHz w/Turbo Boost, 8MB Cache)

o Intel Core i7-3920XM Overclocked Turbo Boost (8MB Cache)

· Powerful NVIDIA and AMD Graphics Card Options

o 2GB GDDR5 NVIDIA GeForce GT 660Mii (Standard)

o 2GB GDDR5 NVIDIA GeForce GT 675Mii

o Dual 2GB GDDR5 AMD Radeon HD 7970M – AMD CrossFireXii (coming soon)

o Dual 2GB GDDR5 NVIDIA GeForce GTX 675M – NVIDIA SLIii

· 18.4 inch WLED WideFHD display (1920 X 1080)

· Configure with up to 32GB of DDR3 Memoryi or 8GB 1866MHz (4GB 1600MHz Standard); 4x 204-Pin DDR3 SO-DIMM SDRAM Slots

· Configure with up to 750GB 7200RPM SATA driveiii (500GB standard)

o RAID 1 and 0, Dual and Triple Drive options available

o mSATA Boot and Caching Drive Options available

· Microsoft Windows 7 Home Premium, Professional and Ultimate available

· 2.1MP FullHD Camera with dual digital microphones

· Slot-Loading DVD drive (Standard) or optional Blu-ray Disc Reader

· Creative Sound Blaster Recon3Di High-Definition 5.1 Audio with THX TruStudio Pro Software (Standard) or 2.1 Speaker configuration with Subwoofer Audio Powered by Klipsch; 7.1 Digital Audio out using HDMI out connection or S/PDIF Optical port

· Integrated 10/100/1000Mbps Gigabit Ethernet NIC and Integrated Wireless-N with Bluetooth 4.0 (standard)

· USB 3.0 (4); USB 2.0 and eSATA combo port; Auto Out Ports (2); Microphone In; Mini-Display Port; HDMI 1.3 Output; HDMI 1.3 Input; VGA Port; 9-in-1 Media Card Reader; RJ-45 Gigabit Ethernet; Combo S/PDIF Optical output / Analog Headphone Line Out