Alienware M14x, M17x and M18x get 2012 refresh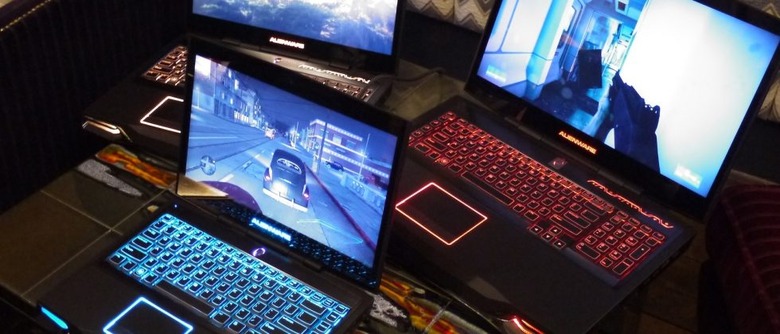 Alienware has revealed the first stage of its 2012 refresh, updating the M14x, M17x and M18x gaming notebooks with new NVIDIA and AMD graphics, mSATA SSDs and caching for boosted performance, and bumping the default memory. The three notebook models keep the external aesthetic of their predecessors – think Stealth Bomber style angles and thousands upon thousands of user-selectable colored LED lighting – but inside there are big changes afoot. Read on for full details.
Across all three models, 6GB of 1600MHz memory is now standard; the M14x can be upgraded to 16GB, while the M17x and M18x can be spec'd with up to 32GB. Alienware previously offered entry-level machines with 4GB.
Graphics, meanwhile, get a choice of NVIDIA's 6 series or AMD's 7 series GPUs using PCI Express 3.0 for double the bandwidth along with GDDR5 memory. Audio takes advantage of Creative's new Sound Blaster Recon3Di, with THX TruStudio Pro certification and speakers tuned and tested by the pros at Klipsch. Support for 7.1-channel surround sound is via the HDMI 1.4a output, while the M18x still gets an HDMI input for showing external sources on its 18-inch display.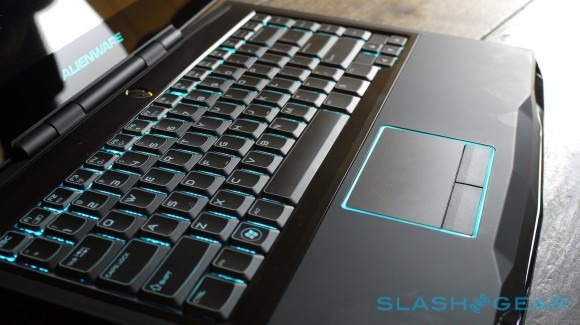 The biggest change today, though, is in storage. Alienware now supports mSATA, compact solid-state drives, for a compromise between the speed of SSD and a price more users can stomach. Rather than switching drives entirely over to SSD – which is still an option, mind, albeit an expensive one – the M14x, M17x and M18x now pair a traditional drive with an mSATA one. The latter, depending on size, can be used as a boot drive (with the 64GB and 128GB options) for shortening the length of time Windows 7 takes to load, or as a caching drive (with the most affordable 32GB option), storing frequently-used files in the solid-state memory for quicker recall.
The caching process is all automatic – in fact the 32GB mSATA is non-user-accessible, and can't be used to store files manually – and Alienware reckons it's good enough for 60-percent faster transfers of common files compared to a traditional 7,200rpm HDD. Those spinning drives aren't going anywhere, though: the basic setup is a 1TB SATA HDD with the 32GB mSATA, though it's also possible to set up a 512GB RAID 0 array (with a 256GB SSD and 256GB mSATA) if you can bankroll it. The M18x throws in an extra SATA drive bay, for a maximum of three drives and up to 1.5TB of SSD capacity.
Elsewhere, there's Bluetooth 4.0 as standard on all three models, a slot-loading Blu-ray drive option to replace the standard DVD burner, and Bigfoot Networks cards for better performance in wireless networking. Wireless on the M17x and M18x uses 3x3 MiMo WiFi for increased range and throughput.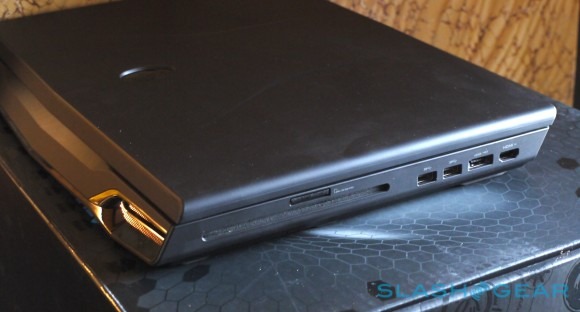 Unchanged, along with the design, is Alienware's various configuration tools, allowing owners to tweak colors, overclock settings and other elements of the gaming experience. Batteries are the same, too; the M14x is the only real "mobile" option, with Alienware describing the power packs in the M17x and M18x as being more to get you from desk to desk. They remain hefty, heavy notebooks, too: even Alienware admitted they were more "luggables" than anything else.
The big takeaway is the flexibility of options Alienware now offers. Four graphics choices – two single core, two dual-core – and 23 storage options; seven memory choices; two optical drives; three wireless card configs; and two system colors. That's not to mention the multiple AlienFX LED colors that can be selected (as well as accessed by third-party game developers using the Alienware API; 22 games currently take advantage of that, changing the chassis lighting depending on in-game action).
The Alienware M14x, M17x and M18x 2012 models go up for order today, with the same starting prices as the pre-refresh models: from $1,099/£899 for the M14x, from $1,649/£1,149 for the M17x, and from $1,999/£1,499 for the M18x.