Alexa tipped to come to smart thermostat ecobee4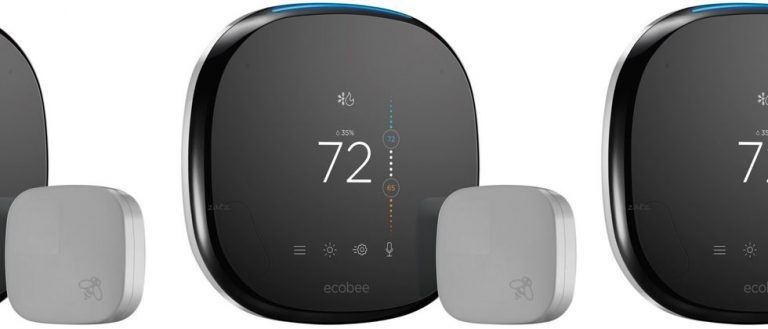 It was only a matter of time before Amazon found its way in to a smart thermostat with Alexa. The time is now, and the product is branded by ecobee. A set of product marketing materials has turned up with both a microphone and Amazon's blue light bar – which indicates the presence of Alexa in all her voice assistant glory. This new version of the ecobee thermostat seems to have a redesigned set of industrial design outer bits, too.
Dug up by Dave Zats at ZatsNotFunny, we're also looking at a set of FCC documents for this product. There it's shown that there'll be a backside speaker and mic, and a couple images, too. This device will have a model number ECB401 and might well be a real nice alternative for those users looking to buy an Amazon Echo Dot, but needed a bit of an extra push.
Word of an ecobee4 first appeared on Apple's Home Kit page back about a month ago. You'll see a bit of screenshot proof over on Reddit – there the text suggested that Home Kit worked with ecobee3, ecobee3 lite, and ecobee4. We're crossing our fingers for additional features in addition to Alexa – but we shall see.
The ecobee3 is not a fancy-looking nor popular as Nest, but it rolls with its own stand-alone sensors to place throughout one's home. Large homes with many rooms will continue to find this a giant perk above the biggest competition. For a cool, slightly cheaper alternative, there's also the ecobee3 Lite – without additional sensors. We'll expect that the newest ecobee device (ecobee3 Lite) will act the most like what we'll see with the ecobee4 – coming later this year, more than likely.
Above you'll see a video made by ecobee all about the ecobee 3 Lite. There they make a quick example of how their smart thermostat works – easy peasy.