Alcatel POP 4 tablets debut alongside XL phone at IFA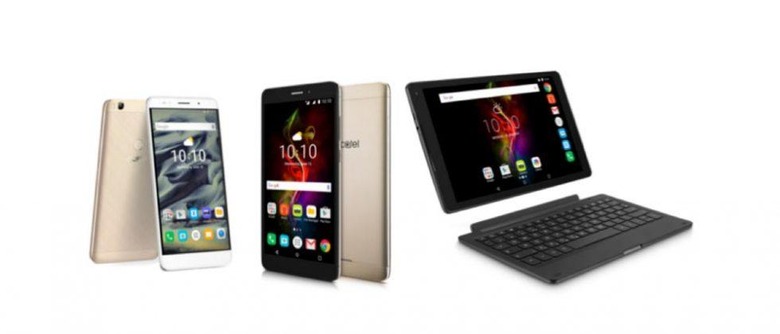 Joining its wearables and VR gear come some mobile devices from Alcatel, a trio of POP 4 slates including a 6-inch "phablet" smartphone and two tablets with 7-inch and 10-inch displays. The 10-inch model is the most notable of the bunch, coming with a Qualcomm Snapdragon 430 rather than the MediaTek offerings found in the two smaller models. All three models offer LTE support, and tap Waves MaxxAudio for their audio experience.
While the 10-inch tablet features the aforementioned Snapdragon 430, the 7-inch POP 4 features a MediaTek MT8735 quad-core processor and LTE CAT 4, while the 6-inch phablet features a MediaTek MT6755 octa-core processor with LTE CAT 6. The 10-inch model is CAT 4 LTE.
Alcatel says the 6-inch POP 4 is the company's XL phone offering, and it boasts both a 13-megapixel rear camera and a fingerprint sensor among its features. All three get audio via Waves MaxxAudio, with the largest tablet featuring dual front speakers for a superior audio performance. According to Alcatel, there is proprietary 'Auto Select' tech included that automatically determines the kind of audio you're listening to and adjusts as necessary.
The company is slight on the details, but says those who get the smartphone will enjoy an "HD" resolution IPS display with full lamination and 2.5D arc glass. Under the hood lies a 3500mAh battery with up to a day of standby per charge. Joining the 13-megapixel rear camera is a 5-megapixel front-facing camera. The company plans to roll out the devices in Europe and MEA countries first.