Alcatel Vision VR headset doesn't require a smartphone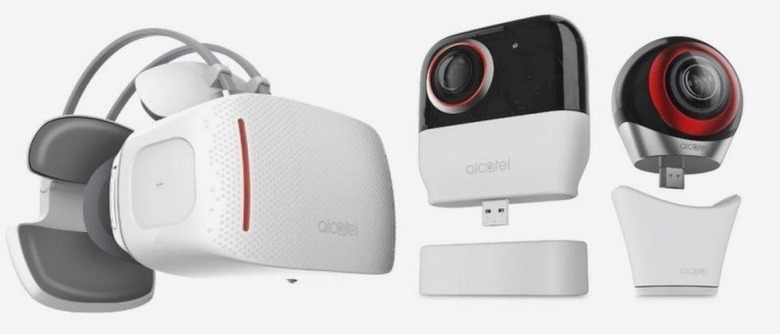 Alcatel has introduced a new VR headset called 'Vision,' as well as the Alcatel 360 Camera, the combination of which makes for 'an all-in-one virtual reality experience," according to the company. The Alcatel 360 Camera is being offered as two different models, both of them featuring two 210-degree fisheye lenses but each coming in different sizes: one is ball-shaped and about the size of a coin, while the other is rectangular and about half the size of a credit card.
According to Alcatel, the Vision VR headset is portable, not requiring a smartphone nor a tether to a computer. The headset can be worn for up to three hours comfortably, according to the company, even if you wear eyeglasses — though the headset can adjust for myopia, meaning some people won't need to wear their glasses with it.
The headset has a 120-degree FOV, something Alcatel boasts as a widest-in-class. Other Vision features include low latency at 17 milliseconds and two color options, though it isn't clear what the second color option is.
Joining the headset is the Alcatel 360 Camera, a plug-and-play offering that lets anyone make their own VR videos. The camera — regardless of model — is small enough to fit in a pocket, and it plugs into the microUSB port on a smartphone. The company says it can be plugged into its various IDOL handsets; it isn't clear whether it is compatible with other phones.