Airbus E-Fan plane makes history, crosses English Channel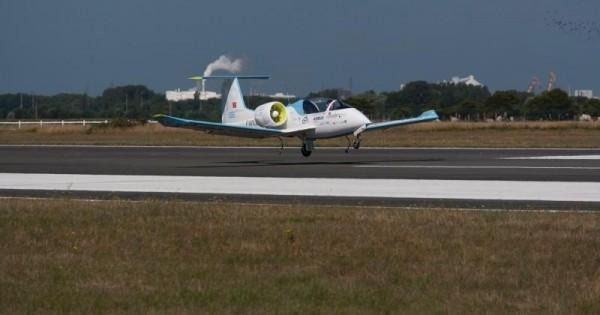 Electric cars were once the hottest topic in technology but now almost everyone is trying to make one, or half of one anyway. Now that land has been more or less conquered, our attention is turned to the skies. After the solar-powered Solar Impulse 2 made its historic Pacific crossing early this month, another electric plane is making some noise. This time, it's French aviation giant Airbus that is beaming proud, after its all-electric E-Fan plane prototype successfully made a historic Channel crossing without incident.
It hasn't even been a month since Airbus revealed the E-Fan. Unlike the Impulse, this isn't powered by solar energy but is driven completely by lithium-ion batteries. While it does limit the flight duration to about an hour, in exchange the E-Fan is able to achieve nearly silent flight and zero CO2 emissions.
Given those factors, the E-Fan definitely won't be able to achieve sensational flights like the Solar Impulse, but that makes the achievements of this smaller electric plane all the more laudable. PIloted by Didier Esteyne, the plane flew over the Channel, starting from Lydd in England all the way to Calais in France, a flight that took 74 kilometers and 36 minutes, well under the hour limit.
Airbus considers this a historic crossing not just because of the nature of the plane but also because it celebrates the same crossing made by Louis Bleriot in July 1909. Bleriot's aircraft, the Bleriot XI, became France's first mass produced plane, credited for the French aviation industry's boom. Naturally, Airbus looks to him as a hero and exemplar.
The E-Fan is a two-seater plane, so don't start thinking about eco-friendly tours just yet. It does, however, serve as the foundation of Airbus' ambitions, which does include a 100-seater all-electric plane in the very distant future.
SOURCE: Airbus