After Russian ISS resupply fails, Japan launches a rocket of its own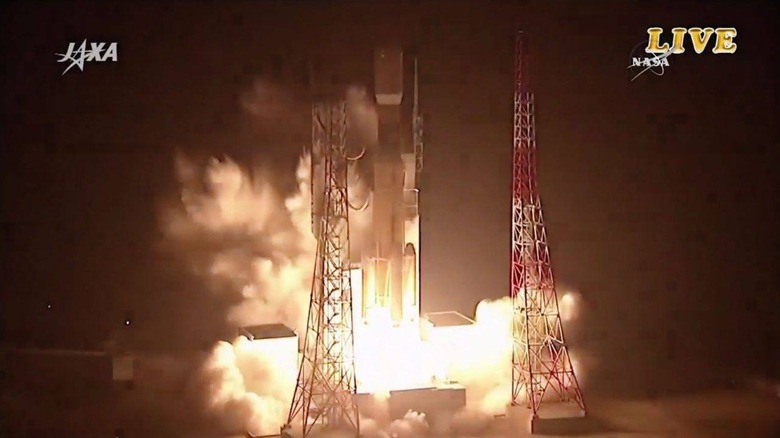 A Japanese cargo spacecraft has successfully blasted off for the International Space Station, set to deliver food, supplies, and other cargo early next week. It' the first attempt to restock the orbiting research platform since a failed Russian mission a little over a week ago, when an unmanned Progress MS-04 cargo spacecraft exploded around six minutes in. Luckily, the ISS' crew wasn't in any danger of going hungry.
In fact, the mission has enough supplies – including food and water – to make it through to April 2017, NASA confirmed earlier in December. "The Expedition 50 crew is safe aboard the station," the US space agency said at the time. "Consumables aboard the station are at good levels." Nonetheless, the 2.6 tons of destroyed cargo was a loss, not to mention the scientific experiments being taken up to the astronauts and cosmonauts on the ISS.
Things have gone a whole lot smoother for the Japan Aerospace Exploration Agency (JAXA)'s H-IIB rocket, thankfully. It launched at 8:26 am EST today, taking off from the Tanegashima Space Center in southern Japan. Just over fifteen minutes in, the rocket successfully separated from the HTV-6 cargo spacecraft.
It's expected to take four days to reach the International Space Station. On Tuesday next week, the HTV-6 will approach the station from below, and then be grabbed by the Canadarm2 robotic arm to bring it in safely. The goal is to install it on the Earth-facing side of the ISS' Harmony module, which will be its home for over five weeks.
Although any spacecraft loss is unfortunate, the schedule for resupplying the ISS is normally fairly packed. Following the Japanese launch today, SpaceX's CRS-10 Dragon is expected to head up on a trip of its own in January 2017. However, things haven't been entirely smooth running over at Elon Musk's company.
Following an "anomaly" on September 1 that saw one of its Falcon 9 rockets explode on its launchpad in Florida, SpaceX has been working on finalizing its investigation. That, it announced earlier this week, was almost complete, leading SpaceX to say that it expects to restart launches in early January. The first such mission would be deploying the first ten satellites for Iridium 1, part of a telecommunications system that will eventually total 72 such satellites.
However the FAA has taken issue, pointing out that, with the investigation still not complete, SpaceX doesn't have the necessary launch license. Exactly how long that license will take to acquire depends on how much FAA workload there is in processing whatever fix for the explosion the company has come up with. The FAA will also review the payload and do other checks.