Russia's cargo spacecraft destroyed on trip to restock ISS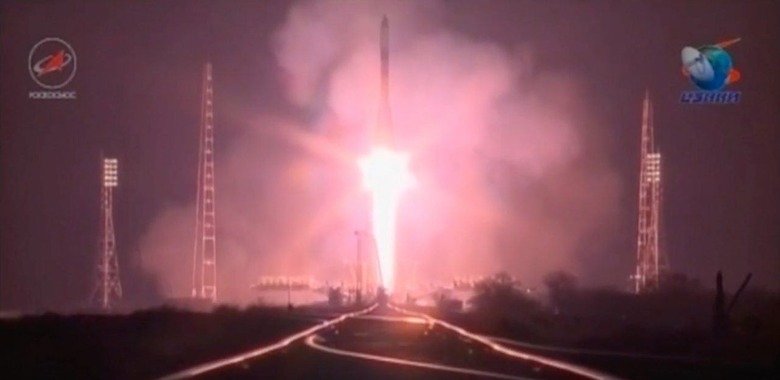 Bad news for those in the International Space Station looking forward to a fresh batch of food and supplies, after a Russian cargo ship was destroyed during launch today. The unmanned Progress MS-04 cargo spacecraft was meant to deliver 2.6 tons of fuel and other goods to the orbiting research platform to the Expedition 50 group currently onboard. However, just over six minutes after takeoff, telemetry from the craft cut out.
"Radar stations did not detect the cargo vehicle Progress MS-04 on the calculated orbit," Roscosmos, the Russian space agency, said in a statement. "According to preliminary information, the contingency took place at an altitude of about 190 km over remote and unpopulated mountainous area of the Republic of Tyva. The most of cargo spacecraft fragments burned in the dense atmosphere."
Initially, the launch appeared to be going according to plan. Blasting off at 9:51 am EST – or 8:51 pm local time – from the Baikonur Cosmodrome in Kazakhstan, the error occurred during the third stage operation. Third stage separation never took place, and while the navigational antennas were deployed, the spacecraft's solar arrays were not.
As Roscosmos reported, Progress MS-04's wreckage then burnt up in re-entry into the atmosphere. The state organization has begun an investigation into what went wrong, with initial suggestions from NASA including the possibility that the third stage shut down earlier than intended. It was designed to run until around nine minutes after launch.
Had the incident not taken place, the spacecraft would have taken around two days to reach the ISS. There, it would automatically dock at the rear port of the Zvezda Service Module, where it was intended to stay for six months.
While the loss of food, water, supplies, scientific equipment, and fuel is a blow, the current crew of the International Space Station aren't at any risk of starving. The ISS is currently equipped with sufficient supplies to last into April 2017. "The loss of the cargo ship will not affect the normal operations of the ISS and the life of the station crew," Roscosmos insists.
Similarly, NASA maintains there's no need to worry unduly. "The Expedition 50 crew is safe aboard the station," the US space agency said today. "Consumables aboard the station are at good levels."
There'll be another chance to restock in just a few days time, in fact. The Japan Aerospace Exploration Agency (JAXA) is set to launch an H-II Transfer Vehicle (HTV)-6 on December 9, 2016, which will be taking supplies to the ISS. Next month, SpaceX's CRS-10 Dragon will make a trip of its own, if all goes to plan.
MORE Roscosmos