Advent Vega "unprecedented demand" sees slate sell out in hours [Updated]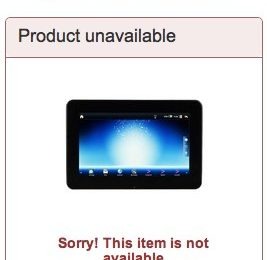 PC World's Advent Vega Android internet tablet has already sold out, despite only having been on sale for a matter of hours. According to the retailer's site, the Vega saw "unprecedented demand"; PC World is hoping that the 10-inch Tegra 2 based tablet will be back in stock next week.
Of course, we don't know exactly how many of the tablets were on hand in this first shipment, so it's hard to say whether the Vega is a runaway hit or simply under-supplied. We're checking with PC World to see what they have to say, but given the disappointing debut of the Toshiba Folio 100 it looks like budget tableteers have turned their attentions elsewhere.
[Thanks sgruffalo!]
Update: PC World has given us the following statement:
"The first shipment of Advent Vega tablets was made available at the start of business today on the Currys and PC World websites, and sold out nearly as quickly as 'Take That' tickets. We are expecting more stock and bigger shipments over the coming days which we will be rolling out as quickly as possible to all our stores in time for the busiest Christmas shopping weekends in December, starting with Currys and PC World megastores at the end of next week."