Toshiba Folio 100 pulled from PC World after sky-high returns rate? [Update: Yanked "temporarily"]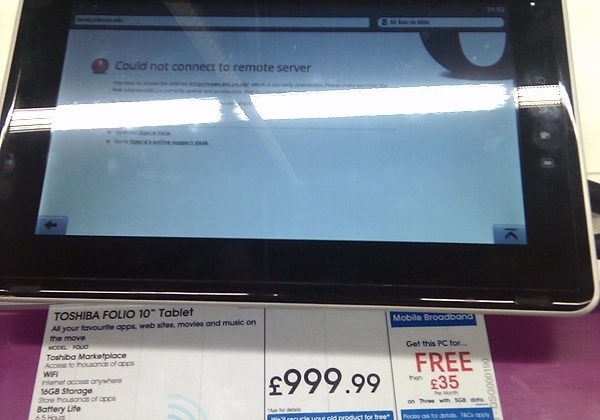 The Toshiba Folio 100 was meant to be the company's bruising attack on the iPad, but it seems first impressions – from both buyers and retailers – haven't been too hot. Engadget caught wind that UK retailer PC World had yanked the Android slate and so headed down to check out the shelves; they found a Folio 100, heavily overpriced at £999.99 and apparently not worth a penny of it.
According to the sales staff they spoke to, the £999.99 sticker is meant to dissuade stores from putting the products out; that obviously hasn't worked here. PC World has supposedly been seeing a considerably number of returned units since the Folio 100 went on sale, not helped by poor viewing angles and low pixel density in the display, cheap plastics used in the casings, the Android Market still being absent, and bugs throughout the OS.
They're all things we noted in our first hands-on with the Folio 100, back when Toshiba was showing prototypes at IFA 2010. Problem is, we assumed the company would polish those out in time for the commercial launch, a task which they appear to have forgotten. We're waiting on official comments from Toshiba and PC World, and will update when we have them.
Update: Toshiba UK has just provided us with the following statement:
"Toshiba UK is aware of reports regarding customer returns of FOLIO 100, and is currently working with Dixons Retail to provide a solution. An update on availability will be provided in due course."
Update 2: DSG (parent group of PC World) has provided us with the following statement:
"We can confirm that we have taken the Toshiba Folio off sale temporarily as we have had a high level of returns and we do not want to give our customers a bad experience of what is actually a very good product.  We are working with Toshiba to identify what the issue is and hope to have a resolution very soon." Anina Castle, Head of Consumer PR