Adopt A Robot? Jibo Aims To Be Part Of The Family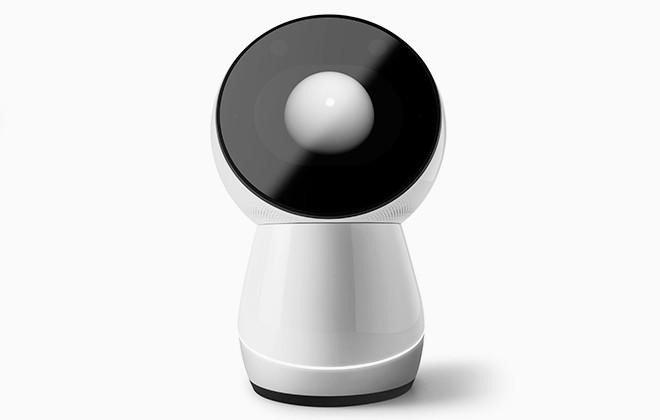 Domestic robots have been attempted before, but a new company, Jibo, believes it has what it takes to deliver something more autonomous than a remote-control toy, but less complex and more affordable than something like ASIMO. Standing 11 inches high, the WiFi-connected robot can automatically snap family photos or video, work as a personal assistant with voice controlled messages and reminders, and read stories to kids.
Jibo can't actually trundle about the home, but it can swivel to face the user, with facial-recognition to understand which member of the family is nearby. Its own "face" is an HD LCD touchscreen, with two color cameras for eyes, and 360-degree sound localization.
Two speakers are build into the head section, and there are touch sensors all over the body. Different lighting colors can be created with multicolor LEDs, and there's WiFi and Bluetooth connectivity in the aluminum, plastic, and glass body.
Out of the box, Jibo will run from an AC charging pad though not actually include a battery, which will be sold separately. Runtime off the pad is expected to be around thirty minutes.
Slick robotics hardware isn't new, of course, and so there needs to be software to go along with it. Jibo can give reminders of upcoming appointments and events, and recognize different people so as to deliver the right messages to them. During video calls, that same face-tracking can be used to keep the person in frame; Jibo can also automatically take photos and videos when it recognizes that people are posing for a picture.
For kids, there's the ability to turn Jibo into a storyteller, complete with music, light, and movement. There'll be a developer SDK for those wanting to make apps for Jibo or tie existing or new online services into the robot.
It's all the handiwork of a team led by Cynthia Breazeal, an associate professor of media arts and sciences at MIT, and director of the Personal Robots Group at the MIT Media Lab. Other notables includes former iRobot expert Dr. Todd Pack, and people with backgrounds in voice recognition, animation, and cloud services.
Jibo is up for preorder today as part of a $100,000 crowdfunding campaign, with consumer units at the $499 tier. Developer versions – with the JiboAlive Pro SDK and membership in the developer program – are $599. Developer robots are expected to ship in fall 2015, while the consumer models will follow on in time for the holidays.
Find out more about Jibo and the future of the family robot in our interview with company founder Cynthia Breazeal
SOURCE Jibo