Adobe slammed by former Adobe executive over Mobile Flash cut, stock plunges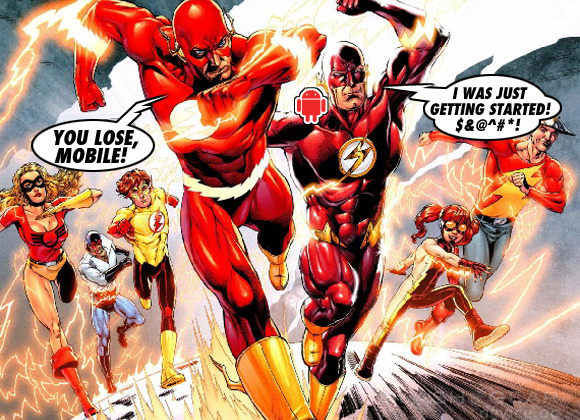 Today there was a rather important announcement made by Adobe regarding the amount of Flash that'll be found on mobile devices in the future: zero – and now that the public and the former leaders of Adobe have gotten full wind, the results aren't good. Of course it's been a point of contention whether or not flash should be on mobile devices for just about as long as there's been a concept of a smartphone, so the markets were bound to react to any sort of big change in the waters here in this situation, and it appears that Adobe really couldn't have gotten much worse of a reaction from stockholders.
In addition to the generally negative set of comments found around the web today, former Adobe executive Calos Icaza let the world know through Read Write Web's Dan Rowinski that he'd been pushing for Adobe to focus on flash for touchscreen displays since all the way back in 1997, and is now feeling a bit like he had the right idea. The situation back then eventually lead to him leaving the company, and now he's talking up how back then even though half the mobile Flash team at Adobe carried the Apple iPhone in 2007, they said it was a niche. Three years later and flash is on Android, one year after that, Adobe cancels Flash for mobile altogether.
"They dragged it on for months and months and three years down the line they finally kill it. It became too much of a tangle. At the end of the day the focus on what was important was lost and what is important are the developers." – Icaza
Icaza noted that Adobe's focus hit the more popular feature phone market through the launch of the iPhone and the rest of the smartphone market, and it was, again, three YEARS until Flash was offered on Android. Reception has been generally lukewarm, and because Flash has taken a backseat in Adobe's business model to development tools, Flash is done for mobile. Developers, consumers, and Adobe investors have reacted negatively in the face of the move. Take a peek at this chart of the stock price today and feel the heat: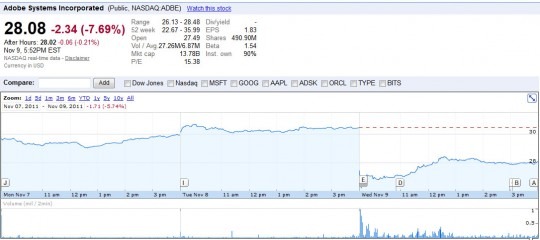 [via Android Community]