Adobe just gave Photoshop for iPad another huge desktop feature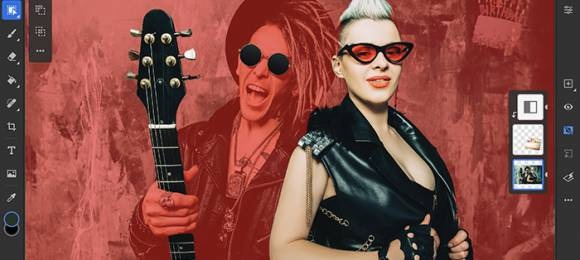 Adobe's Photoshop for iPad and desktop is getting a big update, timed to coincide with the software's 30th birthday. The newly-fettled software sees Adobe bring a new smart select feature to its tablet version, while the desktop version of Photoshop makes improvements to Lens Blur and Content-Aware Fill.
Photoshop for iPad updates
Adobe's version of Photoshop for Apple's tablets still isn't a feature-for-feature copy of the desktop software, but the company is gradually delivering on its promise to bring the most popular tools and abilities to the iOS version. Today's "major release" makes Object Selection its headline addition, something that Photoshop on the desktop only added three months ago.
Like the Select Subject tool, which arrived on Photoshop for iPad at the end of last year, Object Selection relies on a combination of machine learning and Adobe's Sensei AI system. Where Select Subject is tuned for a single primary object, however, Object Selection offers more granularity over what's selected. That includes images with multiple objects, but also if you only want to select part of an object.
Rather than a single tap, then, you instead drag a region around the overall area. The AI then finds and selects what it considers the primary objects within that region. Using the Lasso tool you can then add or remove other parts.
Additional features being added to the iPad version of the app are Type settings. That includes type layer, character, and options properties, for things like tracking, leading, scaling, and formatting things like all/small caps, and super/subscript. Adobe says that kerning will be added later.
Photoshop for desktop updates
For desktop users, Adobe's big update kicks off with improvements to Content-Aware Fill. That includes the ability to make multiple selections and apply multiple fills, all without having to leave the workspace. A new "Apply" button has been added, and there's now the ability to sample all layers in the workspace, together with breaking the fill region into sub-parts.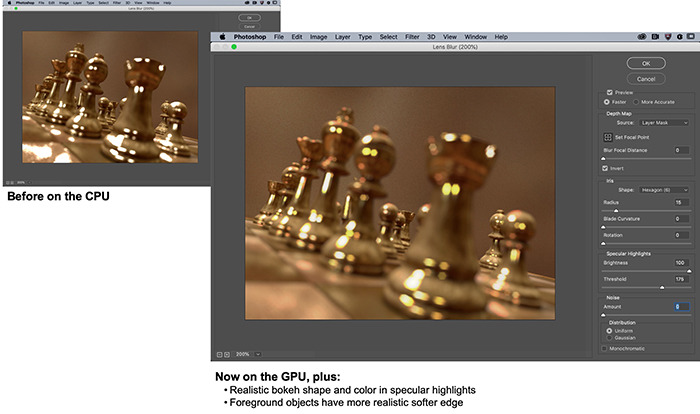 In Lens Blur, Adobe has now tapped into GPU processing rather than CPU. The result, the company promises, is better quality and performance, along with sharper edges and more colorful bokeh. It's also possible to virtually adjust the depth of field.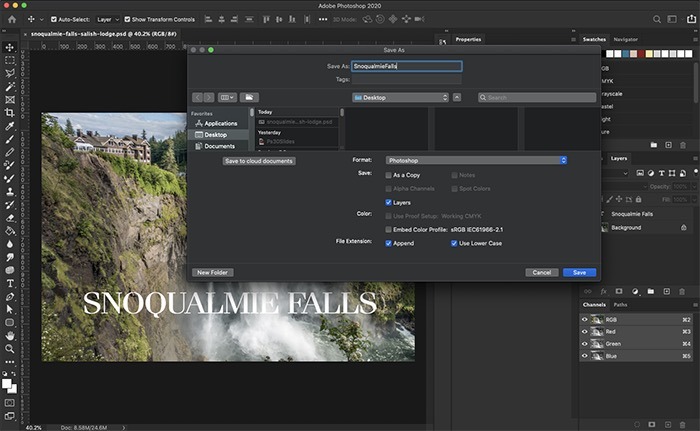 Finally – though likely to be a big hit for many – is the addition of Dark Mode support for macOS. Photoshop now supports that, including all of the options and settings menus. In the background, performance updates have tackled things like panning, zooming, and generally navigating through a larger canvas.