Adidas Smartwatch takes fitness seriously with GPS [Update: Live pics!]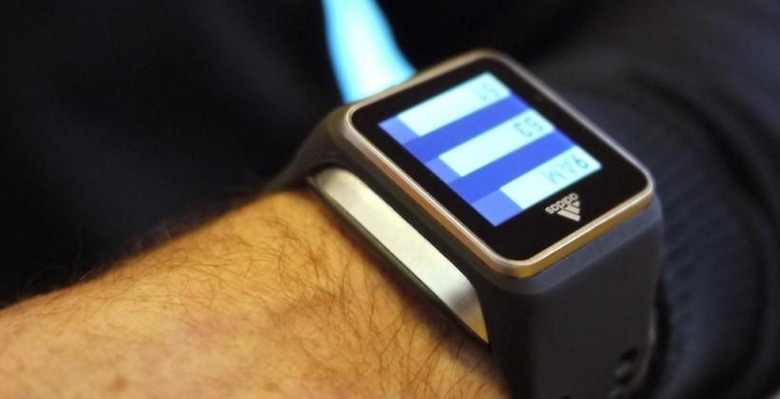 The world needs another fitness wearable, at least that's what Adidas believes, showing off its new Adidas Smart Watch, the miCoach SMART RUN, for the first time today. Hitting shelves – and athletes' wrists – from November 1st, the Adidas wearable takes things a little more seriously than rivals like Nike's recently announced Nike+ FuelBand SE with integrated GPS and a heart-rate sensor, which can be used to give personalized fitness coaching to the wearer. Update: More details after the cut.
The smartwatch can figure out your heart rate from the pulse in your wrist, and then factor that in with various onboard movement sensors as well as route tracking. The watch will cook up a custom exercise program with personalized training suggestions, and give prompts for that routine on the color display.
Since Adidas wanted the watch to work as a standalone device, rather than being tethered to a smartphone or tablet since that's unlikely to be something serious athletes might be wearing, there are a few other functions baked in too. An onboard media player can push audio via Bluetooth to your wireless headphones, for instance.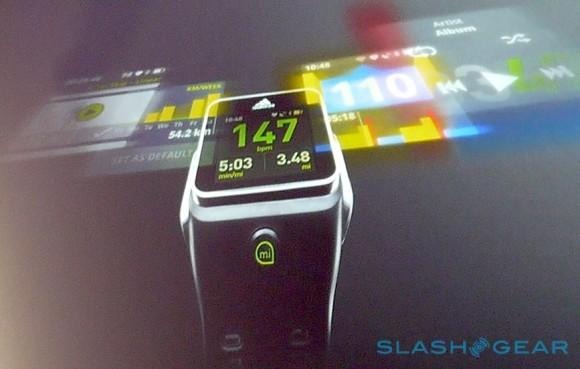 However, instead of music the wearable can also deliver training suggestions via audio. Adidas is yet to confirm details like battery life and what sort of hardware the smartwatch runs.
"We're not trying to make a smartwatch, per se, but the smartest running watch" Paul Gaudio, head of adidas Interactive, said at the GigaOm Mobilize conference today. As for opening up the watch to third-party integration, that's not on the cards at the start. "It's something we'll look at as we go into 2014 as we look at distribution" but there are no plans for open APIs yet, Gaudio confirmed. The approach differs from Nike's FuelLab project, announced earlier this week.
Taking fitness on your wrist seriously comes with a serious price. Adidas says the watch will come in at $399 when it hits retail on November 1st.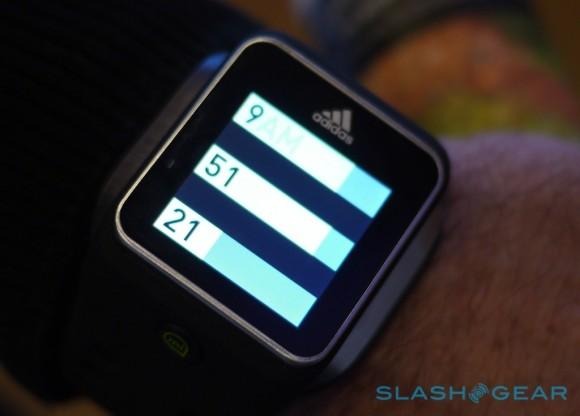 Update: We caught up with Gaudio for a closer look at the smartwatch, though Adidas is playing the details close to its collective chest until the wearable gets its full launch. Gaudio wouldn't let us wear it, or take photos of the UI; still, he did clear up some of our lingering questions.
As well as the GPS and Bluetooth, there's WiFi and an accelerometer, though no digital compass. The stats the watch collects will synchronize with Adidas' existing miCoach fitness cloud where there are thousands of pre-configured fitness routines and programs to work through.
Adidas consciously opted for "serious" watch materials, so the strap is the "highest quality" silicone rubber, Gaudio told us, paired with aluminum, magnesium, and glass. That leaves it water-resistant – it'll handle about 1ATM underwater, but it's not designed for swimming, more just to handle impromptu rain showers and sweat. It's a chunky design though feels tactile and high-quality; everything is controlled by the full color touchscreen, with a single button just below it on the strap which takes you back to the homescreen. Adidas' UI is navigated with swipes up and down, between the watch face and the main menu with its current stats, and side to side between different control panes for music, GPS, and other features.
As for battery life, that depends on which of the features you're actively using. Turn GPS on, and stream music and fitness prompts to your headphones, and you'll get about eight hours out of the smartwatch; just use it in the more basic watch mode, and it'll run for about a week on a single charge. Adidas has a "marathon" mode which is designed to balance the fitness tracking features with the length of a 26 mile marathon, too.
Update 2: Adidas has detailed the full specifications of the miCoach SMART RUN, which runs Android and has a new Mio optical heart-rate sensor.