Adidas miCoach SMART RUN Android smartwatch detailed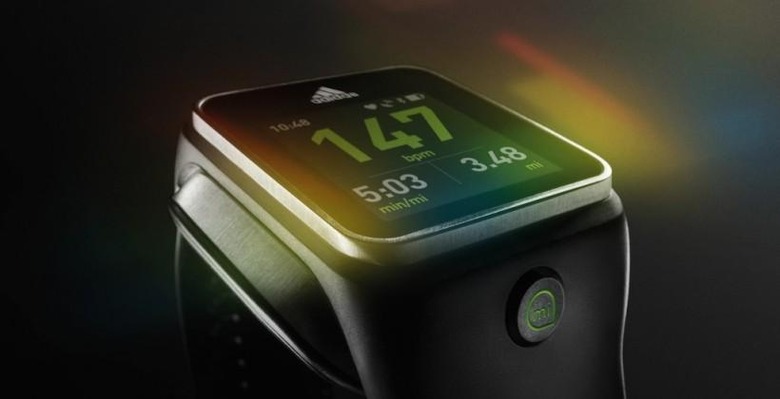 Adidas has detailed its fitness smartwatch, revealed earlier today, the miCoach SMART RUN, ahead of the Android-powered wearable's launch on November 1st. Designed to operate as a standalone fitness accessory, rather than demanding a permanent link to a smartphone, the miCoach SMART RUN runs Android Jelly Bean 4.1.1 with a custom interface on a 1.45-inch transflective TFT LCD at 184 x 184 with a capacitive touchscreen. Three battery modes will be supported, differentiated by how frequently they collect health data from the various onboard sensors.
In casual mode, for instance, no health data is collected whatsoever, and the miCoach SMART RUN works just as a regular watch. Adidas claims its 410 mAh li-ion battery will last for around 14 days in that state, with a full recharge taking around four hours at most.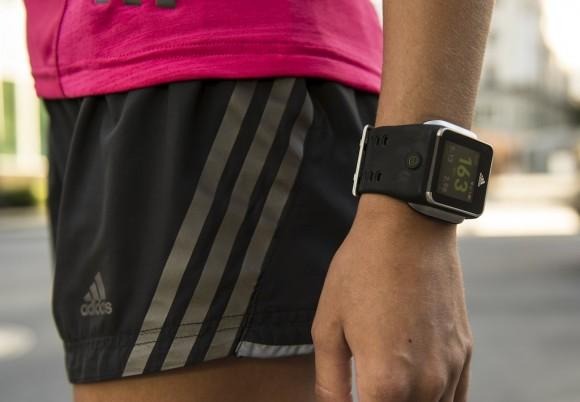 In marathon mode, meanwhile, the watch will capture data every five seconds, and last for around eight hours. In training mode, finally, data is logged every one second, and the watch can do that for up to four hours.
Sensors include GPS, an accelerometer, and an optical heart rate monitor from Mio. Together, they can log steps, heart rate, speed, and distance, with the miCoach SMART RUN giving suggestions on whether the wearer should speed up, slow down, or change their routine in another way using on-screen graphics, vibration alerts, and audio prompts courtesy of the Bluetooth connection to compatible headphones.
In addition to Bluetooth there's WiFi for offloading logged data – including both health and location – to Adidas' miCoach online system. That figures out customized training plans as well as recording completed workouts; it can also show anatomically-correct animations of different cardio and other exercises on the watch itself, to help get the most out of circuit training and reduce the likelihood of injury.
It's not a small watch – with the strap it's 263.1mm long, 48.4mm wide, and 15.6mm thick, not to mention 2.8oz in weight – but it's made with high-quality materials. The strap is soft-touch silicon, while the bezel is stainless steel, along with the buckle and the side detailing. The backplate is magnesium, and Adidas uses Gorilla Glass for the touchscreen.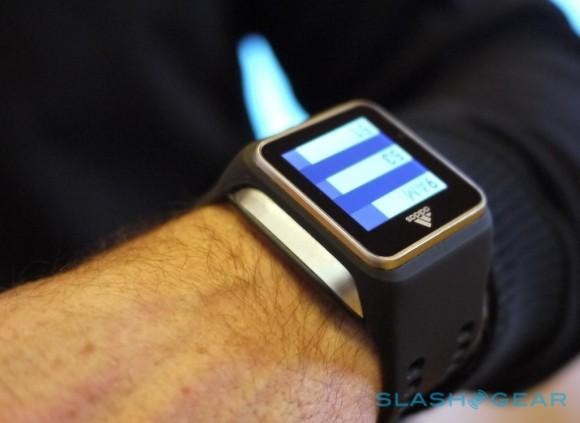 For music, 3GB of the 4GB of total onboard storage is dedicated to storing your MP3s, all navigated through Adidas' customized UI which relies on simple swipes to move through an app carousel. The company is promising over-the-air software updates, too, and there's a timer function out of the box.
$399 isn't cheap for a wearable, but then Adidas doesn't seem to be aiming for the mass market. "We're not trying to make a smartwatch, per se, but the smartest running watch" Paul Gaudio, head of Adidas Interactive, told us today.