Addonics NASU2 USB drive network adapter reviewed: Simple, but rivals circle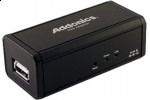 Addonics NASU2 NAS Adapter promises to be an easy, low-cost way to take a USB hard-drive and turn it into network-attached storage.  The compact box, with a USB 2.0 port on one end and a 10/100 ethernet port on the other, was announced back in December; now Register Hardware have flipped it onto their review bench to see if it really is the $55 Holy Grail of simple networked storage.  The good news?  In many ways, it really is.
Setup is relatively straightforward, with little port confusion and a basic self-hosted setup webpage to organize users, volumes and shares.  Multiple computers can access the NASU2 simultaneously, plus it's platform-agnostic; Addonics pre-set it with SMB and FTP enabled, and with guest and anonymous access pre-defined.  While it isn't anything near a full, standalone NAS, reviewer Tony Smith nonetheless finds plenty to recommend for those with a spare external hard-drive lying around and a desire to share it across their home network.
Of course, since the Addonics NASU2 was announced, we've seen the Pogoplug arrive on the scene.  Launched at CES 2009, the Pogoplug ostensibly does a very similar job to the NASU2 – take a USB hard-drive and hook it up to a network connection – but, from what we've seen so far, manages to do it even more easily.  Unlike the NASU2's setup pages and shares, the Pogoplug offers everything through a web interface, no matter whether you're on your home network or halfway across the world on your iPhone.  We're waiting for the first Pogoplug samples to ship out, at which point we'll have a better idea how well it actually works, but if accessing files remotely is at all of interest to you, we'd hold off buying an Addonics dongle for the time being.