Acer Smartphone announcement on February 16th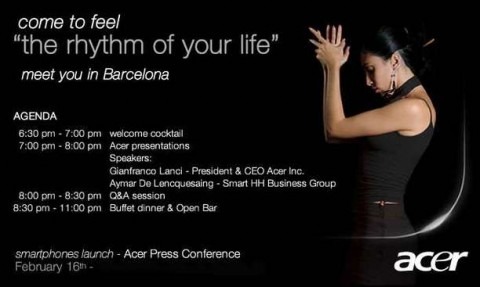 Acer have been clucking away about their upcoming smartphone for some time now, so it comes as no surprise that the company is planning the big unveil at Mobile World Congress in Barcelona next month.  Details on the device itself are scant, but we do now know to expect it on February 16th.  SlashGear will be at MWC and you can bet we'll be bringing you all the details from Acer's launch.
Acer might just be playing on easy Spanish stereotypes with their "the rhythm of your life" tagline, but if we're lucky it could be a sign of something more interesting than your run of the mill handset.  Palm have enthused all manner of people over the past few weeks with the news that their upcoming Pre smartphone will intelligently pre-prepare information depending on your calendar and meetings, together with offering to email people if its GPS recognizes that you're running late.
For their part, Acer will be using the expertise acquired through their E-Ten purchase last September.  Although the company has been tight-lipped on design and software specifics, it has previously said that the smartphone will be Windows based, leading us to assume it will use Microsoft's Windows Mobile OS.  Whether that will be Windows Mobile 6.5, tipped to be officially launched at MWC, and whether Acer will have developed their own GUI overlay in the manner of TouchFLO 3D, remains to be seen.
[via Pocket-lint]