Acer sliding QWERTY smartphone leaks ahead of MWC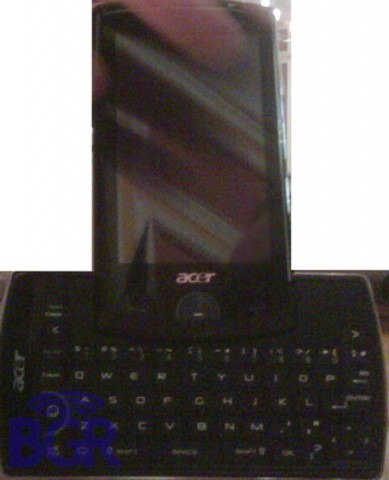 One of Acer's upcoming smartphones, tipped to be unveiled at Mobile World Congress later this month, has been leaked.  Few specifics are known about the handset, which is believed to run either Windows Mobile or Android, aside from its swivel form-factor, touchscreen and full QWERTY keyboard.
The design – which the original tipster describes as "pretty awkward" - looks to involve some sort of dog-leg swivel, with a hinge either at the lower left or right hand corner thus bringing the display section down and around to cover the keyboard.  Acer have previously announced their intent to launch at least one new handset on February 16th; SlashGear will be at Mobile World Congress bringing you all the details.
According to the same source, Acer will also be bringing a direct iPhone 3G rival to MWC, which apparently "looks like an iPhone".  No word on what OS that device might use, however.