Acer Quietly Outs $300 Boosted C7 Chromebook [UPDATE: Pulled]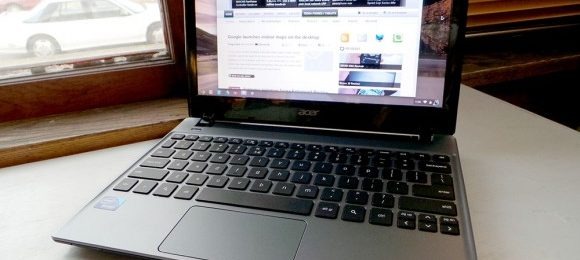 Acer has quietly rolled out a second version of its C7 Chromebook, a $299.99 premium model that boosts the specification and almost doubles the notebook's runtime. The Acer C710-2605 keeps the 11.6-inch 1366 x 768 display and 1.1GHz dualcore Celeron processor of the $200 C7 we reviewed last month, but doubles the RAM to 4GB and adds a larger hard-drive and battery.
UPDATE: Acer has updated the status of this machine saying that this boosted C7 Chromebook is not an official model at the moment. We'll just have to wait and see if the higher-spec'd machines hit the market soon!
Storage takes a leap from 320GB to 500GB, though of course Google would still prefer you to use its cloud-based storage. 100GB is included for the first two years of ownership, according to Acer. As for the battery, that doubles in capacity. Acer claimed 3.5hrs of runtime from the 2,500 mAh li-ion pack in the $200 C7, whereas the 5,000 mAh pack in the $300 version is estimated at 6hrs runtime. Considering we managed around 4hrs from the basic C7, we'd expect Acer's figures to hold up for the beefier version.
That means that the Chromebook to go for if battery life is your priority remains Samsung's Series 3, which uses its frugal ARM-based processor to good effect and squeezes out several hours more than the Acer can manage.
We're yet to see the C710-2605 version of Acer's Chromebook go up for sale, though our guess would be that it'll happen sooner rather than later.
[Thanks tipster!]