Acer Predator G6 Review : War Machine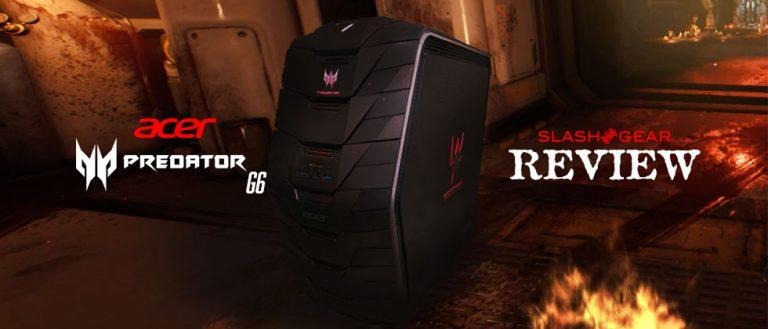 The desktop Acer calls Predator G6 (G6-710 for this review) is a monster. It's not the largest and most all-inclusive PC they offer – it's not even the most massive Predator. Instead, it's a great combination of elements. It's powerful enough to run high-end games and virtual reality applications, acts like a custom-built rig (with plenty of bright lights and odd opening panels), and looks rather fine. There's room for expansion, but also rolls correct right out of the box.
This machine can appear subtle or beastly, depending on how you display it. At 21.78" (h) x 8.27" (w) x 18.19" (d), this isn't the biggest PC you'll likely have ever seen – but it's certainly not compact. It's made to fit under your desk if you need it to – or to display prominently up top of your desk if you've got the space.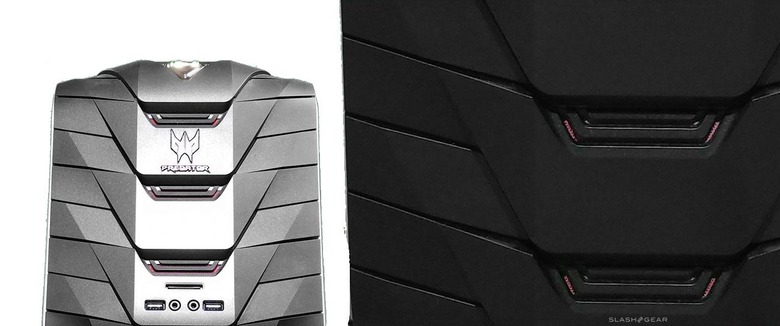 The design of the casing is based on the tread of a tank. The exterior of this case is meant to look like armor. But it's been designed well – it's not overbearing, as gaming PCs often end up being.
Up front you'll be able to make use of a disk drive – here an 8X Blu-ray Disc / DVD SuperMulti Double- Layer Combo Drive – popping out from under one of the front-facing treads.
Another tread hides a pop-out cradle for your headphones.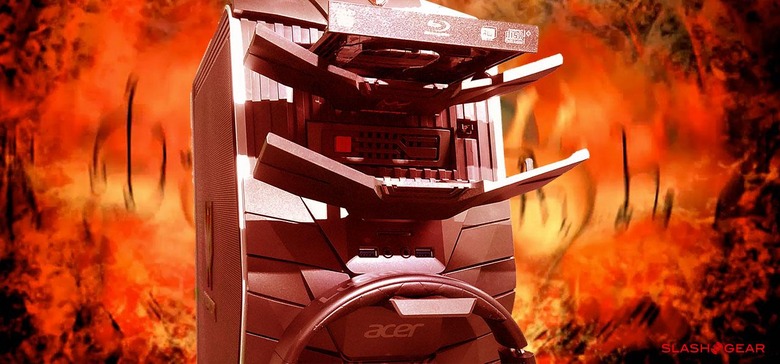 Amid USB ports and audio ports up front you'll also find an SD card port capable of reading up to 128GB cards.
Ports include 6x USB 3.0, with 2 up front and 4 around the rear. You'll also get a couple of USB 2.0 ports (also around the back). With the NVIDIA GeForce GTX980 (or GTX970, if you wish), you'll get 2x Mini Display ports, 1x HDMI, and 1x DVI. Up front is a single audio jack while the other three sit on the back – there's a single Ethernet (RJ-45) port there as well.
Audio is controlled with a built-in Creative Sound Blaster X-Fi M85 with EAX 5.0.
You'll find an Intel Core i7-6700K processor inside with 16GB of DDR4 2133MHz memory.
Expansion slots include 2 – PCI-E x 1, 1 – PCI-E x 16, 2 – M.2, of which the two PCI-E x 1 are available for your add-on components. Inside you'll also find 2 – 3.5" HDD bays, 1 – 5.25" ODD bay, and 1 – 3.5" hot swap HDD. Of these, one 3.5" HDD bay and one 3.5" hot swap HDD bay are available.
This review unit includes a 2TB 7200RPM SATA III HD and a 256GB SSD.
You'll be able to connect with this unit's ethernet port or with its built-in wireless card – 802.11a/c WiFi included. You'll also have Bluetooth 4.0 for wireless connectivity of many kinds.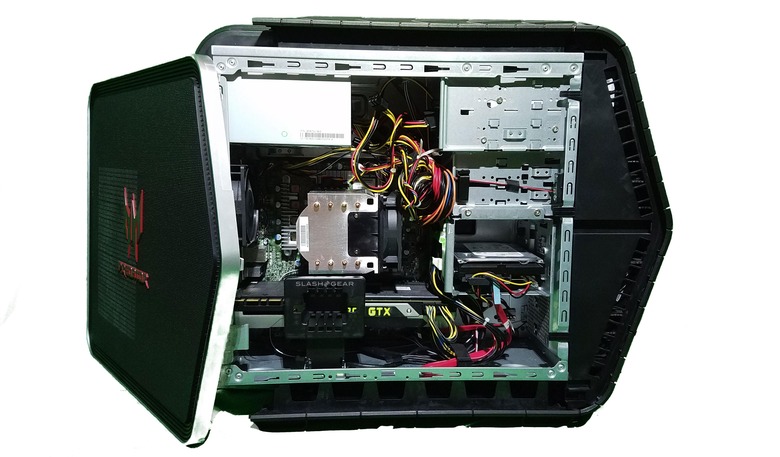 Getting inside this Predator is simple if you know which buttons to push. Two buttons. Both sit in the lower portion of the back panel – press and move to release the panel.
Two screws hold the side panel on – and bang, you're in.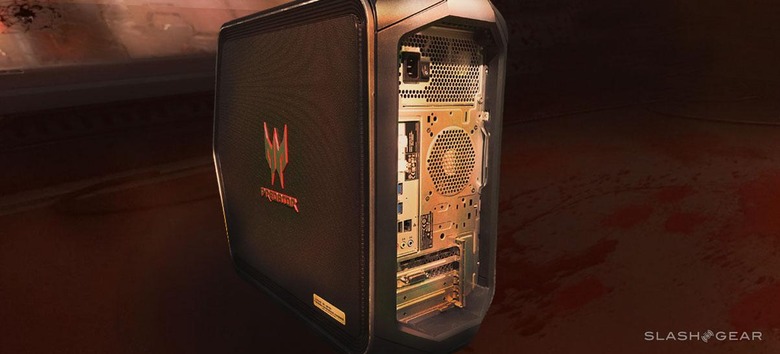 Above you'll see the backside of this machine. The back panel is in black, encircling the metal and holding the side panel in while in place.
While expansion and modification inside this PC is possible, you're going to have to do some real cutting and re-organizing.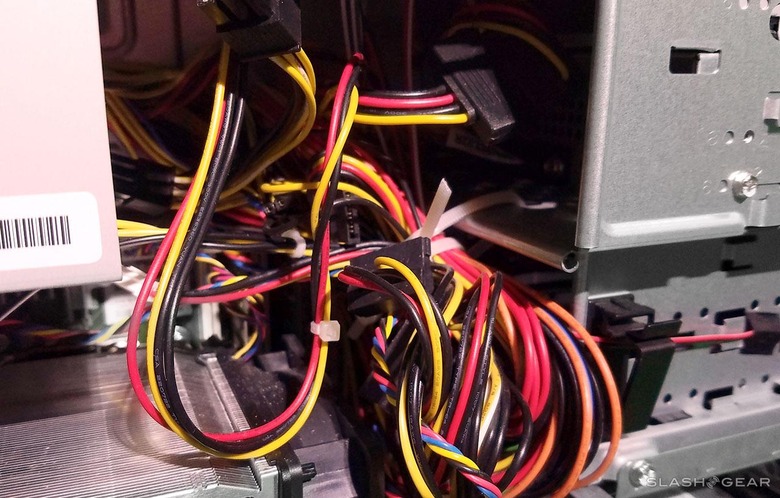 Zip-ties hold the masses together, and replacement of the graphics card, while relatively simple, requires a very steady hand to avoid damaging the motherboard.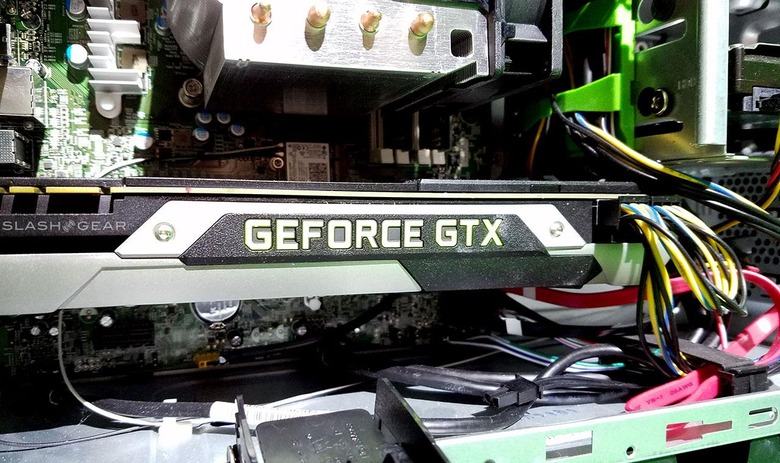 There's room in this rig for one graphics card, and one only.
Lucky you, the card that comes with this machine should be good for running your high-end AAA games for a few years into the future.
This machine has been our go-to for our first round of VR game testing and reviews. I've had no issue running any of the wide variety of VR games that've been available to us thus far – everything you've seen on SlashGear thus far and more.
Drop in on our Virtual Reality tag portal to see a variety of demos run on this machine. Anything hands-on demo in our VR tag portal written by Chris Burns run over the past several weeks was run on this Predator G6 desktop machine.
ABOVE: CyberPong.
BELOW: RAW DATA. You can see more on this in Episode II of our series Adventures in Mixed Reality.
Next you're going to see the origin of the hellish backgrounds in some of the photos in this review: DOOM. The images there have been captured from the gameplay video here, captured in turn on the Predator G6 we're reviewing.
Behold DOOM, complete with running stats in the upper right-hand corner, generated by the game as we record.
You'll find this model (Predator AG6-710 AG6-710-70002) available from Acer for $2,000 USD at the time at which this article is posted – that includes a 2 year parts and labor limited warranty.
That means its more affordable than custom rigs with similar parts inside from most companies – though the tied-up wires inside along with little more room than you've got out of the box means you'll have a rough time upgrading this PC with more than the basics in the future.
If what you need is what you see here – there's no reason to turn back.
Acer's Predator line is now fully legit.