Acer Predator AG3620-UR21P gaming desktop Review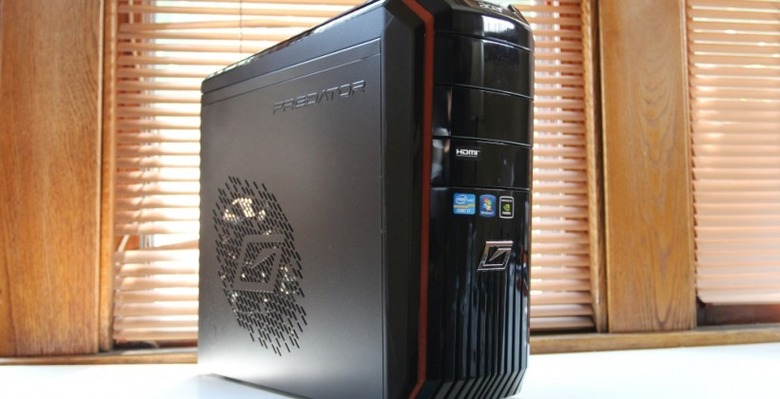 This week we've got our hands on the orange and black beast of a gaming desktop computer known as the Acer Predator AG3620-UR21P. The build we've got comes with a beastly set of hardware, starting with the new Third Generation Intel Core i7-3770 processor, 3.4GHz with Turbo Boost Technology up to 3.9GHz. This tower also comes with NVIDIA graphics, a 128GB SSD drive, and so many ports on the top and back that you wont know what to do with all of them.
Hardware
The actual casing and set of ports is extremely similar to other Acer models such as the AM3970 – though that model is made much more for the everyday user while this Predator unit brings on a shape and color scheme much more suited to the gaming-specific user. Sharp angles are clear to be seen all around the unit while bright fire orange stripes run up and over so you're ready to race.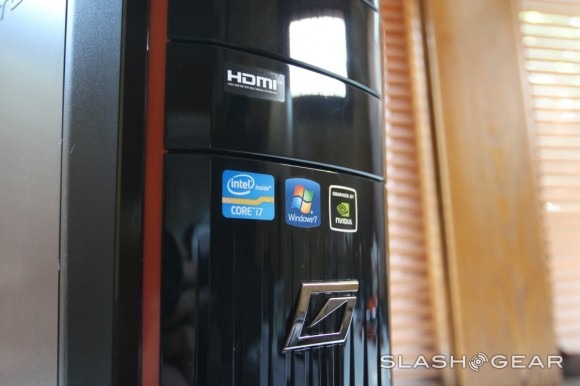 Up on top you've got what Acer calls their Multi-in-One digital media card reader with essentially every sort of card port you can imagine. Though if you're a modern gamer you'll probably either be using disks or digital downloads, these will come in extremely handy when you switch camera types or are handed a strange card from a friend full of photos of your last LAN party – if you're the kind of person to take photos at such an event, of course.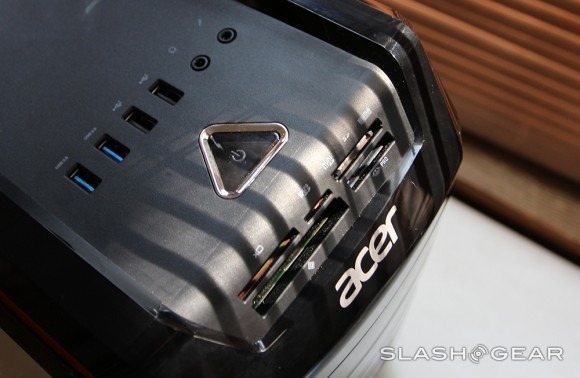 Also on top are 2 USB 3.0 ports and 2 USB 2.0 ports as well as a mic port and a headphones port. On the back you'll see every sort of port you could need to get off the ground for a fabulous one-display gaming experience. This includes a couple of covered ports in our build that you'll be able to have active should you choose them for your build (you might want that display port, for instance), but we're perfectly alright with using the DVI Video and HD-capable HDMI ports for now.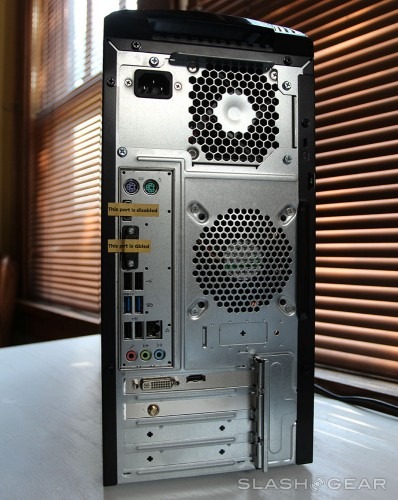 Included with this tower, as it is with most/all Acer desktop units, you'll get a pretty standard USB keyboard and optical mouse if you're currently going without. They work fine, but you might want to think about an upgrade if you're actually going to go hardcore with your gaming love. Also included inside are 10/100/1000 Gigabit LAN and 802.11b/g/n Wireless for some sweet connections, and High Definition 5.1 Channel Audio Support ready to go as well if you've got a massive room you want to fill with the crunching bone sounds of your digital enemies.
Up front we've got a 16X DVD+R/RW SuperMulti Drive, inside a 2TB 7200 RPM SATA Hard Drive, and the whole bit is running Windows 7 Home Premium 64-bit – and of course it's upgradable to Windows 8 if you do so choose in the near future. Inside we've also got the lovely NVIDIA GeForce GT630 Graphics with 2GB Discrete Video Memory as well as a 2TB 7200 RPM SATA Hard Drive, Intel B75 Express Chipset, and again, that lovely new Ivy Bridge i7.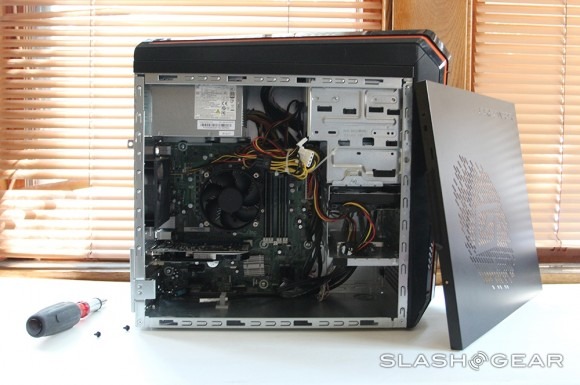 Have a peek at the results from our standard for desktop and notebook computing benchmarks, Geekbench, and certainly feel free to peruse the rest of our results from similar units in our Desktop Reviews portal. You'll find that this device is right on the cutting edge when it comes to manufacturer assembled units, and
[sgbenchmark id=169 show=score]
Have a peek at a few more details on the system in this readout as well:
[sgbenchmark id=169 show=system]
Wrap-Up
In the end, what you've got here is an Acer machine, through and through, in an iteration aimed directly at the most high-powered and graphics intensive games you've got on hand. We've played everything from Diablo III to Batman: Arkham City on this device and have found that be it masses of characters smashing up the display or a vast playable world with realism in abundance, you'll still be running strong.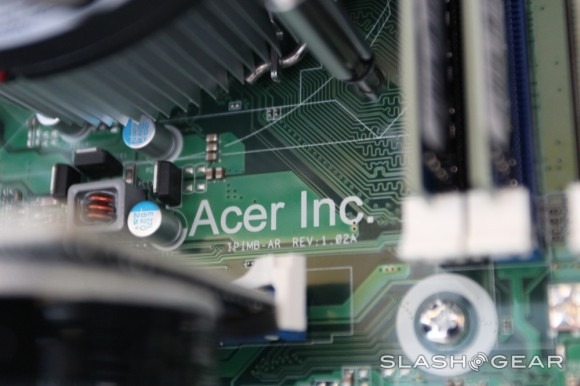 The unit we're using here will cost you a cool $1199.99 from Acer's online store and it is indeed in stock right now. Head to our timeline below as well to check out additional Acer reveals and hands-on experiences we've had in the past couple of weeks!