Acer Predator 8 Review Part I: What No Other Tablet Has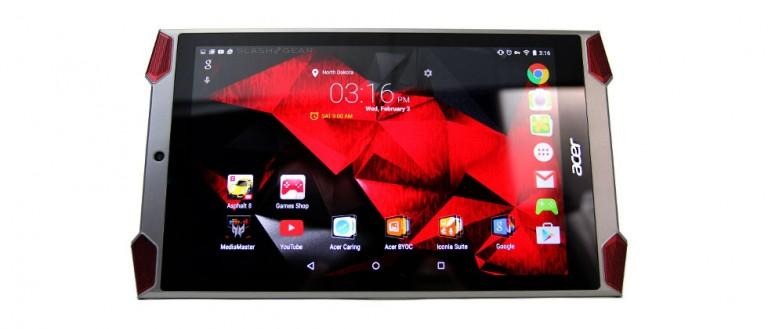 When we first heard about the Acer Predator 8, it was clear they were going after the market dominated by the NVIDIA SHIELD Tablet. This is a gaming tablet that rolls with an 8-inch WUXGA (1920 x 1200 pixel) display and four front-facing speakers. Acer is not fooling around with this release. This is no "filler" tablet. In this device is one of the strangest – in a good way – pieces of Android hardware we've seen in a very long time.
4x VSS Speakers
Four front-facing speakers make a big difference when it comes to a full audio experience on a tablet. Why are there four speakers, you might wonder?
While we'd love to have more control over which speakers are blasting which sound, you DO get virtual surround sound (VSS) right out of the box. This system is supported by Dolby audio, which in this case means you've got a collection of optimizations and controls at your disposal.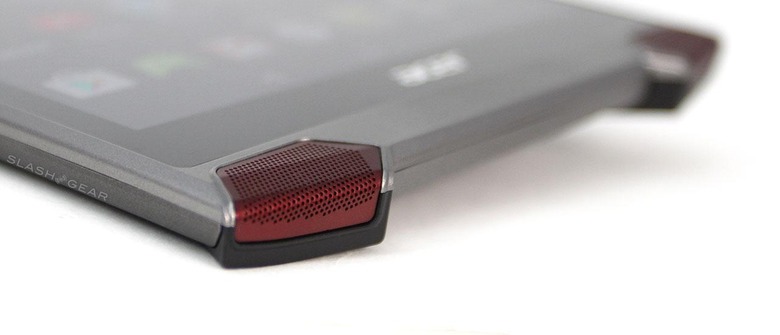 Controls for your audio here include Audio Optimizer, Audio Regulator, Volume Leveler, Volume Maximizer, Intelligent EQ, and Dialogue Enhance.
A couple of oddities there – Volume Maximizer -isn't that just the volume up button? One would expect. Instead it's one of those slightly more intelligent "audio boost" sort of deals that pumps up the bits of the audio that won't result in an inordinate amount of distortion.
Audio Optimizer – shouldn't the audio be optimized right out of the box? Yes – and it is. Several of the key titles here Acer speaks of are automatic optimizations for audio, not features you're going to need to fiddle with.
That said, Acer offers a lot more control here for audio than we see with most – or perhaps all – other tablets. Take Predator MediaMaster for example: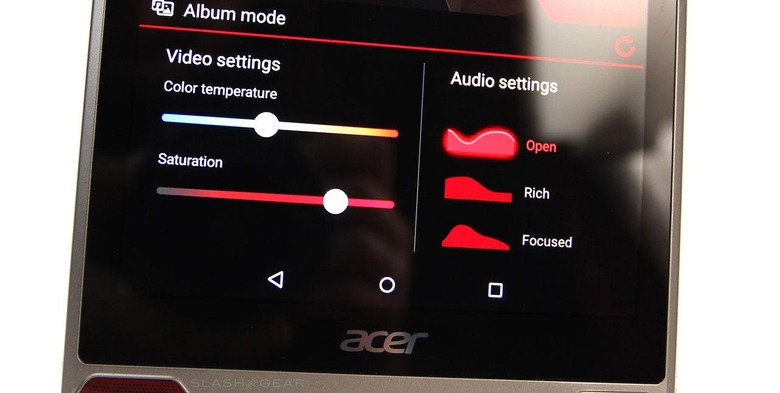 Inside the Predator MediaMaster app you'll be able to switch between standard, album, movie, and game use for both audio and video settings – and you'll be able to tweak settings to your heart's content.
And of course if you're in a situation where you can't be blasting audio loud enough to fill a room, you've still got your standard headphone port.
2x Vibration Motors
Under the hood of this tablet you'll find two separate vibration motors with technology developed by Immersion Corp., making this the first tablet to be released with this level of dedication put in haptic feedback.
One fantastic example of a game that makes full use of this system is Gameloft's game Asphalt 8. This game is by no means brand new – it's been on the market for a while now, continuing to get updates from Gameloft so you'll spend more cash to feed your addiction.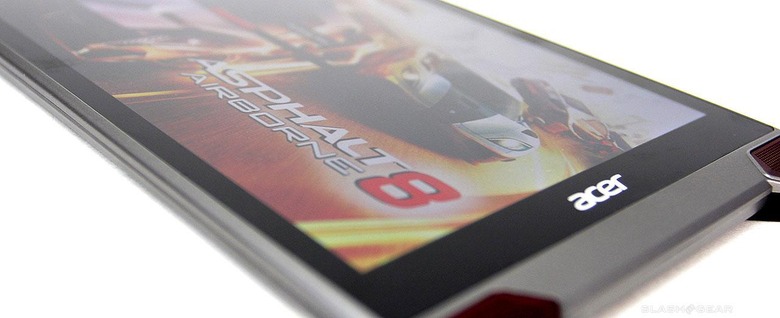 Acer knows this. They've teamed with Gameloft to plant this game (a link to the full version of the game, which does require a few minutes to download) on the tablet. If/when you play this game on this tablet you also get 320,000 "game credits", which you'd otherwise have to pay around $50 for in-game.
In Asphalt 8 you'll get a full tactile experience – "Predator TacSense" they brand it here, vibrating whenever you hit a wall, grind up next to your opponents, or hit turbulence before winning a race.
Look and Feel
This device looks like it's made of metal. While the four front-facing speaker grilles are, indeed, made of metal, and we're sure there's metal inside somewhere, this tablet's outer casings are largely plastic. There's a front panel made of reinforced glass, but the edges and the back are all semi-soft plastic.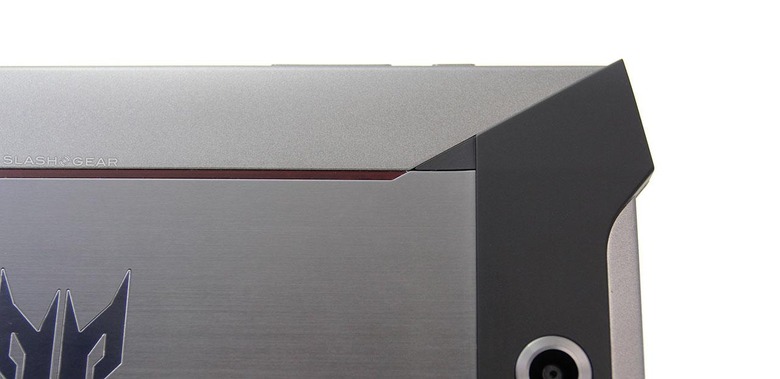 While it'd be nicer to be able to roll with some slightly more rubbery plastic OR some full-metal-jacket action, Acer gets credit here for delivering a tablet that really doesn't look like any other tablet on the market.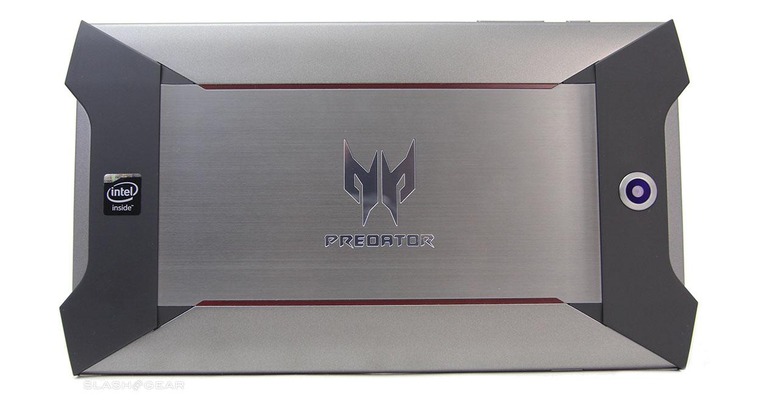 Holding and using the Predator 8 for games and movies is enjoyable in the same way outfitting your gaming PC with LED lights is enjoyable. You might not NEED your four front-facing speakers to jut off the edges of your tablet, but there they are – you'll certainly be reminded you've purchased something entirely out of the ordinary every time you make use of the tablet, that's for certain.
Intel Inside
Acer has teamed up with Intel to deliver the latest Intel Atom x7-Z8700 processor with this Predator 8 tablet. That's a mobile processor, yes, coming with Intel HD Graphics (Gen 8 – LP). While we did have a couple of hiccups running through the basic benchmarks we'd normally run on the machine immediately upon our first startup, one or two software updates later and we were in great shape.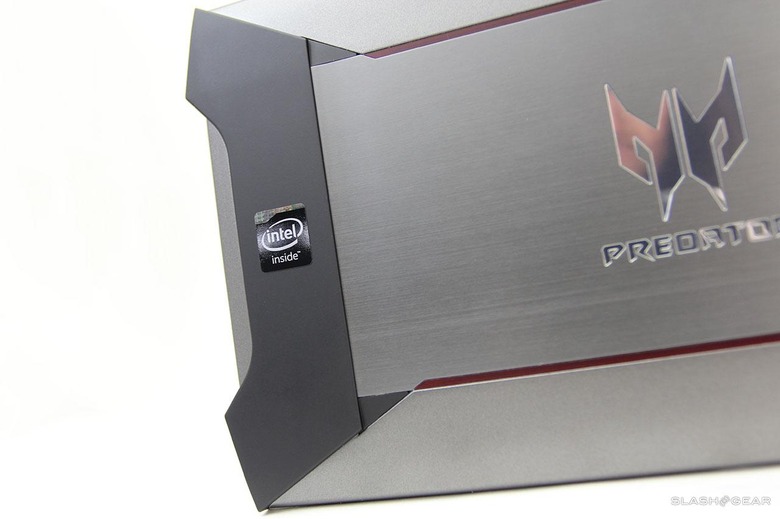 NOTE: While other tablets do have Intel processors inside, Acer here is towing the line for Intel x Android x Tablet, creating a machine that works at least as well as expected in the process.
Connectivity is pretty good, too, with 802.11 a/b/g/n wi-fi and 2x2 MIMO connectivity inside this tablet. At this time there has been no indication from Acer that there'll be a mobile data-friendly version of this tablet, so don't expect to be jamming your SIMs in any time soon.
Wrap-up
While I'm still not quite ready to suggest that any tablet has replaced the NVIDIA SHIELD Tablet for "Most Versatile", this Predator 8 certainly takes the current crown for "Most Daring". Four front-facing speakers and a shape like no other tablet – not to mention aesthetic flare the likes of which we've only otherwise seen on the rest of Acer's Predator line of gaming PCs – all of this adds up to a very unique piece of work.

Have a peek below for additional Acer Predator devices we've seen, worked with, and reviewed over the past several weeks and months.