Acer may have some super-slimline notebooks in its CES 2018 line-up, but if you want the beef you probably need the Acer Nitro 5 gaming laptop. Targeting casual gamers who need more grunt for AAA titles, but don't want to go down the full performance route with all the cost that entails, the new notebook packs AMD's Ryzen's processors.
They're paired with AMD Radeon RX560 graphics, and up to 32 GB of DDR4 memory. Acer is offering configurations with up to 512 GB of SSD storage, too. Its preloaded NitroSense app promises to automatically monitor the CPU and GPU performance while under load, and adjust the cooling dynamically to avoid frame drops and instability.
The screen is a 15.6-inch Full HD IPS panel, topped with an HD camera. There are Dolby Audio Premium and Acer TrueHarmony speakers, while connectivity includes 802.11ac WiFi, USB Type-C, HDMI 2.0, and gigabit ethernet.
Style-wise, you'll either love the Nitro 5's design or find it a little too "stereotypical gaming notebook" depending on how your tastes fall. The top cover has laser texturing, while the crisis hinge is matte finish and matches the keyboard backlighting. It's not exactly subtle.
Pricing kicks off at $799, Acer says, when the Nitro 5 arrives in the US come April. Meanwhile, the company has also confirmed US availability and pricing of another Acer gaming rig, the Acer Predator Orion 9000 Series. That was announced back at IFA 2017.
It too has a fairly outlandish design, with a black and silver chassis – featuring a push-open top for switching fans more easily, and wheels on the back for trundling it around – and a sizable side window in case you want to show off the processor at work. If you've coughed up the cash for the Intel Core i9 Extreme Edition that tops Acer's spec tree, mind, we can't exactly blame you for wanting to crow. It can be paired with up to dual NVIDIA GeForce GTX 1080Ti graphics cards.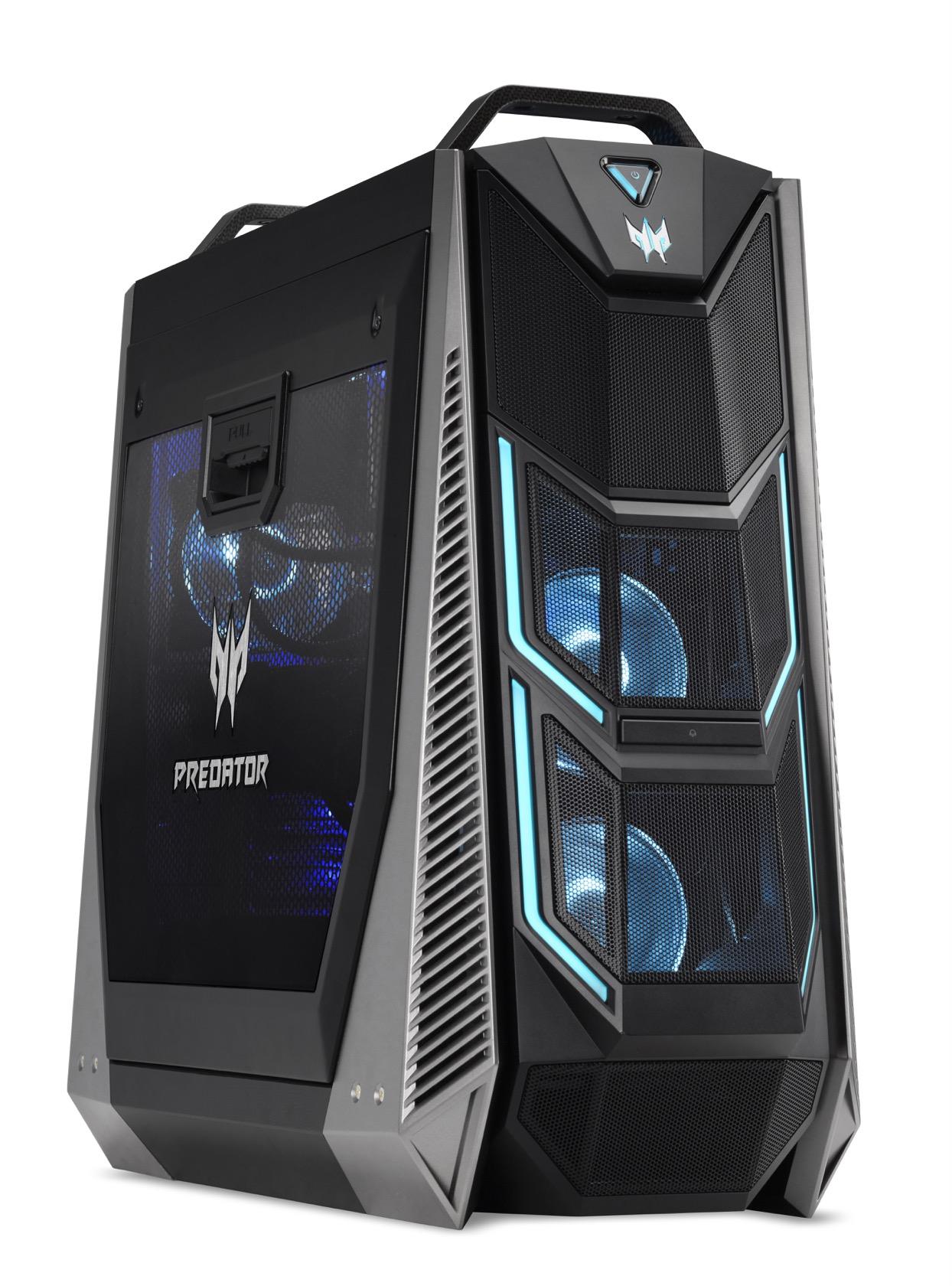 RAM is up to 128 GB of quad-channel DDR4, while ports include two USB 3.1 Gen 2 – one Type-C, one Type-A – along with eight USB 3.1 Gen 1 – one Type-C and seven Type-A – and two USB 2.0. Two M.2 slots can be used to add to the storage, while an M.2 slot can be used to add optional wireless. There are also up to four PCIe x16 slots for video cards.
An entry-spec Predator Orion 9000 Series will set you back $1,999 when it hits the US come February 2018. Of course, expect to pay significantly more if you want the more potent CPU and GPU versions.