Acer Iconia Tab A700 Review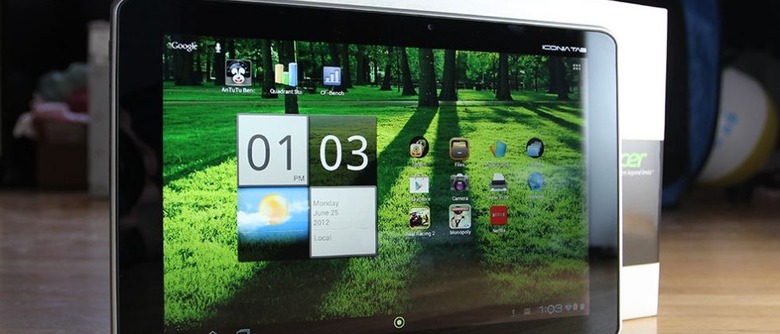 Hardware
While the display's high definition resolution is obviously the real hero here, you'll be glad to know that we're now officially in an age where making a tablet that's as thin and nice looking as the iPad isn't so much of a hassle as it used to be. This version of the Iconia Tab is right around the same weight and shape as the A500, but here it's got a bit more style.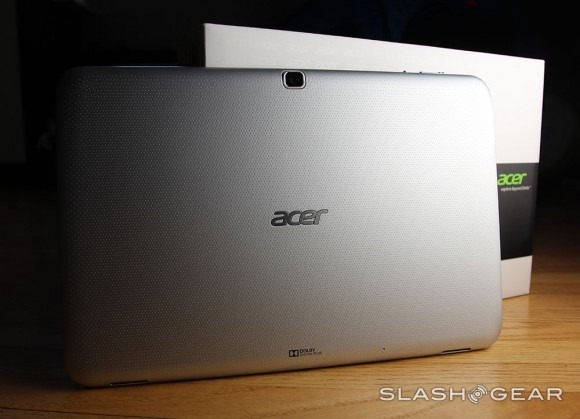 The speckled back panel and the lovely detail in the glass panel up front as well as it's surrounding plastic are all very well tuned. This tablet feels really nice to hold, as it were.
This tablet has several ports, each of them just about as far away from the others as they possibly could be. There's a microHDMI, a microUSB, headphone jack, and a microSD card slot as well as a volume up/down button and a screen lock. The screen lock is a switch that holds your tablet in either landscape or portrait mode, and should you feel like heading down the road of the hacker, we're sure you could find more than a few useful things to do with it in addition to its basic intent.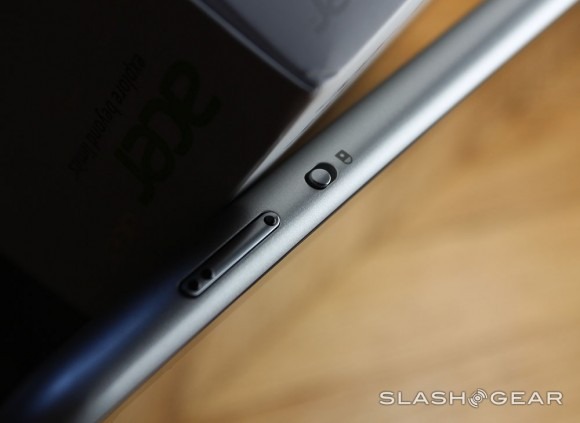 The power button sits at the top of the left of the device in the same place it did on the A500, and if one were to compare this tablet only to that older generation, one would applaud the efforts of Acer in pushing themselves to the next level. Compared to the iPad, you've got a surprisingly similar feeling machine, with just about the same weight and, at a distance at least, a really similar look.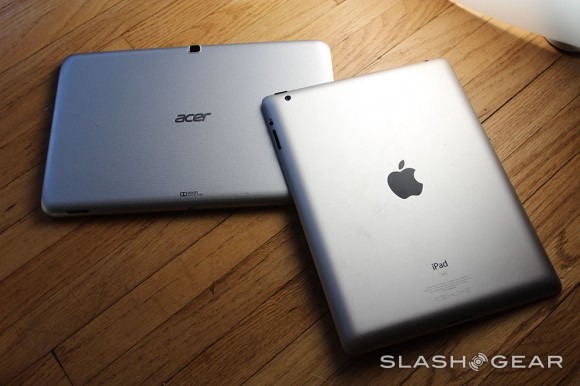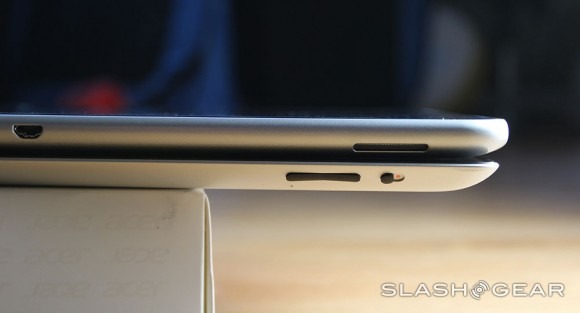 Of course the power of any tablet doesn't rest on its single specifications alone, and Apple's iPad certainly relies on its software to beat the crowd. So how does Acer do with their new look at Android 4.0 Ice Cream Sandwich?
Software
Inside this machine is Acer's selection of applications including several pre-installed games, cloud-access apps, and music apps. Google's collection of apps are here as well, this including Google Music (not often included right out of the box) as well as the common ICS additions like Google+.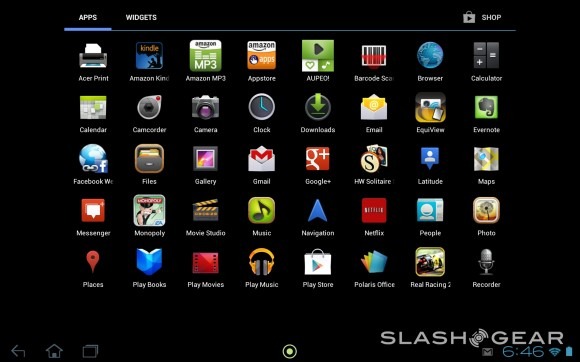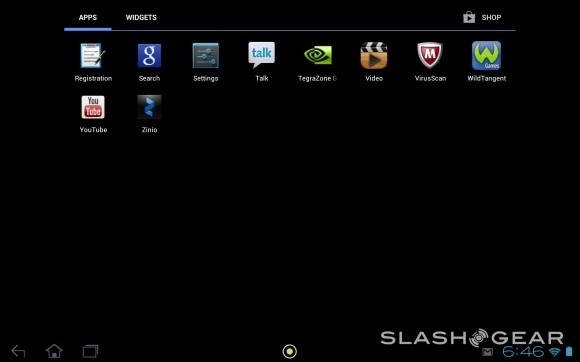 The real heroes here are the additions made to Android 4.0 ICS by Acer. There's a brand new lovely customizable lock-screen as well as a "Ring" that will allow you several new abilities including the screenshot, the ability to flip through web browser favorites in cards, and changing the volume on-screen. This Ring could very well be the reason you purchase this device – Acer has done a great job of pushing the limits of such a collection of functionalities for the discerning Android user.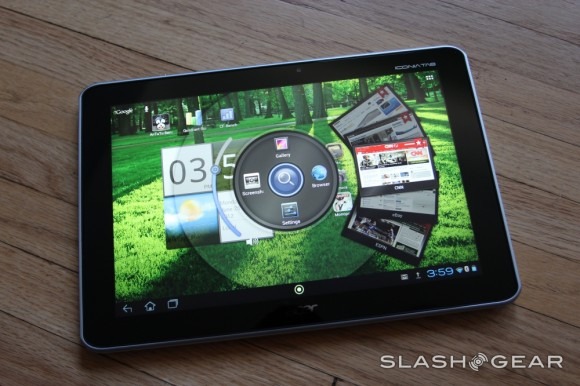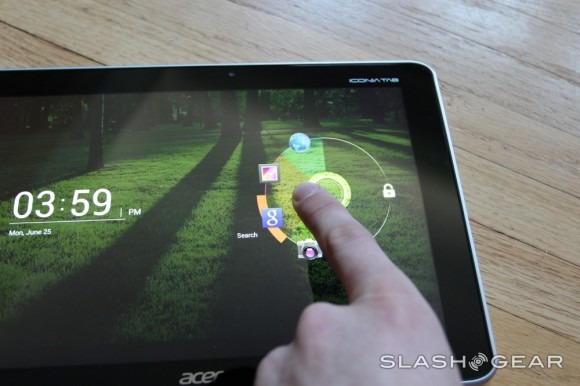 You've also got the built-in ability to work with a printer to print whatever you've got on-screen to hard copy. We suggest to take a look at which devices will function with this connectivity, but from what we've seen, most modern wireless printers will indeed work. Acer has connected this device to the rest of its device suite with a simple registration app – this being a good example of why you'll certainly want to be thinking about picking one Acer machine up if you've picked up the other as their device family continues to become more interconnected.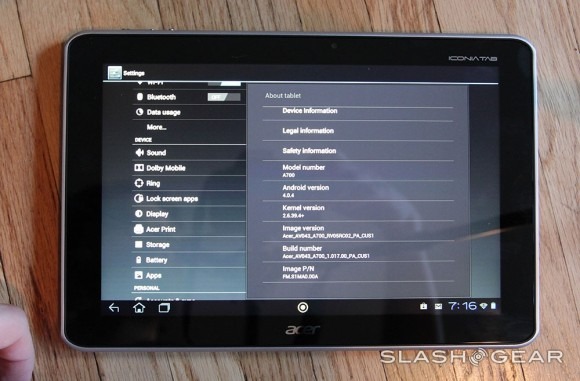 The NVIDIA Tegra 3 quad-core processor inside this beast will allow you connectivity with the NVIDIA TegraZone, a place where exclusive Tegra-only applications live, and you'll find that they look quite fabulous. Have a peek at some benchmarks taken by this device to see how well you'll be rolling:
Camera
This device's camera is not all that different from the camera on the original A500, that also being a 5-megapixel shooter. You've got a 2-megapixel camera on the front as well, this as good as it was on the A500 as well for video chat. The back-facing camera does not have a flash and is able to auto-focus, but only after you've tapped the shutter button. Have a peek at a few pieces of media resulting from this setup: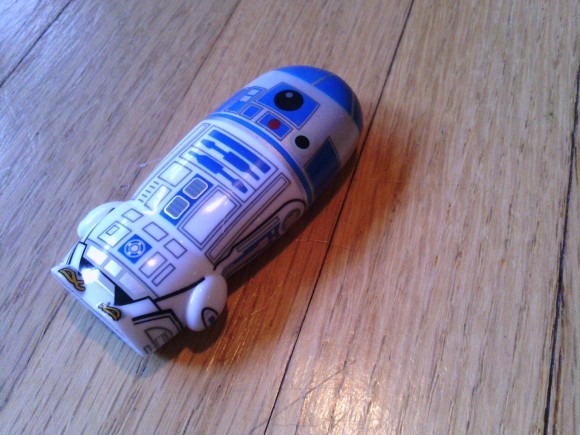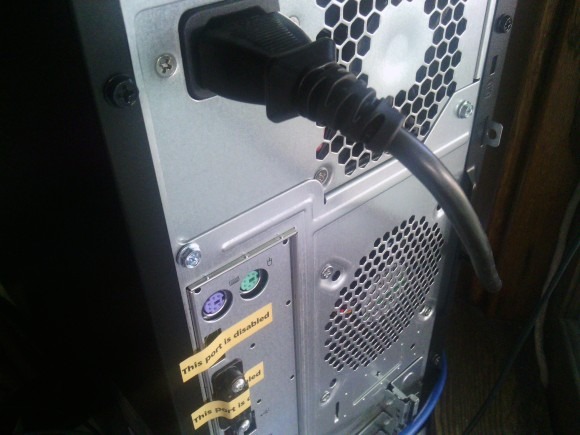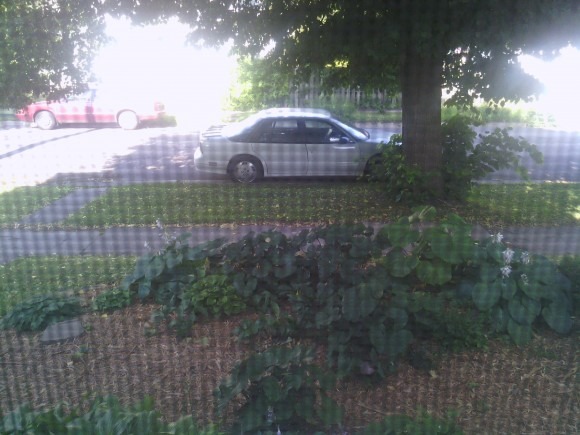 Battery
This device is part of a new wave of battery-conscious devices that, with the NVIDIA Tegra 3 quad-core processor with 4-PLUS-1 technology, is able to sleep so deeply that you've rarely got a situation where the device runs out of battery after having been left alone for an extended period. Instead where you'll find battery drain is in the other normal places like mapping and streaming video. Even then you'll have a fabulously long amount of play-time on your hands.
The Acer Iconia Tab A700's battery will last you though several days at least if you use it intermittently, or it can last you as few as 8 hours if you're rocking streaming video non-stop. Either way, it's impressive.
Portfolio Case
We were also sent the new Acer Iconia Tab Series Portfolio Case – one of the strangest cases we've seen on the market thus far. It's strange in that it relies on a high-powered adhesive to stick to the tablet rather than clamping on with plastic claws as any of a million other cases would. You put your tablet down on one side, pull back the adhesive covering on the other, and push that second side closed onto the back of your tablet.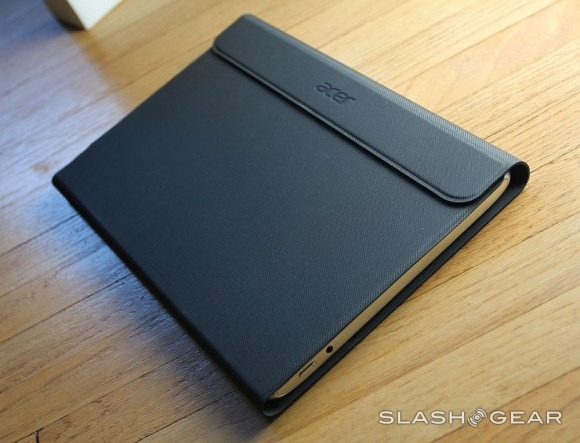 The adhesive sticks as hard as you could possibly want it to, but is also somehow removable when you want as well. It's certainly not something you're going to be able to use multiple times, as the adhesive will certainly get weak after a couple of stickings, but this solution certainly is unique, that's for sure. The case then also is made of some high-quality rubbery plastics with magnets inside to hold it closed and in stand mode. Interesting stuff!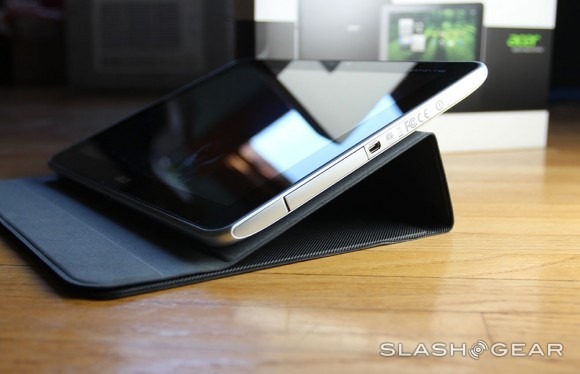 Wrap-Up
This tablet will cost you $449.99 at any of a variety of outlets, this ringing in just at or below the rest of the market offering similar solutions. You've got the most advanced options in an Android tablet included here, and Acer's unique vision for Android 4.0 Ice Cream Sandwich will not leave you wanting for multi-tasking and for standing out in the software crowd. We recommend picking up the Iconia Tab A700 especially if you've already got Acer notebooks or towers in your home – their software connects quite fluidly and makes your whole personal cloud experience all the richer.