Acer HS274H NVIDIA 3D Vision monitor claims world's first title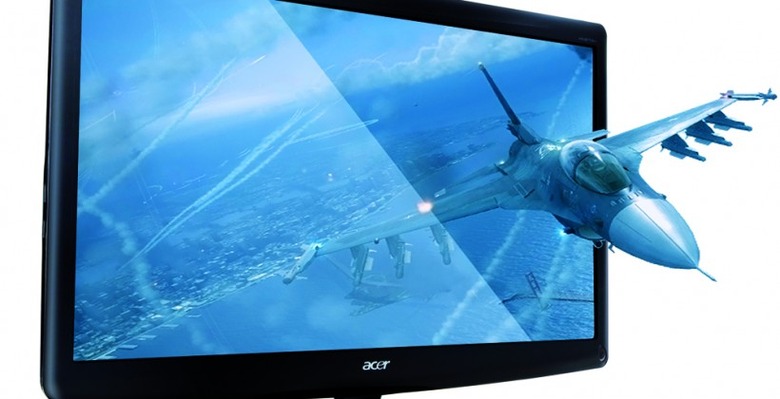 The Aspire Z5763 isn't Acer's only piece of 3D kit today; the company has also outed what it's claiming is the world's first 27-inch FHD 3D monitor, the Acer HD274H. Relying on NVIDIA's 3D Vision tech – and having an integrated IR emitter to keep things clean – the HD274H offers three HDMI inputs along with VGA and DVI, and runs at 1920 x 1080 resolution.
There's LED backlighting, a 2ms response rate and 120Hz refresh rate – though obviously that'll be halved during 3D playback – together with the usual, overblown dynamic contrast figure: 100,000,000:1 in this case. Acer also throws in a number of digital picture tweaking modes, though we've a feeling most image-sensitive users will leave them turned off.
The Acer HD274H will go on sale in the UK in May, priced at £499 ($826). No word on US availability or pricing at this stage.
Press Release:
Acer unveils the world's first 27-inch FHD 3D monitor – HN274H with NVIDIA 3D Glasses

London, 27 April 2011 – TV broadcasts, movies, gaming, photography and even new learning applications: 3D technology unlocks an entire world of experiences. Experiences that can be best appreciated on a bigger screen. Acer, always at the forefront in offering technologically advanced solutions, now presents the HN274H, the first 27-inch 3D monitor in the world to support the HDMI®(dual link) 3D solution, enabling users to fully appreciate the array of possibilities brought by the stereoscopic technology.

Offering powerful and exciting graphics as well as top-notch technology, the HN274H 3D monitor is particularly well suited for thrilling gaming and action movies: the perfect solution for tech-savvy users and gaming enthusiasts.

Together with 3D technology, the HN274H display is rich of high-end monitor's features, to ensure the best viewing experience. First of all, a large 68.6 cm (27") LED backlit panel, ideal not only for gamers or video enthusiasts, but also for users who want to enjoy a great entertainment.

Stunning picture quality is given by an exceptional 100,000,000:1 contrast ratio, while the Full HD resolution (1920x1080) is perfect for 1080p Full HD applications and the 16:9 aspect ratio, is ideal to watch a movie with the same splendour of a theatre screen. The 120Hz refresh rate, essential for creating the 3D effect and a response time of just 2ms, the utmost in reactivity for real-time gaming complete the picture of really outstanding features.

The Acer 3D monitors come with built-in IR emitter to offer greater convenience. An integrated IR emitter means you can connect the monitor to a set-top box or Blu-ray Disc™ via HDMI and enjoy 3D broadcasting or the latest 3D movies.

The Acer HN274H is ideal for enhanced home entertainment. With the included NVIDIA® 3D glasses, featuring advanced active shutter 3D technology, combined with the monitor's built-in IR emitter, you can enjoy your favourite movies or games with your friends, as multiple pair of glasses can be used simultaneously.

The HN274H combines high-end specs with a highly sophisticated design that easily blends into any environment. The graceful base has a rim in a contrasting color for a richer visual impact, while the teardrop-shaped power-key adds a cool touch of class. Convenient to use touch-sensitive controls and an intricate vent design give the monitor an all-round sleek look and feel.

The HN274H monitor falls under Acer's range of EcoDisplay. These displays are specifically designed with an energy saving design, are mercury free and are made of easily recyclable materials. To ensure lower power consumption white LED backlighting technology was adopted, replacing the four lamp design with two lamps, for up to 68% power saving. In addition, LED lamps are mercury-free and safer for the environment whilst delivering better performance. Acer 3D monitors meet stringent industry standards and are compliant with RoHS (the EU directive restricting the usage of hazardous substances) and ENERGY STAR® requirements.

Lower energy consumption not only helps reducing costs but also preserves resources and the environment for future generations.

To ensure the best viewing experience, no matter what are your doing, the Acer HN274H monitor features cutting-edge display technologies.

Acer eColor Management optimizes image performance in common usage scenarios, delivering an improved, more enjoyable viewing experience. This feature allows you to quickly tailor the performance characteristics (brightness, saturation, contrast, etc.) of your monitor to best suit the visual content. Acer eColor Management, which includes a set of convenient scenario modes, is the result of comprehensive research to reveal the high-end features sought most by users. Psychological and technological studies were also carried out to determine the best method of implementing those features.

Acer Adaptive Contrast Management (ACM) dynamically adjusts the contrast ratio to achieve ultra-sharp images. Each scene is analysed to fine-tune images frame by frame and enhance colour quality, obtaining a dramatic improvement of gradation and detail, especially in dimmer and brighter scenes.

The Acer HN274H display series comes with a 2-year collect & return warranty and will be available in May for a SRRP of £499 Inc VAT.