Acer Aspire Z5763 throws 3D into the all-in-one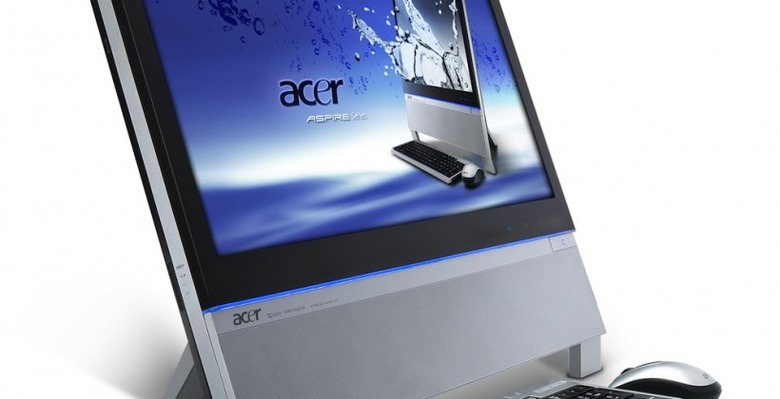 Acer has outed its latest all-in-one PC, and this time there's 3D in the mixture as well. The Acer Aspire Z5763 has a 23-inch 1920 x 1080 display and uses NVIDIA 3D Vision with an integrated emitter for the active shutter glasses; inside there's a choice of Intel Core i5-2400s, i5-2500s or i7-2600s CPUs along with Intel HD Graphics, NVIDIA GeForce GT440 or the GeForce GT435M.
Other specs include an optional hybrid analog/digital TV tuner, integrated 5W stereo speakers, and a 2-megapixel webcam. Connectivity includes gigabit ethernet, WiFi b/g/n, Bluetooth 2.1+EDR (the latter two both optional), eight USB 2.0 ports, a multiformat memory card reader, PS/2 keyboard and mouse ports, VGA and audio in/out.
Storage is up to 2TB and RAM up to 16GB of DDR3; there's also a Blu-ray drive. Acer also preloads the Aspire Z5763 with its AirControl app, which uses the webcam to allow control of the PC – such as media playback, volume, etc – with hand gestures. The Acer Aspire Z5763 will land in the UK from mid-May, priced from £999 ($1,654).
Press Release:
Aspire Z5763 – the new all-in-one 3D entertainment centre from Acer

London, 27th April 2011 – Started in movie theatres, the 3D revolution has spread fast and entered our homes adding depth to the bi-dimensional world of entertainment, for a more exciting and natural experience. Acer embraced this revolution from the beginning and now enriches its wide range of 3D devices with the Aspire Z5763, the ultimate home entertainment center, capable of ensuring incredibly realistic movies and games, thanks to totally immersive 3D visuals and crisp audio, for an extraordinary entertainment experience.

Combining superior performance, excellent 3D entertainment, stylish modern design, and exciting new ways of interacting with the PC, the Acer Aspire Z5763 opens the doors to next generation computing and fun. Watching any 3D multimedia on the Aspire Z5763, featuring an integrated IR emitter and NVIDIA® 3D Vision™ technology, will make anything else seem dull.

The spacious 58.4 cm (23") Full HD 1080p 16:9 display not only renders totally immersive 3D visuals that pop out of the screen, but thanks to advanced graphic solutions, users will enjoy riveting action with ultra-sharp and colorful imagery. Nothing has been left to chance with the Aspire Z5763. This is why to match the incredible image quality it flaunts an integrated 5W stereo speaker system and professionally tuned Dolby® Home Theater® v4 for the most captivating and immersive audio.

With the Blu-ray Disc™ optical drive, reproducing hyper-realistic 3D effects, and optional TV-tuner the Aspire Z5763 offers multiple entertainment possibilities, allowing users to take full advantage of the display as 3D HDTV. This desktop will also appeal enthusiast gamers as it can transform more than 400 game titles automatically into full stereoscopic 3D right out of the box, without the need for special game patches, for an unparalleled, life-like experience.

Have you ever imagined of operating your PC with simple hands movements? Now you can. The Aspire Z5763 all-in-one desktop is the first to feature Acer AirControl technology for easy media consumption. Acer AirControl is a sophisticated software solution that uses integrated cameras to detect the movements of your hand or fingers enabling full remote control of the computer. Acer AirControl is next generation remote control. It's unbreakable, always available and doesn't need batteries. Just wave your hand in front of the desktop and the media control interface is launched; move your hand over the button to adjust the volume, rewind or forward, play, pause or stop. Acer AirControl is the funkiest way of remotely controlling movies and music within 3mt of distance!

The Aspire Z5763 also comes with clear.fi, Acer's media sharing system based on the idea that it's easier if all multimedia content is simply brought into a single system with a common interface, no matter where they are. clear.fi is a cross-platform solution that works straight out of the box, automatically detecting the clear.fi-enabled devices connected to the wireless home network, and then allowing all digital content stored on any of these to be shared seamlessly using the clear.fi media interface.

Featuring a modern, minimalist design, the Aspire Z5763 easily fits into any décor, gracing any living or working space with a sophisticated look and feel. Sharp-cut geometric lines set off the combination of aluminum with matt and glossy black surfaces, creating a luxurious effect. Cool blue lighting placed above the integrated speakers lights up the keyboard. When not in use the keyboard can be nicely tucked away below the PC, enhancing the overall minimalist look as well as increasing the free area in front of the desktop. Inspired by modern art, the silver stand is designed with a window for organizing cables while keeping a simple, yet stylish design.

Performance-wise, this is an advanced PC, rich of cutting edge technologies engineered to convey an enhanced computing experience. Exploiting the 2nd generation Intel® Core™ processor family, that features Intel® Turbo Boost Technology 2.0, capable of increasing perfomance in response to the most demanding tasks such as editing multimedia files, or playing fast-paced games, this desktop can deliver optimal speed enabling smoother multitasking and ensuring maximised entertainment and productivity. What's more it combines turbo-charged computing power with energy efficiency.

Full connectivity is ensured by the most advanced wireless and wired technologies: 802.11b/g/n network connection, Gigabit LAN and optional built-in Bluetooth® 2.1. The built-in microphone and high definition webcam will help you keep in touch with friends and family through video chats and conference.

In terms of storage, up to 2TB of capacity offers plenty of space for all your digital archives while up to 16GB of DDR3 memory ensure seamless running of most demanding application. A total of eight USB port supplies handy connection to all your peripherals and the multi-in-one card reader simplifies multimedia sharing and enjoyment.

The Acer Aspire Z5763 will be available from mid May with a SRRP of £999 inc Vat.