Acer DX650 Double-Sided GPS Smartphone Leaks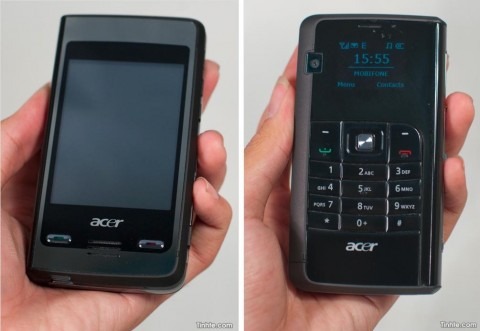 The first of Acer's upcoming smartphones, tipped for launch at their MWC announcement next week, has leaked, and it's certainly an interesting looking device.  The Acer DX650 is a dual-sided Windows Mobile smartphone, with a traditional 2.8-inch QVGA touchscreen on one side, and a full numeric keypad and 1.27-inch 128 x 96 monochrome OLED display on the reverse. 
More Acer DX650 images after the cut
As well as the double-sided interface, there's GPS, a microSD slot, mini-USB port and a camera of unknown resolution.  No word on exact connectivity, but we're assuming Acer have given the DX650 3G HSDPA and WiFi b/g, together with Bluetooth.
With no shots of the smartphone actually running, there's no telling what version of Windows Mobile is loaded, nor what Acer may have done with the handset's GUI.  A likely possibility is some form of custom overlay, in the manner of HTC's TouchFLO 3D or Samsung's TouchWiz, making the handset more finger-friendly.  We'll have to wait and find out more come the company's official announcement on February 16th.