Acer C720 Chromebook brings Haswell with a C7 reboot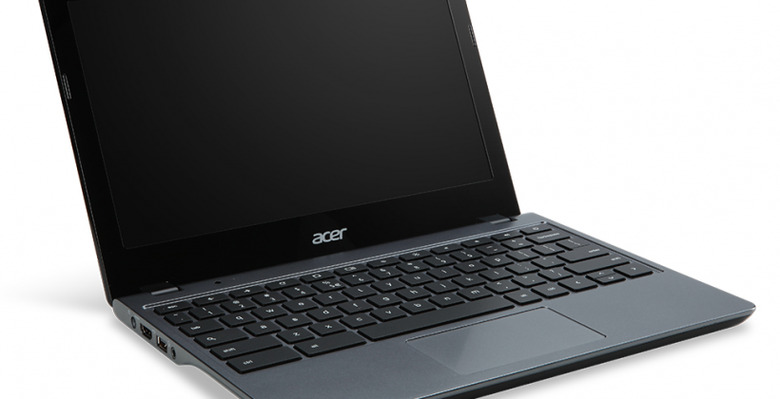 If you had a good time working with the original Acer C7 Chromebook last year, Acer is aiming to up the ante for you specifically this year with the Acer C720. This machine is one of a collection of Chromebooks announced earlier this year as Intel brought on 4th generation Intel Core technology (Haswell) to the platform. Here in the Acer C720, the user works with a body that's quite similar to the original C7, but reinforced and beefed up with a collection of features for the real world – like 30cc fluid resistance up top so there's time for you to turn the machine off before a glass of spilt water destroys the whole beast.
This device works with a body that's thinner than the C7 that includes an Intel Celeron 2955U Haswell-generation processor. This processor is clocked in at 1.4Ghz and works with either 2 or 4GB of RAM – in other words, this machine is now ready to be distributed with different builds, suggesting Chrome OS is becoming more popular by the generation. Also inside you'll find 16GB of NAND flash memory.
As with each of the past several Chromebook releases, this one will include a free 100GB of cloud storage on the web through Google Chrome. There will be more than one iteration of this Chromebook available besides the amount of RAM inside, these being a Wi-fi-only edition and a 3G version for the USA – and eventually Europe. At the moment, no release dates have been confirmed.
The same is true of pricing – with two USB 2.0 ports, full-sized HDMI, a Kensington security slot, and a single audio jack for headphones and microphone integration, it's likely this Chromebook will be priced quite similar to the C7. It's currently unknown what will happen to the C7 in terms of stock liquidation – keep an eye out!