Acer C720-2848 Chromebook bucks the upward trend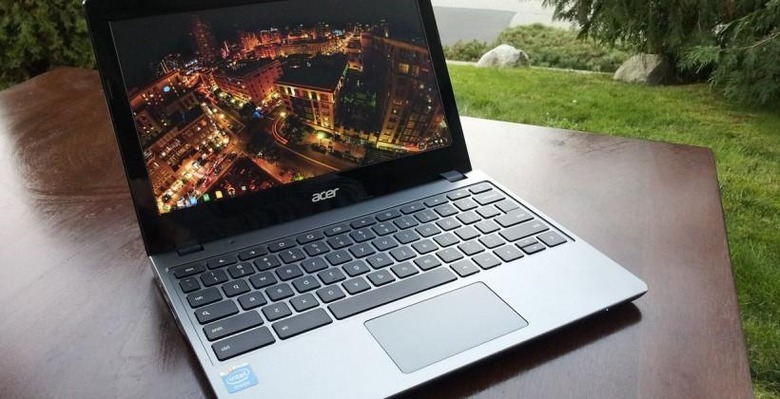 With the Acer C720-2848 the company has decided to cut the line, so to speak, making the device which appears the same as the earlier model cost just a bit less due to changes to its innards. What you've got here is a $199.99 model of the C720, this version working with the same Intel Celeron processor (based on Haswell) with an 11.6-inch HD display at 1366 x 768 pixels sharp and an integrated webcam. And it's running Chrome OS, of course.
You'll recognize this device as it comes with essentially the same hardware on the outside as it did in its initial release. What you're working with here is the Intel Celeron 2955U processor, a 16GB SSD, and a cool 2GB of DDR3 RAM under the hood. The entire machine weighs in at 2.76 pounds and is 0.75-inches slim – so small Acer suggests you'd be able to fit it into a book bag or purse.
This machine works with 100GB of free Google Drive cloud storage for 2-years, 12 Gogo Inflight passes for internet on airplanes, and a bit of free Google Play Music All-Access – 60-days of it, to be exact. After that, All-Access costs $9.99 a month.
The Acer C720-2848 will be appearing at outlets like Best Buy and Amazon first, and will be available through the online Acer Store starting in December. You'll be working with a standard one-year parts and labor warranty, and all the other fun bits and pieces Chrome OS affords the modern user.
This device connects to the web with Wi-fi 802.11 a/b/g/n and has a dual speaker setup for onboard music and video entertainment. Without a doubt, this machine will be headed to the rooms of many a student by the time spring rolls around.
For a glance in the other direction – the finest of Chrome OS machines with a significantly higher cost – you'll find the Chromebook Pixel. Have a peek and see if you can tell the difference. Our full original Chromebooks C720 review is hanging out for your perusal as well, check it out!