Acer Aspire Z5600 multitouch all-in-one & eMachines EZ1600 launch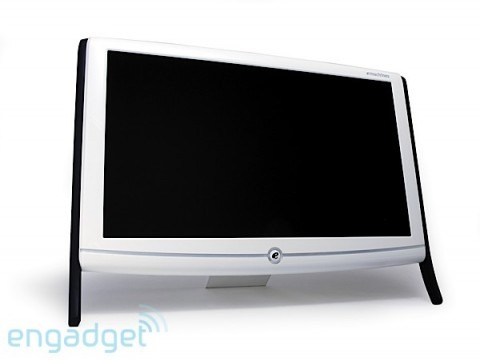 As well as their Ion-based AspireRevo nettop, Acer have announced two new all-in-one desktops.  At the budget end, the eMachines EZ1600 packs nettop hardware, while the more interesting Acer Aspire Z5600 gets a grown-up Intel processor, graphics and 1080p performance through a multitouch-capable 24-inch display.
The eMachines EZ1600 pairs Intel's Atom N270 processor with an 18.5-inch 16:9 display and two SO-DIMM memory slots.  It supports up to 720p resolution and has an integrated DVD-RW drive, WiFi and up to 160GB hard-drive.  There's also a multiformat card reader and a choice of silver or black casings.
As for the Acer Aspire Z5600, that has a 1080p-capable 24-inch display, with multitouch touchscreen and an integrated TV tuner.  There's also up to 2TB of storage, a webcam and a DVD/Blu-ray writer combo drive.  No definitive word on processor options as yet; all Acer say is that they're using the "latest generation" of chips.
Similarly unknown are pricing and availability; we'll update as soon as we hear back from Acer.
Press Release:
A 'Touch' is all You Need with the New Acer All-in-one Multimedia and Aesthetics in 24 inch

2009-04-08 – New York In time, the multiple uses for computers have undergone evolutions and transformations. This doesn't just involve simple work tool with highly technical performance features. PCs have become real companions for all daily activities, now indispensable to just about every household. Today the aesthetic appearance of the PC is more than just a bonus, especially in context of the home. Features such as design and proportions have gained even greater importance.

Acer has attentively followed the new market trends and has amplified these new dynamics through focused research and development that has demonstrated that rich specification into All-in-one no longer needs to command the extraordinary price premium seen today.

The result of this research has led to some really interesting news: the new All-in-one Acer Aspire Z5600 PC, characterized by its sought-after design, a spacious 24inch display and grand multimedia capability represents a current revolution in the world of PCs and it is engineered to maximize the full promise of the next operating system from Microsoft called Windows 7. Apart from the many refinements of Windows 7 over Vista, the Aspire Z5600 offers full touch screen capability at an affordable price. No longer do users have to be limited to the use of keyboard and mouse controls or be restricted with expensive propriety touch implementations, with the Windows 7 touch capability, users may freely alternate control of the PC with mouse or touch at their ergonomically enhanced leisure.

The miniaturization of internal components has allowed the all hardware to be placed on the rear of the LCD display. The result is an All-in-one device that merges power and elegance in a streamlined device. The new Aspire Z5600 is a mainstream affordable PC that guarantees elevated functionality thanks to the latest generation of Intel processors and spacious HDD capacity of up to 2TB. The latest generation of MXM graphic processors ensures optimum multimedia performance.

The Acer Aspire Z5600 is perfect for complimenting the most sophisticated environments and can be easily positioned in any room of your residence, from the lounge to the study or a child's room. The new silver Aspire Z5600 is an entire digital entertainment system that integrates all the necessities of a true rich multimedia PC; including TV tuner to watch and record favorites television programs, integrated webcam for video calls to keep in touch with relatives and friends, and an incorporated DVD/Blu-Ray player/writer combo for playing back or burning movies, music and video.

The 24inch touch screen guarantees an extremely instantaneous and intuitive recreational and professional multimedia experience. With the simple touch of a finger it's possible to select, to browse through files, start applications and to navigate menu options to manage data, audio, video and image files. At any time, the touch screen option can be easily converted and the Aspire Z5600 can be used like a general mouse and keyboard PC.
[via Engadget]