Acer Aspire S5 Review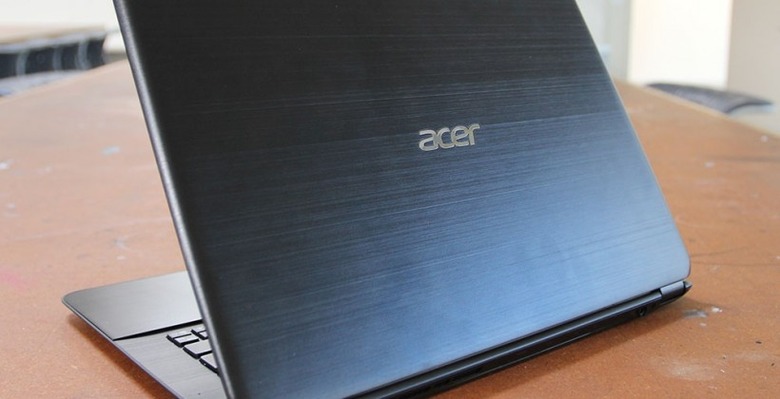 Let's have a peek at the Acer Aspire S5, the ultrabook with the mechanical "MagicFlip" dish in the back with ports that whirrs out when you need to plug in and don't need all that pesky space this near-thinnest on the market notebook works with. It's just 0.6-inches when it's all folded up, and pressing that button in the upper right of your keyboard brings down a flap in the back that has a set of ports you'll only otherwise get with a laptop twice this one's size. Inside the S5 you've got Windows 7, a 3rd generation Intel Core i& processor, and the whole device looks just fabulous – but is it worth the massive price tag it comes attached with?
Chassis
This device has Acer's nicest casing for a notebook they've ever released, with a lovely off-black for the entirety of its body, the Acer logo up top, bumpers on the bottom, and a smooth shell all around, you've got a real looker on your hands. The display is a 13.3 HD Widescreen CineCrystal LCD and is perfectly bright and ready for whatever kind of HD action you've got in store at 1366 x 768 pixel resolution, while the whole unit weighs in at a measly 2.65 pounds total.
The speakers on this unit are reasonable, but certainly aren't good enough for hardcore gaming or listening to an opera – you've got a headphone jack for that.
So it's light, the speakers are OK, the display is lovely, and the whole unit looks nice – does this mean it's a winner?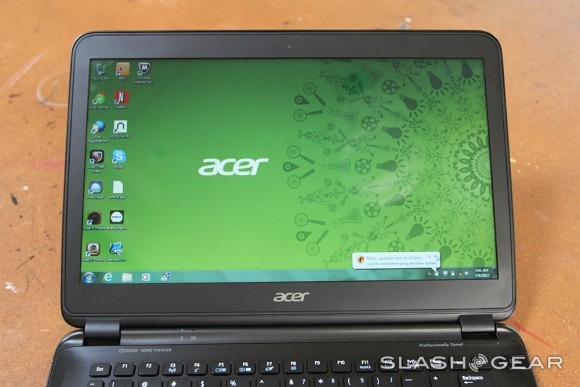 It doesn't mean that we've got a winner entirely. The Acer Aspire S5 is a device that must be aimed at those on the go with the desire to work on tasks that are mostly based in the keyboard area. There's a bit of an issue with the arrow keys, and the trackpad is far from perfect – head down to the Keyboard and Trackpad section of this review for more on those bits. Meanwhile we've got a bit of a bone to pick with the top of the notebook.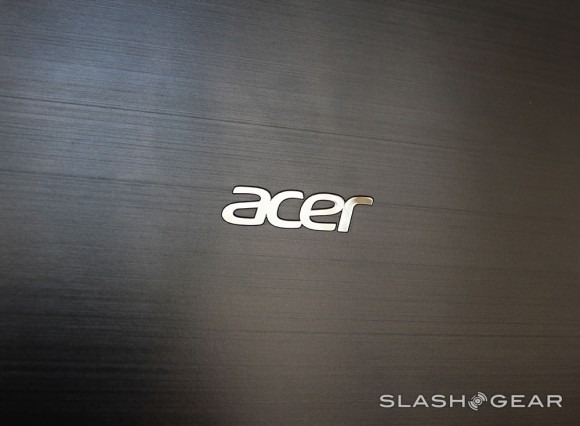 If you press down on the top of this notebook, the center bends down a concerning amount. There's a considerable amount of give here, and though I don't imagine that a notebook with the high quality construction this one has is going to break any time soon, it gives the impression that it's just a bit flimsy. On the other hand, the heavy-duty metal construction all around the device makes for a nice feel as well as a really nice look from any distance.
MagicPort
The MagicPort is activated with a large button in the upper right of the keyboard area, and it can be activated whether or not the device is powered on itself. Though we're not sure why you'd want to open this tray up while you're powered down, it is something to think about. This tray also comes open automatically to reveal extra air holes if the ultrabook gets too hot while you're playing some hardcore games or processing large bits of video.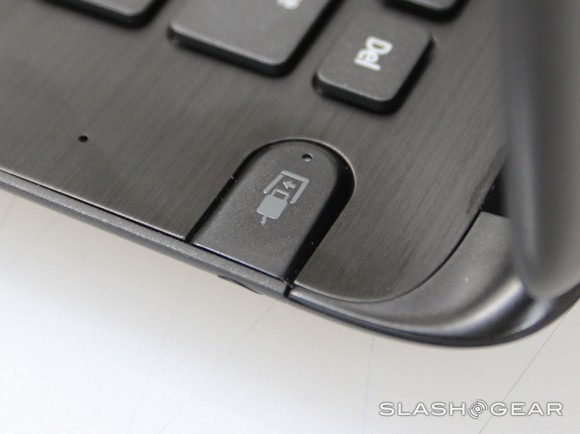 And the sound this MagicPort makes when it opens – it's crazy. It's like a buzz-creaking sort of situation that does not sound nearly as healthy as it really should. Of course that has no baring on the fact that the tray does, in fact, work perfectly well, and is pretty darn cool looking when it comes down to it. Inside the tray you've got a full-size HDMI port, two USB 3.0 ports, and a Thunderbolt port.


This last port isn't going to do you a lot of good in the short run as there certainly isn't a massive Thunderbolt port industry for PCs at the moment, but you can bank on it being useful in the next year or so – that's future-proofing if we've ever seen it.
Keyboard and Trackpad
The keyboard here is rather nice to tap on, the keys are well space, they hammer down nicely, and the whole unit seems to be ready for the long haul. The only problem here seems to be the arrow buttons in the lower right. Acer assumes that you will not be using these buttons very often. This is a major problem for me, as I use the arrow buttons all the time in corrections of text and navigating through application icons, and selections in lists throughout a normal working day.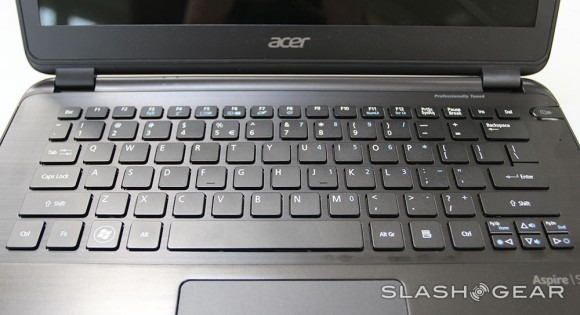 Though the keyboard is great, the arrow buttons are going to be a bit of a problem unless you've got tiny mouse fingers. If you're coming from a MacBook, you're going to have a giant problem getting used to these arrow keys as yours have been large and separated enough for constant use via Apple for years. Expect to use the wireless mouse that Acer has included in the package instead of your arrow keys, and watch out for the trackpad, too.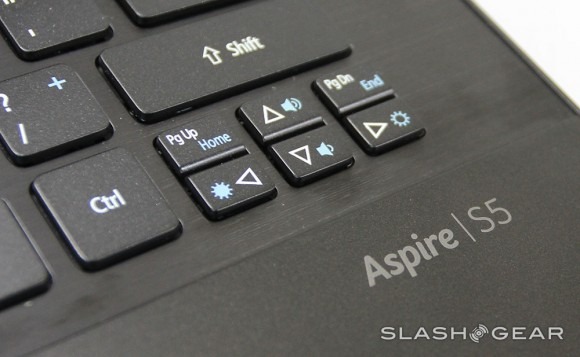 This mouse is rather run of the mill, but does connect via Bluetooth perfectly well and will be an OK companion for your A5 through the future. Of course it is a bit concerning that the trackpad on this device is less than perfect. It's pretty close to being a suitable companion to the cost of this notebook, but it's not quite perfect enough to give a two-thumbs-up. If you're used to the trackpads that have come on Acer notebooks for the past year or so, you'll be fine.
Benchmarks
This device runs an Windows 7 Home Premium 64-bit, works with a 3rd Generation Intel Core i7-3517U Processor with 4MB L3 cache, up to 3.0GHz with Turbo Boost technology. You've also got 4GB Dual-Channel SDRAM and a 256GB solid state drive under the hood. For visuals you've got Intel HD Graphics 4000 and Mobile Intel HM77 Express is running smooth as well. All of this equals a generally impressive ultrabook ready for games and processing normally reserved for devices that are twice its size.
It all comes down to the benchmark, on the other hand – have a peek at our Geekbench results here and feel free to compare to the rest of our Laptop Reviews as you see fit.
[sgbenchmark id=168 show=score]
Have a glance at some of the system specifications on this model too, while you're at it.
[sgbenchmark id=168 show=system]
Wrap-Up
In short, this ultrabook is one of if not THE thinnest notebook you're ever going to want to own, and with a look and feel like this, you'll have a great time picking one up. The pricing is a bit concerning when compared to other ultrabooks on the market right now that can do essentially all of the same things this one can at just a bit larger a cost in the actual physical size department. But consider this: you get what you pay for, and if your aim is to grab a thinnest-in-class yet high-quality notebook with power enough to play top-quality games and work all day long on web and local-based type-heavy tasks on Windows, you've got the best there is right here.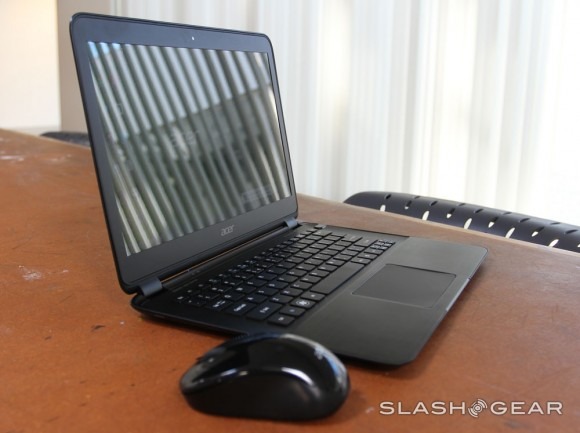 You can pick up the model we've got here, the Acer Aspire S5 S5-391-9880, at Acer's online store for a cool $1399.99 USD, and it's in stock right this minute. Also check our our Acer Aspire S3 with Core i7 Review for an ultrabook that's just a bit larger.