Acer Aspire R7 Review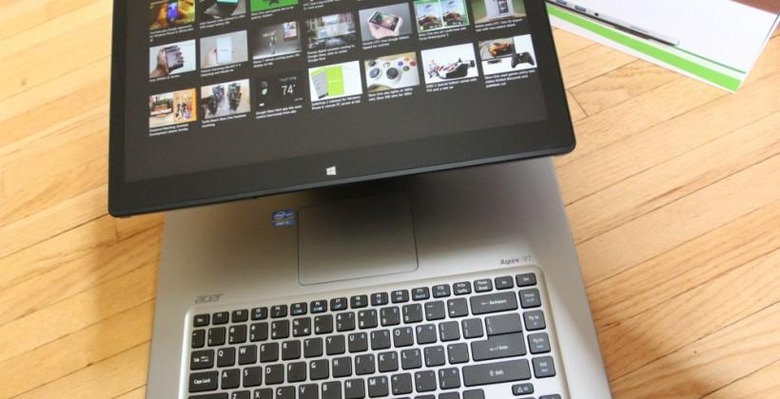 The Acer machine you're about to see is rather unique – it's got what the group calls an "Ezel" hinge, made to expand the units abilities beyond that of the average notebook or desktop. Here we're using Windows 8 in combination with Acer's hardware to add another chapter to the unofficial List of Touchscreen Computer Configurations, this time with a display that moves up, folds back, and becomes nearly flat, lifts up and sits vertical or horizontal, and in one particular setup looks strikingly similar to the
from Star Trek.
Hardware
Like the past several waves of Acer hardware we've reviewed, this PC is solid. It's ready to be a home computer, work computer, or student computer for presentations, touchscreen games, and everything in-between. What it's best at is looking and feeling unique: this computer really is like no other.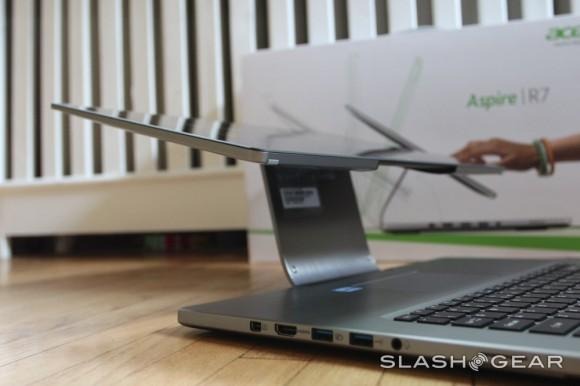 That doesn't mean it's going to be the ideal choice for any random user. The Acer Aspire R7 is a unique computer looking for a unique individual. If you're looking for a high-powered hero machine that's thin and ready to travel, Acer has an
you might want to take a peek at. The Aspire R7, on the other hand, is made for larger jobs.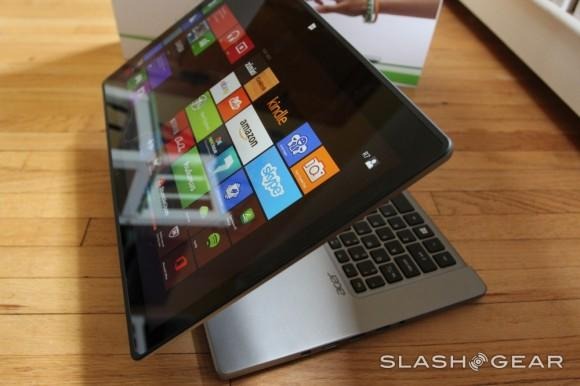 This unit works with a 1920 x 1080 pixel resolution 15-inch display (that's 141 PPI) with some lovely viewing angles that allow us to see clearly from whatever side we're on. Again, this device would suit someone who often gives presentations quite well. The version we've got works with a 3rd generation Intel Core i5 processor, and you've got the option of working with an i7 if you want to ramp up a bit.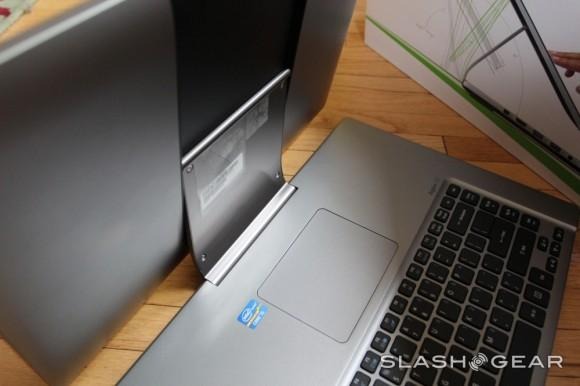 It's the hinge that really makes this machine stand out, of course, but not just because it allows the display to flip backward. Acer employs some rather bafflingly strong hinge hardware here, allowing the display to sit at any angle in-between full back or full forward. Have a peek at our hands-on presentation of this bit here to see what it means to work with this device:
As this device was made with Windows 8 in mind, Acer has made a rather interesting bet with the configuration of the lower half of the computer as well. While normally you'd have your touchpad below the keyboard, this amalgamation has the two flipped. Because when you pull your display down close to the keyboard, you've got the whole display to touch, this notebook does away with the necessity for said touchpad.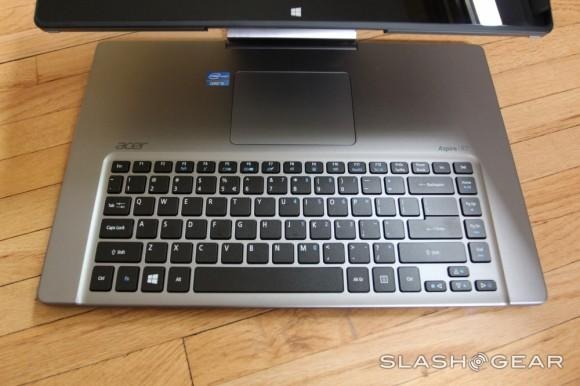 In practice, this is difficult to get used to. When you purchase a machine like this, you go in expecting a brand new experience, and you do get one – that said, it's not long before the flip becomes less of a chore and more of a point of pride – the flip also keeps your wrists away from the computer: they shouldn't be there anyway.
The keyboard is standard, comparable to what Acer has offered with their entire 2013 range, here working and feeling like best-in-class architecture for the fingers. The touchpad itself is also quite nice – easily one of the best the company has put forth, both inside and out of Windows 8.
[sgbenchmark id=209 show=system]
Along the edges you've got two USB 3.0, one USB 2.0, full-size HDMI out, combo headphone/mic jack, and a secure digital memory slot. The Acer Aspire R7 as we've got it configured here starts in stores at around $999 USD, and the Core i7 iteration will cost just a bit more.
Software
The Windows 8 build you're working with inside this computer works with essentially the same software we've seen several times this year from Acer, that being all the basic build from Microsoft along with several Acer security and cloud-based applications. See our
for a software experience that's essentially the same app-for-app you're getting here.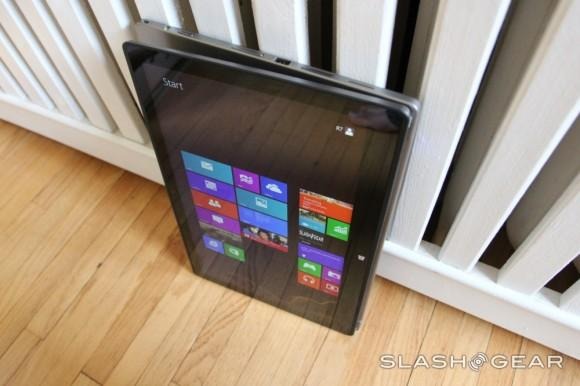 Everything does run smoothly, and as far as an i5-toting machine goes, Acer's constructed one of the finest on the market here. Acer continues to solidify itself as one of the most reliable hardware manufacturers on the market with their Windows-toting machines, and an oddity like this serves to make that notion solid.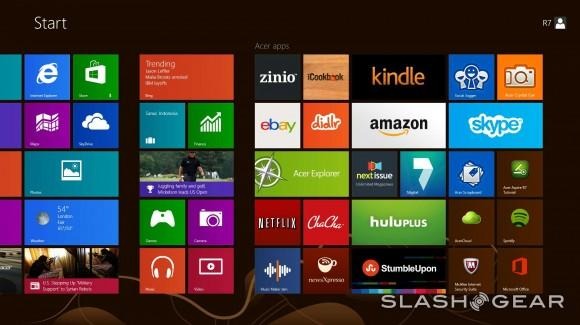 Below you're seeing our standard Geekbench-based benchmark showing the Acer Aspire R7 to kick out a total score of 7116. This device's cousin, the Acer Aspire S7 (with Intel Core i7 processor from the same 3rd generation Ivy Bridge line as this machine's i5 core) came in with a score of 8100. In the end, these benchmark scores do no tell the whole story, of course.
[sgbenchmark id=209 show=score]
Both machines have proven themselves to be more than up to the task of everyday work and the playing of music and movies with ease. They're also very, very different machines when you consider the ways their displays flip every which way.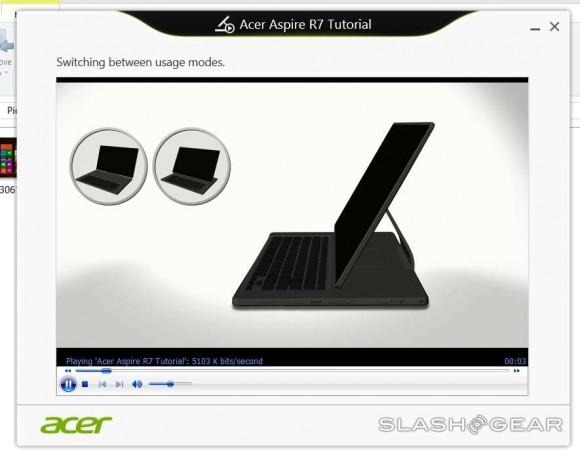 As a bit of a bonus, it seems, Acer has also included a quick link to a built-in video which lets you know each of the many different ways this computer's display can turn. Just so you're aware, and can make it happen with ease.
Battery Life
At the moment, battery life on the Acer Aspire R7 isn't especially fantastic. The size of this machine and perhaps the necessities in the neck make keeping battery life high a bit lower on the priority list for Acer – especially since this notebook is meant to be, at least in part, a desktop computer. If you're streaming video and/or processing anything large, the Acer Aspire R7 will bring the user right around 5 hours of battery life. Expect to bring the wall charger with when you travel.
Wrap-up
The Acer Aspire R7 is one of the most unique computers on the market today. Acer proves themselves as being not only a reputable traditional builder of notebooks with this device, but one that's bold enough to create oddities like this as well. For that, Acer deserves to be commended.
As far as how well this machine will serve the public in real-world use: that's a bit more difficult to tell. This notebook is certainly one you'll want to head into a showroom floor to have a go with before you purchase, that much is certain. It may turn out to be too strange for you to want to mess with: but it could very well surprise you as a bit of hardware that's just what you need.