Acer Aspire R7 Hands-on: Spock's Choice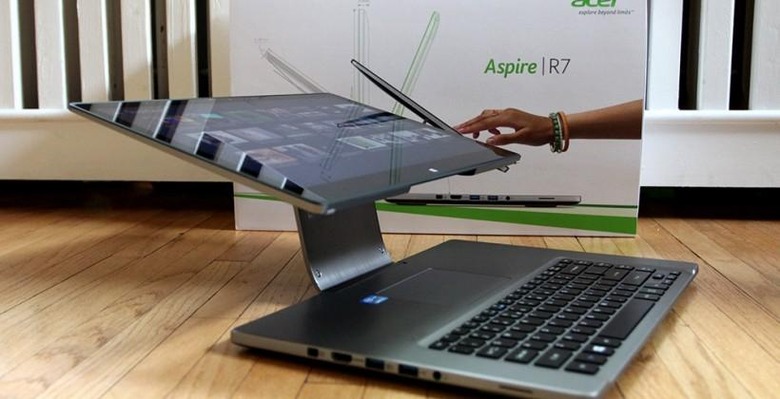 This week SlashGear is having a peek at the Acer Aspire R7 notebook – that rather unique piece of machinery you saw advertised last month aside teasers for the newest Star Trek movie. It's no surprise that this device was chosen to take on that role as its mysterious – and here we find rather enticing – abilities allow it to look like a rather familiar starship. With Acer's "Ezel" hinge, the Aspire R7 can take on several shapes – including that of the Kirk-captained Enterprise.
Up in front the user will be working with a 15-inch display at 1080p resolution, this run by an 3rd generation Intel Ivy Bridge processor – we've got i5 but you'll have the option of i7 as well, depending on when you check the device out. Inside is Windows 8 right out of the box, and the display has 10-finger touch sensitivity.
Also inside you'll find 6GB of RAM and a 500GB hard drive, not to mention a 24GB solid state drive as well. The whole machine weighs in at approximately 5.5 pounds, which is right there on the edge of "this is kind of heavy" and "oh this isn't as heavy as it looks".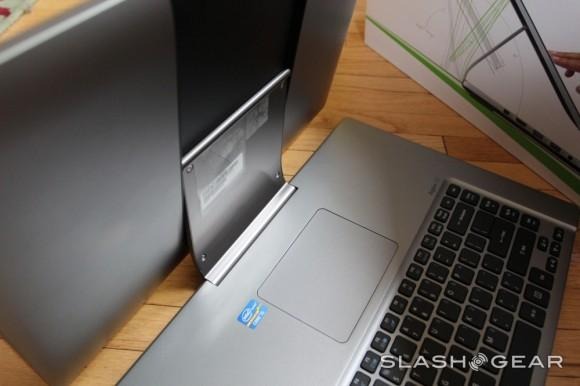 Under the machine you'll notice some rather sizable bumpers. These pieces of rubbery material hold the notebook hybrid in place while you're swiveling your display around and offer a bit of a bump so your speakers can blast out the bottom and the sides. You're also working with some Dolby technology there for sound – and we're already sure it's loud.
As it was with the Star Trek Into Darkness film, so too was this machine available starting on the 17th of May. It'll run a prospective owner $999 USD, and we'll be letting you know if it's all worth it soon – stay tuned for SlashGear's full review!