Acer Aspire R7 Notebook Flips, Twists, And Folds On New "Ezel" Hinge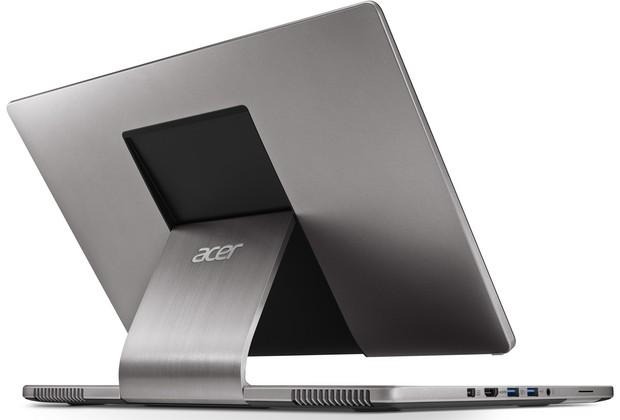 Acer held a presser today in New York City and revealed some new devices coming to consumer shortly. The most interesting of them all is the Aspire R7, which is a convertible all-in-one laptop of sorts, but it's quite different than what you're probably used to, as the display can move around in all sorts of ways, thanks to Acer's new "Ezel" hinge.
This laptop sports a 15-inch display that sits on a hinge that allows the screen to be pushed up or back, as well as folding in out and down so that it lies nearly flat with the rest of the computer. The 15-inch display sports a 1080p resolution with your choice of an Intel Core i5 or i7 processor to keep things running smoothly.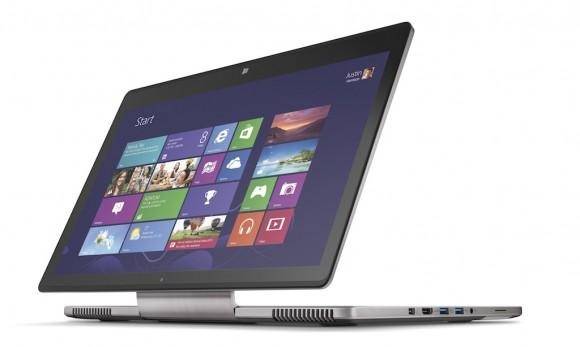 Of course, the display is touch-friendly, so no matter how you twist the display, you'll be able to swipe and tap your way around the device. The whole thing will weigh in at about 5.5 pounds, which is pretty hefty for a laptop hybrid, but what you're getting is essentially a mix between an all-in-one desktop and a laptop.
As for availability, the Aspire R7 will be out on May 17 only at Best Buy for $999, with pre-orders beginning today. As for further specs, we're looking at 6GB of RAM, 500GB of hard drive storage (with a 24GB solid date drive), and a bevy of ports and sockets that most users will take advantage of.