Acer Aspire One On Sale In US From $379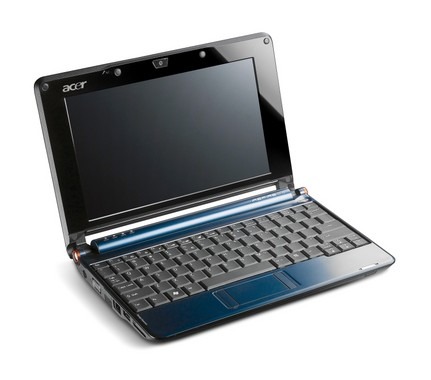 As promised, Acer's Aspire One budget ultraportable is now officially available in the US.  The notebook, intended to rival ASUS' wildly popular Eee PC, uses Intel's 1.6GHz Atom CPU, an 8GB SSD (or 120GB standard HDD) for storage and runs the Linpus Lite Linux OS (with Windows XP Home as an option).  It weighs 2.17 pounds and measures 9.8 x 6.7 x 1.14-inches, and will be available at first in sapphire blue or seashell white before golden brown and diamond black arrive later in the year.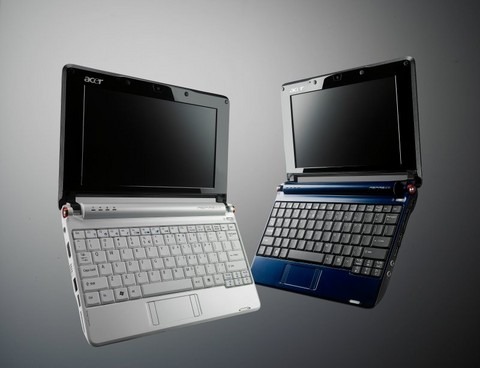 Visuals are courtesy of an 8.9-inch, 1,024 x 600 display which shares lid-space with a webcam for video conferencing.  Acer's PrimaLight technology means it's usable even in low-light conditions.  Cleverly, on the SSD model at least, Acer have fitted both an SD slot and a 4-in-1 card reader; memory cards in the former are automatically added to the SSD capacity, allowing users to seamlessly upgrade their solid-state memory.
Connectivity is via WiFi b/g.  The standard 3-cell battery promises up to 3hrs use, while the optional 6-cell pack boosts that up to nearly 7hrs.  Priced from $379, the Aspire One is available from today from Acer direct as well as Best Buy, Circuit City and CDW.
Check out our review of the Acer Aspire One netbook here!
Acer® Aspire one AOA110-1722: Available now for a MSRP of $379
Intel® Atom™ Processor N270 (1.60GHz, 533MHz FSB, 512KB L2 Cache)
8GB SSD NAND Flash Module(3)
8.9-inch WSVGA Acer CrystalBrite™ 1024 x 600
Intel® Graphics Media Accelerator 950
Acer Crystal Eye Web Camera
802.11b/g Wi-Fi Certified WLAN
Multi-in-1 Media Card Reader
SD Storage Expansion Card Reader
Acer® Aspire one AOA150-1570: Available now for a MSRP of $399
Intel® Atom Processor N270 (1.60GHz, 533MHz FSB, 512KB L2 Cache)
1GB Memory (512MB On-board)
120GB Internal Hard Drive(3)
8.9-inch WSVGA Acer CrystalBrite ™1024 x 600
Intel® Graphics Media Accelerator 950
Acer Crystal Eye Web Camera
802.11b/g Wi-Fi Certified WLAN
Multi-in-1 Media Card Reader
Acer® Aspire one AOA110-1566: Available for a MSRP of $449
Intel® Atom™ Processor N270 (1.60GHz, 533MHz FSB, 512KB L2 Cache)
8GB SSD NAND Flash Module(3)
8.9-inch WSVGA Acer CrystalBrite™ 1024 x 600
Intel® Graphics Media Accelerator 950
Acer Crystal Eye Web Camera
802.11b/g Wi-Fi Certified WLAN
Multi-in-1 Media Card Reader
Press Release
COVETED ACER ASPIRE one NOW AVAILABLE TO U.S. CUSTOMERS

Lightweight, Affordable and Intuitive Mobile Internet Device Simplifies Computing

SAN JOSE, CALIF., July 16, 2008 – Acer, the world's third largest PC vendor,(1) today announced U.S. availability of the Acer® Aspire one, an ultra-lightweight mobile Internet device with prices beginning at just $379.

The Acer Aspire one provides continuous access to the Internet in an easy-to-use, stylish and ultra-compact platform. It's designed to be an affordable and simple solution for web browsing, checking email, instant messaging, VOIP calls, streaming video, viewing photos and listening to music.

"Our Acer Aspire one is an innovative solution providing quick and easy access to the Internet with an intuitive software interface designed to make computing easy," said Sumit Agnihotry, Product Marketing Director for Acer America. "It's an excellent introductory device for both students and others to browse the Internet and take advantage of online research, social networking, streaming video and video conferencing. We're pleased to make this exciting product available to customers in the U.S. with several new models."

Masterfully simple, the Acer Aspire one boasts an intuitive software interface specifically optimized to support connectivity needs. Whether it's keeping up with friends via email or Facebook, watching YouTube videos or conducting research, Aspire one makes computing simple. The solution is ideal for students who need to conduct research on the web, communicate via email and use light productivity applications for school work. It's also an excellent secondary device for mobile professionals desiring a lightweight form factor for staying informed as well as accessing email, key files, music, video conferencing and instant messaging while on the road.

Lightweight, Stylish Design

Weighing just 2.17 pounds and measuring 9.8 x 6.7 x 1.14-inches, Aspire one is lightweight, compact and fits snugly in a backpack or tote bag. It also offers a stylish design with a unique selection of colors to suit personal preferences and lifestyles. The smooth surface is comfortable to touch. Distinctive details, such as the attractive orange hinge ring, highlight the appealing look and feel. Initially offered in either sapphire blue or seashell white, Aspire one will also be available in golden brown and diamond black later this year.

The Aspire one has a vibrant 8.9-inch CrystalBrite WSVGA LED backlit display with a resolution of 1024x600 pixels. Integrated in the screen is an Acer Crystal Eye webcam featuring Acer PrimaLite technology. This unique camera affords live video streaming, video chats and conferences, even in low-light environments.

This highly mobile Internet device comes standard with a 3-cell battery that provides up to 3 hours of battery life.(2) When used with an optional 6-cell battery the Linpus™ Linux® Lite version of Aspire one offers up to 7 hours of battery life,(2) giving users the freedom to enjoy mobility for a coast to coast flight or almost a full day's play.

There are two practical options for data storage: a NAND flash module of 8GB(3) with an additional SD card slot for smart storage expansion or a 120GB(4) internal hard drive. In addition, the Aspire one reads five different types of memory cards – Secure Digital, MultiMediaCard, Memory Stick, Memory Stick PRO and xD-Picture Card for maximum flexibility. The additional SD card slot seamlessly integrates with the internal NAND flash module as an added storage device. The ability to have both a multi-in-1 card reader and a SD card reader at the same time, allows users to download photos from the multi-in-1 to share with others and store to the SD card as an internal storage device simultaneously.

For enjoying MP3 music and videos, the Aspire one comes with two built-in stereo speakers and offers high-definition audio support. The system also comes standard with 802.11b/g and is Wi-Fi certified for connecting wirelessly at home, at school and Internet cafes. Acer SignalUp technology ensures maximum quality and stability to the wireless signal.

Simple, Easy to Use Software

The Aspire one is offered in several models based on either Linpus™ Linux® Lite or Windows XP® Home software.

The simple, intuitive Linux interface clearly organizes everything task-centric. The pre-installed software is separated by use of functions and presented in four distinct areas on the screen – Connect, Works, Fun and Files – making it extremely simple to get online, be productive and just have fun. A click of the home key brings users back to the home page at any time.

This new mobile Internet device comes with the Aspire one mail software suite that lets users manage up to six email accounts with a single application interface. A small icon to the right of the message quickly and clearly shows the appropriate mail account. The system also provides Messenger for Instant Messaging with a single sign-in to manage multiple messenger accounts, which allows users to simultaneously access Google Talk, AOL Instant Messenger, Yahoo! Messenger, Microsoft Windows Live Messenger and various other instant messaging services. The software can be used with the integrated video camera for instant file sharing, voice chats and video conferences.

Additional software such as Acer eRecovery Management, McAfee® Internet Security Suite, Microsoft® Office Trial 2007 and Adobe® Reader® are also installed on the Microsoft XP Home version.(5)

Specifications, Pricing and Availability

The Acer® Aspire one is available now via Acer's authorized resellers including BestBuy, Circuit City and CDW. Prices range from a manufacturer's suggested retail price (MSRP) of $379 to $499 depending on configuration. All models come with a one-year limited warranty.(6)

About Acer America

Since its founding in 1976, Acer has constantly pursued the goal of breaking the barriers between people and technology. Focused on marketing its brand-name IT products around the globe, Acer ranks as the world's No. 3 vendor for total PCs and No. 2 for notebooks, with the fastest growth among the top-five players. A profitable and sustainable Channel Business Model is instrumental to Acer's continued growth, while the successful mergers of Gateway and Packard Bell complete the company's global footprint by strengthening its presence in the U.S., and enhancing its strong position in Europe. Acer Inc. employs 5,000 people worldwide. Estimated revenue for 2007 is US $14.07 billion. For more information, please visit www.acer.com/us.

© 2008 Acer Inc. All rights reserved. Acer and the Acer logo are registered trademarks of Acer Inc. Other trademarks, registered trademarks, and/or service marks, indicated or otherwise, are the property of their respective owners.

###

1. Source: Gartner data, 1Q 2008

2. Battery life will vary depending on actual use factors.

3. Accessible capacity varies; MB = 1 million bytes; GB = 1 billion bytes

4. 2.5-inch

5. Only for Windows XP Home version

6. Limited warranties and service agreements apply; visit www.acersupport.com for a free copy. Service agreements are issued and performed by third parties. May not be available in all locations. Phone charges may apply for tech support.