Acer Aspire One D250 Android netbook previewed: disappointing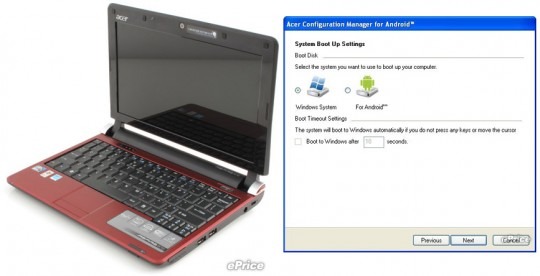 Acer's Android netbook has been regular grist for the rumor-mill, with delays tipped, buyer apathy prediced, along with vehement denials from the company themselves.  So it's with no small amount of interest that we read one of the first reviews of the Acer Aspire One D250 Android – as the netbook appears to have been labelled – courtesy of ePrice.  They found the AOD250 to be "semi-finished", with Android perhaps unsurprisingly causing many of the issues.
The AOD250 dual-boots between Windows XP and Android, and at least that process is relatively straightforward.  Twin power buttons might have been neat, but in fact you get a reboot dialog – which you can see in the gallery below – offering a choice of Microsoft's or the open-source OS.  Booting into Android took a mere 20 seconds, while shut-downs were almost instantaneous; however it seems that Acer have done little to rework Android to the larger netbook display.
More worrying, they've also removed the Android Market from the netbook, together with seemingly blocking the ability to sideload software; in effect, turning Android into a closed OS.  That could be a byproduct of using Android OS 1.0 in this pre-production model, so we're hoping for more flexibility in whatever ships.  In the end, the Windows side (and the hardware) is just as you'd expect from a 10-inch Acer Aspire One netbook, but while the Android side shows promise, it's nowhere near mainstream level yet.