Acer Aspire One D150 with Atom N280 hands-on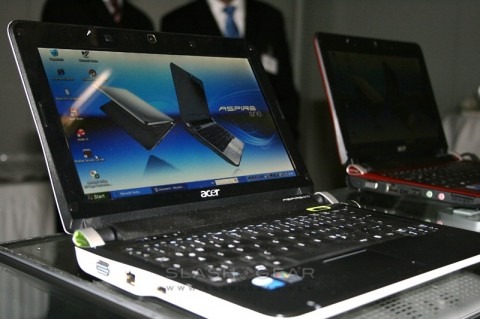 The 10-inch Acer Aspire One D150 is not exactly new, but CeBIT was the first chance the SlashGear team has had to spend some hands-on time with the netbook.  The model to hand was Intel Atom N280-based, but we were most keen on trying out the keyboard and seeing whether earlier rumors of lowered build quality were true.
To our hands, there felt like little difference between the keyboard on the D150 and the original 8.9-inch Aspire One.  The mouse buttons, although moved to below the trackpad, are still clicky and not the nicest we've used, but then again Acer are still positioning the D150 as a budget machine, and we guess that's one (frustrating) place to save money.
What we obviously couldn't test was battery life.  So far the US reviews we've seen of the Aspire One D150 have looked at the N270 1.6Ghz Atom version of the netbook, rather than this 1.66GHz N280 model; both use the 945GSE chipset, but we'd like to see if the slightly more powerful CPU makes any difference, especially with Acer planning to switch to a lower-capacity standard battery.