Acer Aspire One D150 reviewed: battery shrinking, but price impressive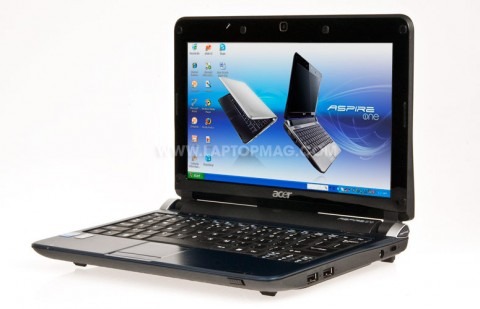 After an unboxing photoset and video preview, the 10-inch Acer Aspire One D150 now gets a full review courtesy of Laptop Mag.  The segment leader gets a slicker casing, speedier 160GB hard-drive and larger touchpad, while the bigger display – although frustratingly glossy at some angles – is always welcome.  However have Acer soured the deal with an attempt at battery cost-cutting?
Indeed, the larger Aspire One's battery performance comes with a sting in the tail.  Laptop Mag's review unit, as with that which featured in the video preview over the weekend, shipped with a 6-cell 5,800mAh battery, which lasted for an impressive 7 hours and 57 minutes.  However according to Acer, only the very first stocks will use this power pack: future shipments will revert to a 4-cell 4,400mAh battery.
"Acer told us that the Aspire One will soon be available only with a lower-capacity 4,400-mAh battery. The company claims that this battery will supply up to 6 hours of runtime, but if other netbooks with this type of battery are any guide (such as the MSI Wind U100 and Wind U120), we expect the Aspire One to last anywhere from 4.5 hours to 5.5 hours on a charge." Laptop Mag
It's certainly looks like this switch could be a cost-saving effort, with Acer assuming that most people won't need the extra runtime advantage of the two cells difference.  That could backfire if the company ships the N280 version of the Aspire One,which we believe comes with the Intel GD40 chipset; the higher-performing graphics also has a far higher TDP, and will obviously drain any battery faster.
In the end, though, despite a lesser keyboard, absent Bluetooth and ergonomically faulted trackpad, it's the Acer pricing that saves the new Aspire One.  As we suggested would likely be the case, Acer's $349 sticker price undercuts both the ASUS Eee PC 1000HE (at $399) and the Samsung NC10 (at $449), and that's likely to carry a whole lot of sway with consumers.